Best Anti Aging Arsenal = Hyaluronic Acid Injections + Serum
Hyaluronic acid is getting a lot of attention lately.  Beauty gurus are lauding it the best humectant and wrinkle-plumping product available.  Hyaluronic acid occurs naturally in your skin but it diminishes with age. How can hyaluronic acid plump wrinkles so effectively? It holds up to 1,000 times its own weight in water!  By adding hyaluronic acid to your anti aging arsenal, you can boost hydration and minimize the appearance of fine lines and wrinkles.  
Topical Hyaluronic Acid Serum
Not only does hyaluronic acid improve hydration, it also bolsters elasticity and protects against free radical damage. The role hyaluronic acid plays in the skin's cellular makeup is essential for healthy, hydrated, youthful-looking skin.  It captures water making your skin smooth and plump.
It's important to select a hyaluronic acid serum with a high concentration of hyaluronic acid. Look for hyaluronic acid on the ingredient list: if it's listed in the top 3 ingredients, you will know the product is potent and will achieve better anti aging results for your skin.  We recommend our SkinMedica Hydrating Complex. It provides hydration and should be used to supplement and enhance the benefits of your moisturizer.  This lightweight water-based serum works for all skin types. 
Hyaluronic Acid Injections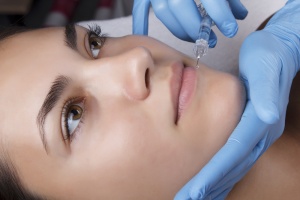 Not only can you buy hyaluronic acid in topical anti aging products, it is also the ingredient that makes up hyaluronic acid injections like Juvederm, Restylane, and Voluma.  Hyaluronic acid injections will provide your skin with similar benefits as the topical form. However, injectable hyaluronic acid will last longer and will give you dramatic results as it's placed deep into the  skin to fill deep wrinkles.
National Laser Institute is the premier anti aging academy in North America.  We train physicians and nurses from all over the world in revolutionary medical aesthetic technologies including laser, IPL, and cosmetic injectable treatments.  You can trust our certified physicians, nurses, aestheticians and laser technicians to create your dream results using the Gold Standard in innovative aesthetic techniques.
We invite you to call 800-574-8377 or click here for your complimentary consultation with one of our anti aging experts. Boost your anti aging arsenal with hyaluronic acid injections and serums.  Amp up hydration and minimize the appearance of fine lines and wrinkles with hyaluronic acid at the National Laser Institute Med Spa.