Laser Hair Removal Treatments
The National Laser Institute Med Spa gives you the most for your laser hair removal needs. For the best results, laser hair removal is the most effective with several treatments. Keep reading as we reveal the top benefits of laser hair removal.
Laser Hair Removal Treatments
Why Get Laser Hair Removal Treatments?
There are many reasons why you may be looking into laser hair removal. After all, laser hair removal destroys the hair follicles, which prevents future growth. This treatment is very popular in the summer when temperatures rise and people generally show more skin. As well as that, laser hair removal treatments are a safe, successful, and effective way to reduce hair growth in areas like the face, arms, underarms, legs, and bikini line.
What are the Benefits of Laser Hair Removal Treatments?
Important to note, laser hair removal has many benefits that will intrigue any client. First of all, laser hair removal uses precision laser energy to selectively target dark and coarse hairs, while leaving the surrounding skin undamaged. As well as that, laser hair removal is a quick treatment. For example, each pulse of the laser takes a fraction of a second and it treats several hair follicles at the same time. To further explain, the laser treats an area that is approximately the size of a quarter every second!
Are There Additional Benefits Offered By Laser Hair Removal Treatments?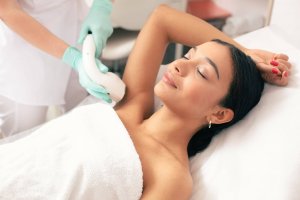 Laser hair removal treatments can help with a variety of different conditions. For instance, laser hair removal can treat hirsutism, otherwise known as excessive hair growth. While it is easy to think of one condition laser hair removal treats, it is important to recognize that laser hair removal will alleviate other conditions. For example, laser hair removal also treats ingrown hairs. Finally, no more pesky, and oftentimes painful, ingrown hairs. Do you frequently find yourself with ingrown hairs and no solutions? Laser hair removal is just what you need to rid yourself of ingrown hairs and unwanted hair growth.
What Can I Expect From My Laser Hair Removal Treatment?
How Does Laser Hair Removal Work?
How do laser hair removal treatments work? Firstly, laser hair removal targets the pigment in the hair follicle with a laser beam. Then, the light from the laser is absorbed into the pigment, or color, of the hair follicle. Once this hair follicle is targeted it is destroyed through light energy, and future hair growth is prevented. As well as that, the laser can be adjusted to target different skin depths, which allows for more precise and effective treatments.
What Does a Typical Laser Hair Removal Treatment Involve?
First, a typical laser hair removal treatment involves the use of a laser device to target and destroy the hair follicle within the treatment area. Once the laser energy is absorbed by the hair follicles, it is destroyed and prevented from future growth. A laser hair removal treatment is typically performed in a series of sessions. A few common side effects include redness, swelling, and temporary discomfort.
National Laser Institute
Now that we're through the gist of it, why should you choose National Laser Institute Med Spa for your laser hair removal needs? Well, we are ranked among the best of the best in laser technology and cosmetic injectables. As well as that, National Laser Institute is an industry leader in laser education, churning out the best possible cosmetic laser technicians to perform these amazing treatments. Important to note, you will leave the National Laser Institute Med Spa with confidence and a noticeable difference in the amount of hair on the treated area.
Schedule a complimentary consultation today to discuss your specific laser hair removal goals with one of our knowledgeable client services representatives. Click here to schedule your appointment in our training environment today!