Celebrity Cosmetic Procedures
Celebrity cosmetic procedures have been a source of obsession for decades. Conjecture over celebrity cosmetic procedures fuels the billion dollar medical aesthetics industry.
You've probably seen the Then & Now and Before & After photo's which are a staple in celebrity weekly gossip mags. The speculation of did they or didn't they fans the flames of the celebrity cosmetic procedure game of mystery.
While some celebs are secretive about the work they've had done, others freely concede to nose jobs, dermal fillers and even do reality style procedures on camera. It's fair to say a large percentage of celebrities have had some sort of cosmetic procedure. While there are celebrities who decry plastic surgery and fillers, the truth remains, if someone looks amazingly preserved, they probably have had something done.
About eight years ago, the big thing was to get fat injections. The problem was that every celebrity suddenly started looking the same. Hollywood was starting to look weird and it's a good thing Botox and dermal fillers are now the go-to anti aging treatment. With Botox and dermal fillers, celebrities rather look like a better and more youthful version of themselves instead of that homogenous, outdated look from before.
Botox and Dermal Fillers Top Celebrity Cosmetic Procedures
Celebrities are no longer ashamed to admit they've had Botox and dermal fillers because they are looking better than ever. Dermal fillers are highly effective cosmetic treatments used in the anti aging medical aesthetic industry. A dermal filler injection is a pharmaceutical grade liquid or gel material injected beneath the skin to get rid of laugh lines and nasolabial folds, fill deep frown lines, erase crow's feet, raise drooping eyebrows, eliminate deep forehead creases, plump thin lips, correct facial asymmetries, and more.
In general, Botox and Dysport are used for the top half of the face to freeze muscles from making unwanted expressions that cause lines and wrinkles. Dermal fillers like Juvederm, Juvederm Ultra, Juvederm Ultra Plus, Perlane, and Restylane, are used for the bottom half of the face to fill wrinkles and folds and restore lost facial volume. The main areas where dermal fillers are injected are the nasolabial folds, around the mouth, and marionette lines.
Most dermal fillers are comprised of Hyaluronic Acid (HA). HA is not "fake" or plastic – it naturally occurs in the human body. The length of time a HA dermal filler lasts depends on which dermal filler is used. For the best results you should have additional treatment sessions. If you decide you do not like your results, there is an enzyme called hyaluronidase which can be injected to dissolve the HA dermal fillers without any long-term side effects.
Celebrity Cosmetic Procedures Are Non-Invasive
It's not only HA fillers that are trending. A lot of celebs are having non-invasive treatments that don't necessitate going under the knife. Treatments involving lasers, radio frequency, infrared light, intense pulsed light, and broad band light are keeping celebrities looking forever young.
Fine lines, dark spots, uneven skin color, acne scars, enlarged pores, and broken capillaries… you name it, lasers have the power to improve it. Laser treatments for the skin use heat and light to boost production of fibroblasts and fresh collagen in the skin. By increasing collagen production and removing surface damage, these treatments decrease the appearance of wrinkles, fine lines, stretch marks and acne scars. These treatments also provide advanced toning, tightening and an overall improved appearance and texture for the skin.  
If you want to get the same celebrity cosmetic procedures you have been reading about, the staff at the National Laser Institute Med Spa are the leading cosmetic laser experts in the industry. What makes us different? We train the top physicians, dermatologists, plastic surgeons, aesthetic nurses, certified laser technicians, and skincare specialists from around the world.
If you want to get the same treatments as the celebrities, we invite you to the National Laser Institute Med Spa.  We offer complimentary consultations.  Please call us at 1-800-851-0969 or click here to schedule your celebrity cosmetic procedures now!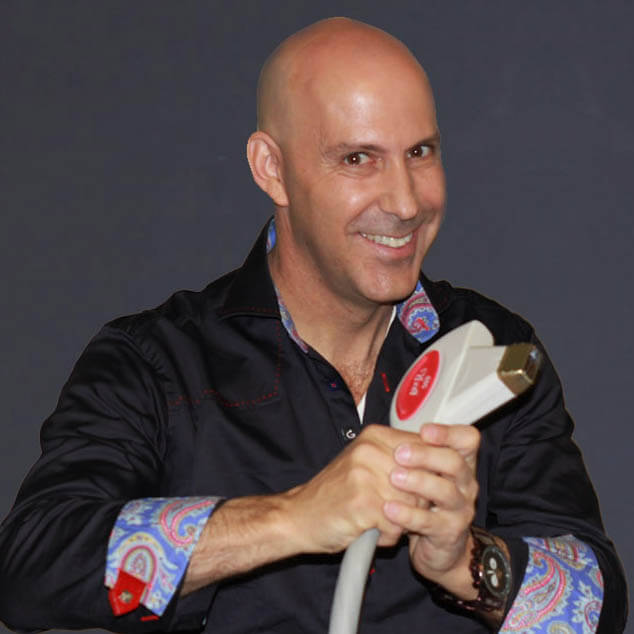 Louis Silberman
Louis J. Silberman is the CEO and Co-Founder of National Laser Institute, the pioneer of the medical aesthetics training industry and one of the largest educators in the country.