Forehead Wrinkles Solutions
Real forehead wrinkles solutions are available to you if you are ready to do something about it. Take action! An ounce of prevention is worth a pound of cure!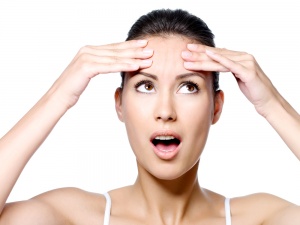 Prevention: Wear Sunscreen
The best method to avoid forehead wrinkles is of course, prevention. One of the most powerful methods of preventing premature aging of the skin including wrinkles is the daily use of sunscreen. We can not emphasize this point enough – rain or shine, wear sunscreen to protect your skin from UVA and UVB rays. It's never too late to start using a good quality sunscreen! Sunscreen will work to protect your skin to prevent forehead wrinkles, crepey skin, freckles, moles, and other skin damage including skin cancer.
Cover Up With a New Cut
If you want your forehead wrinkles to instantly appear to disappear, the easiest way to hide forehead wrinkles is with bangs. A new haircut can be the perfect way to refresh your look.  Bangs will instantly hide forehead wrinkles but obviously, will not actually get rid of them.
At Home Anti Aging Skincare
Now that you're protecting your skin with sunscreen, and covering up with a new cut, it's time to get to the real solution of getting rid of the wrinkles you do have.
There are a lot of anti-aging skin care systems available. But unless they contain scientifically proven wrinkle reducing ingredients, most of them aren't going to do much more than moisturize your skin.
The best way to find the right anti-aging skin care products is to head to the National Laser Institute Med Spa for your free anti-aging consultation.
"We offer a variety of medical-grade skin rejuvenation products by SkinMedica, PCA Skin, and Rhonda Allison for a radiant complexion. Our products are hand-selected to perfectly compliment our advanced cosmetic laser, radiofrequency and Intense Pulsed Light services. Our products will help you prevent more forehead wrinkles, and work to correct the wrinkles and fine lines you already have," says Louis Silberman, CEO, National Laser Institute Med Spa.
One of these products is Exlinea Peptide Smoothing Serum by PCA Skin. It's a topical serum that minimizes the appearance of expression lines in areas of repeated muscle movement, like crow's feet, laugh lines and between the eyebrows. Exlinea is a peptide spot treatment which treats all skin types and combats visible aging skin care concerns. This serum can be used daily on your forehead wrinkles to relax and smooth wrinkles.  
After cleansing and toning, simply apply one to two pumps of Exlinea Peptide Smoothing Serum onto your skin. Then you can follow this application with any other treatment serums and sunscreen in the daytime, or moisturizer in the evening.
An at-home anti-aging skincare regimen can take some time to see results. But when paired with our next forehead wrinkle solution, you will see more dramatic results, more quickly.  If you are ready to take your fight against forehead wrinkles to the next level, injectables will become your favorite solution.
Injectables Best Forehead Wrinkles Solutions
The best way to really fight those wrinkles is of course with injectables like Botox and Dysport. Both are injectable treatments that our medical professionals can administer over your lunch hour. During your injectables appointment, we will examine your facial movements and target the muscles that are causing unwanted wrinkles. The injections will relax the muscles within about 7 days, and you will see beautiful results that last up to 3 months.
If you are unsure about trying Botox, the results fade over time. So if you don't like the results, you can opt for a different forehead wrinkle solution. However, our clients absolutely love injectables and many say it's their number one forehead wrinkle solution choice. Why? Because it works. Over time, you can smooth wrinkles and fine lines to have the smooth forehead you had when you were younger.  
To find out what combination of our products and services will provide the best forehead wrinkles solutions, call 800.851.0969 or click here and receive your free consultation with one of our expert skin care specialists. Real forehead wrinkles solutions are available to you if you are ready to do something about it. Take action! An ounce of prevention is worth a pound of cure!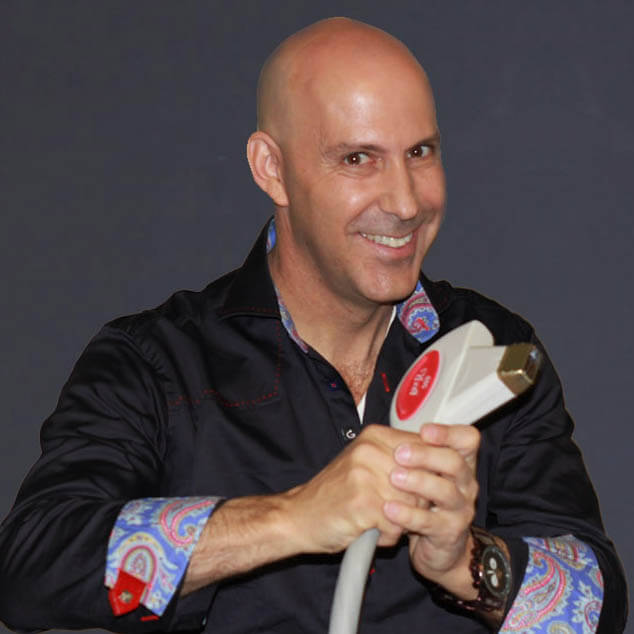 Louis Silberman
Louis J. Silberman is the CEO and Co-Founder of National Laser Institute, the pioneer of the medical aesthetics training industry and one of the largest educators in the country.