Simple Therapies That Renew Skin
Beyond Skin Deep Combinations
As long as the business of aesthetics has existed, there has been a never-ending supply of creams, pills, ointments, and lotions promising beauty addicts the fountain of youth. Everything from animal byproducts to mixtures of spoiled food to exotic plant extracts have all been used at one point in history treat a variety of common skin conditions. This just goes to show that people will do almost anything to be beautiful. Unfortunately, it is easy to be misinformed about the most productive strategies to combat skin problems.
In recent years, developments in aesthetic technology have changed the way people approach their skin concerns. The scalpel is not the only answer anymore. A new generation of non-surgical treatments has developed that go beyond the superficial quick fixes of the past by boosting the body's own regenerative and healing processes. The solution to fix many common skin issues is to treat the cause, not just the visual symptoms. To take full advantage of new aesthetic methods, especially when treating conditions like wrinkles and acne, combination therapy using treatments that complement each other's benefits is a great way to get improved results for clients.
Pimples and Pustules and Zits…Oh My
Acne is one of the most recognizable and problematic skin conditions an aesthetic professional will see in their practice. Characterized by red, inflamed and oily skin, it has the power to ruin self-confidence, pictures and first impressions. Movies and TV often depict acne as the scourge of a high school teenager's social life. However, it can appear well into a person's thirties, leaving scars that can last a lifetime.
What causes acne? The root of the issue lies in a simple bacteria, called Propionibacterium acnes. Living mainly in follicles on the face, neck and chest, it feeds on a substance called sebum, a product of the sebaceous glands responsible for keeping skin and hair moisturized. Problems arise when hormones in the body stimulate increased production of the substance. Whiteheads are formed as pores become clogged, and the additional nutrients cause a big jump in the number of acne bacteria present. The resulting enzymes and fatty acids created during this interaction then begin damaging the wall of the follicle, causing an inflammatory response. Left untreated, the harm caused by this cycle can leave skin scarred and discolored.
Retin-A has long been the drug of choice to combat severe cases of acne. Unfortunately, it does come with a long list of side effects that include redness, dry skin and burning sensations. Thanks to recent advancements in aesthetic technology, beauty professionals now have safer drug-free ways to help their clients obtain a clear complexion. To give your clients maximum results, try this multi-directional acne therapy approach:
Fight the Bacteria

Photofacials have become one of the most effective new ways to treat acne. This procedure uses Intense Pulse Light (IPL) technology that projects a scatter beam of light, which specifically targets reds and browns in the skin. In bursts measured in thousandths of a second, the laser heat focuses on the red and infected pores, effectively killing the bacteria. At the same time, the treatment stimulates collagen production in the skin, greatly assisting the body to repair the damage caused by infection. IPL Photofacial treatments may be performed anywhere from once per week to once per month depending on the clients acne outbreak severity.
Clear off the Clutter

Now that the bacteria are out of the picture, it is time to remove the secondary cause of acne, clogged pores. Dead skin cells and oil produced in the follicles create the perfect environment for an acne outbreak to occur. Chemical peels are a great way to get rid of these dangers. Using a variety of acids, including Alpha Hydroxy, Beta Hydroxy and Trichloroacetic, peels exfoliate the skin and create a softer complexion. This type of treatment will also help even out the skin's texture, a definite benefit for clients with light acne scarring. For the best results, use chemical peels to supplement the effects of IPL Photofacial treatments.
Erasing the Scars

People with moderate to deep acne scarring require a treatment more advanced than traditional facial peels. In this situation, a Fractional Laser has the ability to reduce both scars and wrinkles, which is the ideal for clients with a pockmarked skin texture. The Fractional Laser works by splitting a single laser beam into thousands of micro-beams. The heat from the micro-beams penetrates the epidermis and dermis, coagulating microscopic columns of tissue. This stimulates the surrounding skin cells to begin a healing process that creates natural collagen deep within the skin and replaces scar tissue with healthier skin cells. Unlike the older technique of Ablative Laser Skin Resurfacing, a method that painfully removes entire layers of skin, the Fractional Laser targets only a fraction of the skin at a time leaving the surrounding area unharmed. Once a client has completed their Photofacial and chemical peel regimen, Fractional Laser Scar Reduction treatments may begin. Depending on the severity of the scarring, a total of 6 to 8 treatments is recommended, given once per month
Take-Home Treatments

Many beauty products can sabotage an acne treatment regimen by clogging pores and creating a place for acne to form. Tell your clients to avoid oily moisturizers and heavy foundations. Instead, recommend oil-free moisturizers, mineral powder foundation and a face wash with salicylic acid. Because acne is so common, it is important that a spa business remain knowledgeable and stay up to date on advanced treatment options. There are many products a spa can offer that will help skin maintain a clear complexion between treatments. This gives beauty professionals a unique opportunity to up-sell and keeps their clients happy at the same time.
Wrinkled, Crinkled and Creased
When it comes to judging a person's age, nothing says, "I'm old," more than wrinkles do. People have grown to loathe them so much that we have created an entire vocabulary dedicated to describing them all: Frown lines, turkey neck, furrowed brows, bulldog jowls, crow's-feet, laugh lines and the dreaded 11s. Regardless of age, most aesthetic clients will request an aesthetic procedure to prevent or correct wrinkles. This is why it is important to have a proficient knowledge of the various types of wrinkle treatments, including which ones work and which ones do not.
Did you know that business of treating wrinkles dates as far back as the time of ancient Egypt? Even then, people were preoccupied with looking younger. With limited understanding of the skin, they used a myriad of bizarre ingredients and methods to make skin look younger. Early aesthetic professionals would apply animal oils, tree sap, sour milk, urine and incense in an attempt to make skin smoother. Some cultures even used fire as a primitive form of exfoliation and skin resurfacing.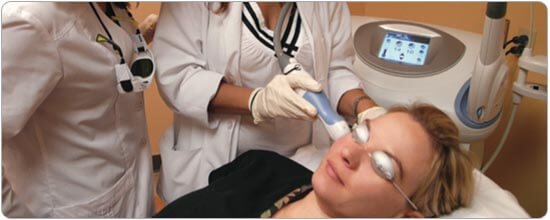 Teach Skin a New Trick
During the process of aging, skin loses collagen and becomes thinner, causing it to damage more easily. Microcurrent Therapy is one non-surgical method that offers a solution to this problem. Using Transcutaneous Electrical Nerve Stimulation (TENS), electrical current measured in millionths of an ampere is applied to the skin. This process increases protein synthesis and cell regeneration. The electrical current used in this treatment is on same scale as the current already produce in skin cells, preventing side effects such as pain or unpleasant muscle contractions.
Microcurrent treatments are safe to perform once every three days.
Radio Waves…Making More than Just Music
Radiofrequency Skin Tightening is an interesting and effective treatment based on the same technology used to broadcast sounds from radio stations. Using focused radio waves, heat is projected into the dermis that breaks down damaged collagen and causes the body to replace it with healthy collagen. This results in tighter and plumper skin, which is great for use on sagging skin on the neck, arms and stomach.
For best results, perform a series of six Radiofrequency Skin Tightening treatments, once every 7 to 10 days.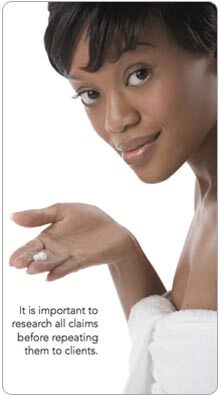 Take-Home Treatments
For clients interested in trying Fractional Laser Wrinkle Reduction or Radiofrequency Skin Rejuvenation, it is very beneficial to offer them a pre and post-treatment skincare regimen. One such line that has shown great clinical results is Post Skin Resurfacing Kit. It includes a special anti-inflammatory cleanser, B5 serum and an antioxidant soothing serum, all of which supports the post-treatment healing process.
With all of the skincare fads and expensive miracle creams on the market, it is often hard to know what to look for in a daily moisturizer. If in doubt, here are a few ingredients to look for in a product:
•Vitamin C – A key component in the creation of collagen in the skin. Also acts as an antioxidant that reduces the damage caused by free radicals.
•Hyaluronic Acid – A key component of connective tissue in the skin that lubricates and cushions skin from prematurely aging.
•Retinol – Helps skin retain moisture and increases natural collagen production.
New products and treatments pop up every day, claiming to be the next big thing, but it is important to research these claims before recommending them to clients. Getting educated on the most up-to-date treatments, and how they can complement your existing services, will be invaluable in keeping consumers happy and coming back for more.
Louis Silberman is president of National Laser Institute, a leading school specializing in advanced cosmetic laser and medical aesthetics training for beauty professionals. As an expert in laser aesthetics education, a medical spa owner and nationally recognized author, marketing speaker and business consultant, Silberman has been a driving force behind the organization of laser safety for consumers.
Contact National Laser Institute today at 1-800-982-6817 or simply fill out the form on your right.