PRP Skin Rejuvenation Reviews
PRP Skin Rejuvenation reviews are a fast and easy way for you to decide if PRP Skin Rejuvenation is something you would want to try. If you are not sure if you want to harness the power of your own PRP for the ultimate anti aging skin rejuvenation treatment, continue reading and we'll show you how it works!
Science and pop culture have been searching for the fountain of youth since the beginning of time. But did you know it's been there all along? In fact, the fountain of youth has been coursing through our veins the whole time! Did you know medical aestheticians and physicians can use your very own platelet rich plasma to rejuvenate your skin? PRP is one of the most revolutionary anti aging skin rejuvenation treatments we have ever seen in the anti aging industry. PRP Skin Rejuvenation can turn back the hands of time for your skin.
What Are The Benefits of PRP Skin Rejuvenation? 
PRP Skin Rejuvenation treats the following skin concerns:
dark circles and puffiness under your eyes

fine lines and sagging around your mouth, cheeks, and eyes

skin tone that is not as bright, healthy, and firm as it used to be



What Is PRP Skin Rejuvenation?
PRP Skin Rejuvenation is a quick treatment. It's relatively pain-free and requires no post procedure care or downtime. Because PRP is made from your own blood cells, there are virtually no negative side effects.
PRP is a natural substance created naturally by your own body. A small amount of blood is drawn from your arm and placed in a sterile vial and spun down in a centrifuge to separate the different elements of your blood. The centrifuge separates your red and white blood cells from your platelets and your plasma. This plasma is a clear fluid which contains a highly concentrated number of platelets and is called platelet rich plasma, or PRP.
Why Do Platelets Rejuvenate Skin?
Platelets are used in tissue to heal and grow new cells. When PRP is injected into specific areas of your skin, it triggers collagen growth, regenerates tissue, and naturally smoothes and tightens your skin. PRP Skin Rejuvenation smoothes wrinkles, skin texture and tone.
The History of PRP
Over 30 years ago, scientists proved PRP grows new collagen when injected into the skin. PRP has been used to aid in healing in orthopedic medicine, dentistry, and reconstructive surgery. Today, PRP has been shown to benefit wound healing via collagen growth in other medical genres such as dermatology and medical aesthetics. Recent studies reveal PRP repairs sun damage and aging skin issues.
What Makes PRP Unique From Other Injections?
Hyaluronic acid fillers are used to fill lines and folds in the skin especially around the mouth area, or to plump lips. Lasting between 6-18 months, these fillers provide temporary results. PRP stimulates your own collagen to grow for complete skin rejuvenation rather than individual wrinkle improvement. PRP is used for adding volume back to areas of the skin that look hollow and sunken. It's used to plump out cheek indentations, soften under eye bags and depressions, improve skin tone, tightness, and texture, and fill in areas where hyaluronic acid fillers can not be used.

Hyaluronic acid fillers such as Restylane and Juvederm can be used with PRP Skin Rejuvenation therapy. When Hyaluronic acid fillers are used in concert with PRP, we can achieve the best results. Hyaluronic acid fillers plump specific lines and folds; PRP boosts the overall volume and fullness of your skin and also improves your skin tone. In other words, PRP enhances the overall quality, tightness, and texture of your skin.
What To Expect During & After Your PRP Procedure
First, we will gently draw a small quantity of blood from your arm. While your PRP is being prepared in the centrifuge, your skin will be cleansed. Then, we will inject your PRP, a procedure which takes only a few minutes and is pain-free. Because the PRP is made from your own cells, it doesn't carry the risk of allergy or rejection—because it's your own blood.
PRP Skin Rejuvenation therapy is designed to improve your skin tone and texture, tighten your skin, and soften your lines and pores. You will see results about 3-4 weeks after treatment and the results will continue to improve with time. We recommend 3 treatments spaced 1-2 months apart for optimal results. PRP Skin Rejuvenation therapy can be used as a supplementary treatment along with laser treatments, microdermabrasion, chemical peels, Restylane, Juvederm, Botox, and Dysport.
We invite you to peruse our PRP Skin Rejuvenation reviews by our amazing Scottsdale and Dallas clients.
PRP Skin Rejuvenation Reviews
"Angélica my RN was super courteous and very knowledgeable to all the questions I had pertaining to my services. I am very happy with my visit and PRP treatment. Happy to report ZERO bruises! Looking forward to many more visits with National Laser Institute!" Gabriela R., Scottsdale Client, National Laser Institute Med Spa

"Brooke was amazing! She knew what she was doing and was very thorough! She performed microneedling on me and it was painless! I'm coming back for another 2 treatments!" Leslie N., Scottsdale Client, National Laser Institute Med Spa

"I went there for a student training on Microneedling. The instructor was very professional, the office and equipment were very clean, staff was great. Very good experience. Student went a bit hard on my nose, but she was a student and that's what I signed up for. Decent price for the treatment!" Anonymous, Scottsdale Client, National Laser Institute

"Hillary was amazing! I had a really great experience. She was very knowledgeable and I would go back to her should I ever come back to the states again. She really took the time to conquer some small big defeats on my skin that had been bugging me for awhile. I really appreciated her expertise and her suggestions for what my face really needed. I only wish I could remain her client so that I could see what she could accomplish with my face if she had that opportunity. In a short time she had done some amazing work with extracting some problematic issues with ingrown whiteheads etc. I'm still healing with the Microneedling. I really got swollen and bruised and it's been a few days I still have some swelling along the cheek area and under the eyes but we really tried to conquer that area. Thanks, Hillary!" Anonymous, Scottsdale Client, National Laser Institute Med Spa

"I love Debbie, she's amazing! I've had laser hair removal, micro-needling, and Pro-fractional laser treatments with her and she is very knowledgeable and experienced.  She's also very personable and fun. I always look forward to seeing her!" Anonymous, Scottsdale Client, National Laser Institute Med Spa. 
The National Laser Institute Med Spa is the premier medical aesthetics academy in the country. As you can see from our PRP Skin Rejuvenation reviews, you can trust our dream team to provide you with the Gold Standard in innovative aesthetic techniques so you can achieve your dream results.
We hope you have been inspired by our PRP Skin Rejuvenation reviews. With locations in Scottsdale and Dallas, we invite you to reserve your PRP Skin Rejuvenation appointment now and call us at 800-851-0969 or click here for your complimentary consultation. We also offer destination events in Philadelphia, Boston, Nashville and Chicago!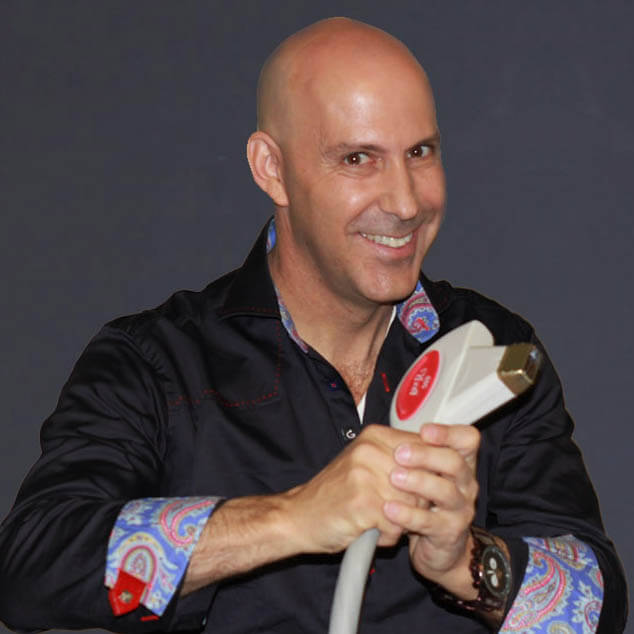 Louis Silberman
Louis J. Silberman is the CEO and Co-Founder of National Laser Institute, the pioneer of the medical aesthetics training industry and one of the largest educators in the country.