Chemical Peel Reviews Scottsdale Dallas
Are you considering getting a chemical peel?  Doing your homework is the first step. Our chemical peel reviews Scottsdale and Dallas clients have given us will show you real client experiences with the experts who will ensure you get the best results for your skin type at the National Laser Institute Med Spa. In today's blog, we'll show you the basics on chemical peels, as well as chemical peel reviews Scottsdale and Dallas clients have provided for your benefit.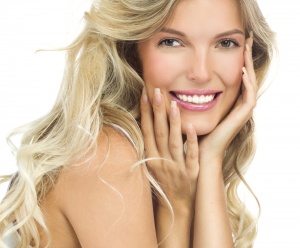 What Is A Chemical Peel?
A chemical peel improves and smoothes the texture of your skin with a chemical solution that sloughs off old skin. Once your old skin has peeled, the regenerated new skin that is revealed is smoother and softer.
Chemical peels can be done on your face, neck, or hands. They can be used to improve the look and feel of your skin by:
Reducing fine lines under your eyes and around your mouth

Treating wrinkles caused by sun damage and aging

Improving the appearance of mild scars

Treating certain types of acne

Reducing age spots, freckles, and melasma due to pregnancy or taking birth control pills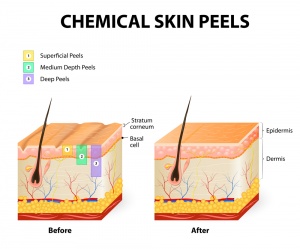 Immediately after a chemical peel, your skin will peel for 1 to 14 days. The rate of peeling depends on how deeply the chemical penetrated the skin.  Chemical peels create a controlled injury so new skin can grow in its place. In fact, the chemicals used are sometimes called exfoliating or wounding agents.
Factors that may affect the depth of your chemical peel include the acid concentration in the peeling agent, the number of coats that are applied, and the amount of time allowed before the acid is neutralized. Deeper peels will give you dramatic results but are also more invasive and have a longer downtime.
There are three basic types of peels:
Light peels are the mildest type of chemical peel and can be used on all skin types. A light peel is also known as a superficial peel, and use a mild acid such as glycolic acid.

Medium peels penetrate your skin more deeply than superficial peels. Trichloroacetic acid (TCA) is the main peeling agent used for medium peels, though the peel may also be done in several steps using a different chemical solution followed by TCA.

Deep peels penetrate several layers of skin and are not recommended for darker skin types because they can lighten the skin.
Are You a Candidate For a Chemical Peel?
Generally, fair-skinned and light-haired patients are better candidates for chemical peels. Sagging skin with severe wrinkles may benefit more from stronger treatments such as laser resurfacing and dermal fillers.
What To Expect During Your Chemical Peel
When you arrive for your treatment, your skin will be cleansed. You may need pain medication during your peel if a deeper peel is prescribed for your skin type. Then, one or more chemical solutions, such as glycolic acid, trichloroacetic acid, salicylic acid, lactic acid, or carbolic acid, will be applied to your skin.  You may feel a burning sensation that lasts about five to ten minutes, followed by a stinging sensation. Cool compresses applied to your skin may ease that stinging.
What To Expect After Your Chemical Peel
Depending upon the depth of your chemical peel, your skin will feel like it has a sunburn. Peeling and redness followed by scaling will last three to seven days. Mild peels may be repeated at one to four-week intervals until you achieve your desired aesthetic results. Medium-depth and deep chemical peels will cause your skin to peel over a period of seven to fourteen days. Medium-depth peels may be repeated in six to twelve months.
After a chemical peel, your skin will temporarily be more sensitive to the sun. It is important to wear a broad-spectrum sunscreen above SPF 30. Limit your sun exposure and wear a wide-brimmed hat.
Chemical Peel Reviews Scottsdale Dallas
"Great place, nice people!  Love it. Had a VI Peel Chemical peel.  Shana was so knowledgeable and explained everything.  The peel came with a couple of products to take home, included in the price!!  And the price was lower than the place down the street!  Definitely going to get another one next month." Stephanie W., Scottsdale Client, National Laser Institute Med Spa

"I went to the National Laser Institute yesterday for a chemical peel and I had a great experience. I paid a fraction of market price for the peel as I had students doing the treatment with an instructor supervising. First, Lisa the instructor was amazing! She was so kind and knowledgeable and her skin was beautiful which she attributed to practicing many of the treatments that she gives. She let the training student do most of the work for the peel but she did step in a couple of times to demonstrate or go over areas that the student missed. There were 4 people in the room total and all of the students asked great questions and were eager to learn. All of the students were very nice and professional. I saw results with the peel immediately but I am still taking "after" pictures every day as the best results should come in 7-10 days. I would highly recommend National Laser institute and I will definitely consider getting more peels and different treatments as well!" A.M., Scottsdale Client, National Laser Institute

"Always an awesome experience. I love the laser peels. Lauren is totally  kind and professional! I recommend the photofacials, chemical peels and lasers!" Cindi C., Scottsdale Client, National Laser Institute Med Spa

"Recently experienced another wonderful visit to this spa and left feeling pampered and happy after my chemical peel on my hands and arms. It was not uncomfortable or painful and I can't wait to see the results in a week or two. Thanks Brooke and Louis for all you do for me!" Shirley W., Scottsdale Client, National Laser Institute Med Spa

"I had been told by numerous dermatologists that I should get a photofacial. As soon as I am called back to the room I am informed I am not a candidate for laser. I have melasma and a laser treatment would just make it worse. I was offered a Vi chemical peel. I am already seeing results. So thankful to the staff actually reading my charts and knowing that it was not a procedure I would benefit from." Jennifer M., Scottsdale Client, National Laser Institute Med Spa

"My skin felt amazing after my chemical peel, and smelled amazing too! I highly recommend National Laser Institute for affordable beauty treatments." Krystin, Dallas Client, National Laser Institute Med Spa

"I had 3 laser treatments done in group training session and it was awesome! Discounted services with the same results. The students were professional and courteous and the instructors were amazing! Highly recommend the National Laser Institute. I have had chemical peels, profrac and micro laser peels done here as well…great place!" Anna S., Dallas Client, National Laser Institute

"So far, I love everyone that has done procedures on me! I've had chemical peels, fillers, and Botox all done here. Great team, great results, great pricing!" Anonymous, Dallas Client, National Laser Institute Med Spa
We hope you are inspired by the Chemical Peel reviews Scottsdale and Dallas clients have given us. To learn more, please call 480.290.7333 or click here for your complimentary consultation with one of our skin care experts.  It's our pleasure to partner with you for your skin care needs.