eLight Nonsurgical Skin Tightening
eLight nonsurgical skin tightening has been trending because it provides a nonsurgical, non-ablative skin tightening alternative to more invasive procedures and surgery. Other anti-aging treatments, expensive lotions, and serums can take a long time to get you the youthful results you crave. With eLight nonsurgical skin tightening, you can enjoy tighter and more youthful-looking skin in just a matter of minutes. The eLight nonsurgical skin tightening treatment uses cosmetic light technology that places heat energy effectively into the skin to produce maximum, anti-aging results with no downtime. If you want to correct sagging skin and improve the tightness of your skin, the eLight nonsurgical skin tightening treatment may be for you!
Are You A Candidate for eLight Nonsurgical Skin Tightening?
According to the annual plastic surgery procedural statistics, there were 15.9 million surgical and minimally-invasive cosmetic procedures performed in the United States in 2015, a 2 percent increase over 2014. Part of the reason this number grew is because of the less-invasive nature of nonsurgical procedures like eLight which appeal to a much broader range of patients.
You may be a candidate for eLight nonsurgical skin tightening if you:
have subtle to moderate loose skin on your face, neck, arms or abdomen

have loose skin after surgery

would like to improve the quality of your skin

are unable or unwilling to get a surgical procedure to tighten your skin

desire a noninvasive, nonsurgical way to tighten your skin

want a treatment performed with minimal discomfort, no incisions, and no downtime.
eLight Nonsurgical Skin Tightening Is Safe For All Skin Types
Laser skin care can be a challenge for darker skin types and lower optical (IPL) energy is usually prescribed for safety. But reducing IPL energy often leads to less effective results. eLight technology solves this issue because it compensates for the lack of optical energy with a radiofrequency current that is safe for darker skin types. eLight nonsurgical skin tightening is the only available technology allowing the treatment of darker skin types without compromising effectiveness or safety.
How Does eLight Nonsurgical Skin Tightening Work?
eLight nonsurgical skin tightening is a skin rejuvenator because it combines IPL and radiofrequency. The advantage of combining IPL and radiofrequency is it reaches deeper down and does not affect melanin in the skin, so all skin types can be treated, which IPL cannot alone. eLight therapy uses multiple wavelengths of light and radiofrequency to treat the affected area, promoting collagen and elastin production. Over time, your skin will be rejuvenated as your collagen is enhanced, revealing tighter and younger looking skin.
What To Expect
Before your treatment commences, the treatment area will be gently cleansed. Your skin will be coated with a light layer of ultrasound gel. Your skin will be cooled for your comfort and safety as a specially designed treatment tip is placed against your skin. The radiofrequency energy will penetrate deep into your skin, stimulating collagen production with heat. You will feel a soft vibration as well as cooling and heating sensations at the time of each pulse.
eLight Nonsurgical Skin Tightening Reviews
"I have been in for both skin tightening and laser hair removal and every experience has been very pleasant. The instructors are friendly and knowledgeable. They watch the students very closely. I have always felt safe and comfortable." Bonnie L., Scottsdale National Laser Institute Client

"I had my second treatment for skin tightening on my neck yesterday. Similar to the first session this session was seamless; well supervised efficient painless and all done in a friendly environment. I feel it is important to support student training with supervision because reality is we are all students and learning is a continuous process." Bonnie L., Scottsdale National Laser Institute Client

"Great experience! Had my first laser tightening procedure and it was great!" Pam D., Dallas National Laser Institute Med Spa Client

"The staff at the National Laser Institute is very friendly and knowledgeable. The facilities are top notch and comfortable. I have been quite satisfied with both of my experiences, eMatrix as a private patient and eLight with students." Tracy B., Dallas National Laser Institute Client
eLight nonsurgical skin tightening is a complete light-based solution for the successful treatment of all skin textures and tones. Medical spas across the country are charging thousands of dollars for eLight nonsurgical skin tightening treatments. The experts at National Laser Institute are offering eLight nonsurgical skin tightening starting at just $175. 
Experience how eLight nonsurgical skin tightening can benefit your skin. Our certified laser technicians will always take time in answering your questions to determine which treatment is best for you. We would be glad to answer your questions personally. To find out what product or service would be the best fit for your skin, call 800-851-0969 or click here to schedule your complimentary consultation with one of our expert skin care specialists.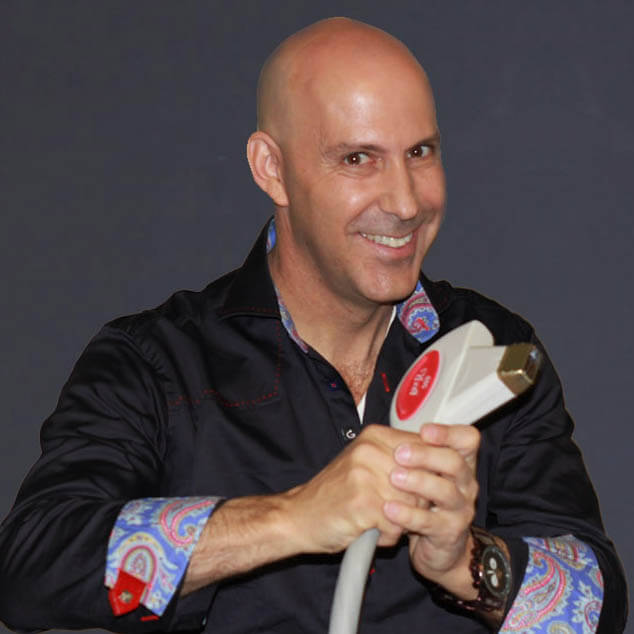 Louis Silberman
Louis J. Silberman is the CEO and Co-Founder of National Laser Institute, the pioneer of the medical aesthetics training industry and one of the largest educators in the country.