3 Tips To Smooth Forehead Wrinkles
If decades of eyebrow-raising and a lack of an anti aging regimen have left you with etched lines across your forehead, we have the solution for you. Here are 3 tips to smooth stubborn forehead wrinkles so you can look as young as you feel.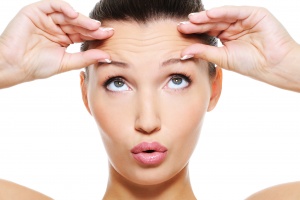 1. Use a Powerful Wrinkle Fighting Primer
It's not what's in your foundation that counts, it's what's under it. However, this primer is so effective, you can ditch the foundation and join the makeup free movement! Rhonda Allison's Peptide Primer has rich antioxidants to give you an about-face. Its hydrators ensure your skin keeps the moisture balance it needs to stay healthy. This primer provides you with an anti aging arsenal to reduce fine lines and forehead wrinkles.  The Rhonda Allison Peptide Primer will smooth your forehead wrinkles as it supplies your skin with luxe hydration and nutrition.  A blend of amino acids and biomimetic peptides provide your skin with optimum serum absorption and leaves your skin looking youthful, healthy, and radiant.
2. Use a Serious Wrinkle Fighting Serum
Serums with growth factors and peptides enhance your skin texture and tone while giving you a radiant glow.  Try the dual chamber TNS Essential Serum which features two active formulas that work together to fight forehead wrinkles. The first formula, TNS recovery complex, contains amino acids, proteins, and antioxidants that repairs, reduces and improves signs of aging. The second formula, APS Corrective Complex, is a blend of anti aging peptides, antioxidants, and more. This product will smooth forehead wrinkles as it rejuvenates, tightens, and brightens your skin.
3. Invest In In-Office treatments
If you want to smooth forehead wrinkles that are already etched into your skin, you will need to go deeper than the surface of your skin.  Botox and Dysport are the best way to prevent your wrinkles from becoming deeper as your muscle is immobilized from making wrinkle-forming expressions.   These powerful forehead fixers require commitment: injections every 3 to 6 months are needed to maintain the effects.  You can also plump deep lines with fillers like Juvéderm or Restylane lasting up to one year. 
At National Laser Institute Med Spa, we carry SkinMedica and Rhonda Allison product lines. We also specialize in Botox and fillers: Botox is just $7.99 per unit, and our dermal fillers like Juvederm, Voluma, Restylane, Belotero, and Perlane range from $299 to $549 per syringe.
We invite you to call 800-574-8377 or click here for your complimentary consultation to determine which product and service is the best fit for your skin.  Follow our 3 tips to smooth your forehead wrinkles so you can look as young as you feel!