5 Tips To Slow Down Aging
5 Tips To Slow Down Aging
1)Eat a Mediterranean diet. There is a small town in Italy called Acciaroli where Ancel Keys, a nutritionist from the United States, found convincing proof that the Mediterranean diet provides excellent health benefits. Acciaroli has a population of only 700 people. But what makes this town unique is every one in 10 people in Acciaroli is over 100 years old.  And, they are very healthy: some of the centurions have circulation like those in their twenties. The residents are also known to regularly eat rosemary, which improves brain activity.
The Mediterranean Diet reduces inflammation which can make your body immune to chronic illnesses, such as heart disease and dementia. Eating well reflects in the way you look and feel; when you are hydrated and eating natural, whole foods, you will enjoy a feeling of good health and a vitality that can only be gained by supplying your body with high-quality nutrients. By sourcing local organic fruits and vegetables, you will benefit from the vitamins, protein and fiber that can only come from food that is fresh and natural. In addition, skipping processed foods made from refined sugars helps to prevent inflammation and wide fluctuations in your blood sugar that make you feel fatigued.
2)Exercise your body. Weight bearing and stretching activities that are not hard on your joints yet allow you to bear weight and stretch will help you drastically slow down aging. Yoga, for example, is one of the best exercises to develop long, lean muscles to give you real strength that stands the test of time. Yoga helps your posture and also provides big benefits as the thoracic spine is stretched and made flexible. Thoracic spine health will greatly improve your mobility.
Balance, flexibility, strength and breathing are the vanguard of a long, healthy, prosperous life.  When you care for your body by maintaining your flexibility with movement, you will enjoy the benefits of more stamina and strength for sports and simple daily tasks. As you age, staying strong with exercise helps you weather the effects of muscle loss, and you can continue to participate in activities that are a part of your preferred lifestyle. Staying limber and strong also allows you to continue to participate in new adventures throughout your life and won't leave you sitting on the sidelines.
3)Exercise your mind. Memory loss and lack of clear thinking do not need to be a part of getting older. New research shows that key brain regions in mentally sharp "super-agers" are similar to those of people much younger. A team of researchers at Massachusetts General Hospital (MGH) investigated how some older people avoid age-related memory loss, appearing to retain the thinking abilities and brain circuitry of people significantly younger.
Certain parts of the brain that are essential for thinking usually shrink with age. The research proved that areas of the brain that are associated with the ability to learn and remember new information were thicker in super-agers than in other older adults. The size of these brain networks among the super-agers also correlated with their memory skills, and that effective communication between these networks is very important to slow down aging. Treating yourself to books, movies, games, work, and hobbies that are inspiring and challenging will stimulate your mind. Cozying up with a good book or playing a mind-bending game of Sudoku is a wonderful way to jump start your own transformation into a healthier lifestyle.
4)Wear sunscreen. The sun is a primary cause of skin aging. So if you want to slow down aging and you aren't wearing sunscreen daily, you might want to start. This is especially true in winter, when most people assume that the sun's harmful rays aren't as strong. It might surprise you to know that regardless of the season or the weather, the UVA rays that are responsible for aging the skin are approximately the same strength at all times. If you want to prevent wrinkles and spots, you need to apply sunscreen, even if it's cloudy and if you are spending most of your day inside.
While many apply sunscreen to their face it's not the only area that needs to be protected. Overexposure to the sun also affects your hands and neck. These areas can show signs of aging including dark spots, loss of moisture and firmness. Apply sunscreen on all areas of exposed skin – rain or shine.
5)Get medical aesthetic treatments and anti aging therapy. Medical aesthetic treatments and anti aging therapies are a key part of the equation to slow down aging. While you can slow the process by eating right, exercising your body and mind, and wearing sunscreen, a little help from the National Laser Institute will go a long way in your fight against aging.  
The National Laser Institute has been the premier anti-aging academy in North America for over a decade. Since 2004, we have trained students from around the planet in revolutionary medical aesthetic technologies including laser, IPL, and cosmetic injectable treatments. At the National Laser Institute, you can get your treatments in our training environment, or in our private med spa by the experts that train doctors, nurses, and laser technicians. We provide the very best in Botox, dermal fillers, laser, radiofrequency, and light based treatments. We also specialize in an anti aging therapy called Body Balancing to balance hormones, reduce fat, and increase libido and energy.
While medical aesthetics is our passion, client care is our reason for being. We are dedicated to helping you rediscover the younger, healthier and more beautiful you – from the inside out. Call us at 800-851-0969 or click here for your complimentary anti aging rejuvenation consultation at the National Laser Institute Med Spa.  We look forward to working together with you to help you slow down aging so you can achieve the skin of your dreams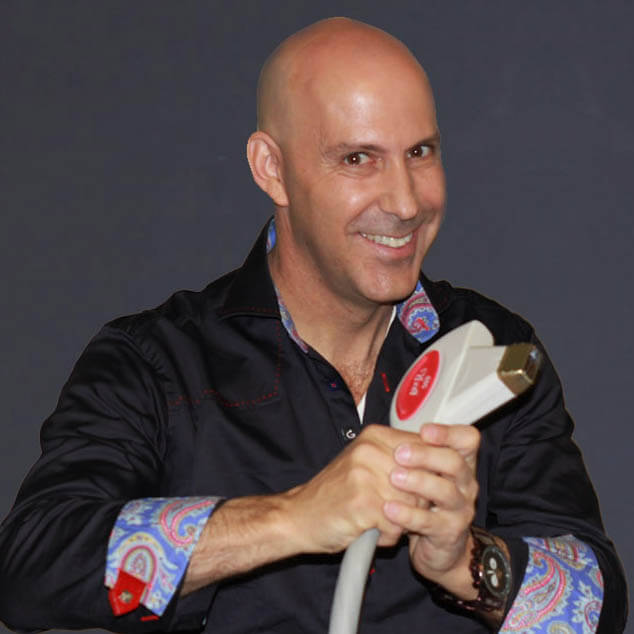 Louis Silberman
Louis J. Silberman is the CEO and Co-Founder of National Laser Institute, the pioneer of the medical aesthetics training industry and one of the largest educators in the country.