Client Review: Yolanda Loves Her Vi Peel
Yolanda, 50, was looking for brighter, tighter skin with an even tone.  She wanted to erase fine lines and hyperpigmentation.  As a client at the National Laser Institute Med Spa, Yolanda was no stranger to Botox and Photofacials. The Photofacials were great at lifting pigment from her skin. But she is an adventurous soul, and was ready to try a more aggressive treatment to resurface her skin.
Yolanda had heard about chemical peels before and decided to ask Dr. Treen if she would be a candidate for one while she was in for her last Botox appointment.
After Dr. Treen gave Yolanda her Botox treatment, she consulted with Yolanda for the Vi Peel.  "Avoid any laser treatments, sun exposure and Botox for at least 2 weeks, and we can get you in for your Vi Peel when you return from your trip to London."
So Yolanda scheduled her Vi Peel and was happy when she returned one month later to discover she had met all of Dr. Treen's criteria.  It had rained for the duration of her stay in London: she had no sun exposure, no recent laser treatments, and she had not had any Botox treatments within the past two weeks.
Dr. Treen gave Yolanda the go-ahead and explained how the Vi peel would address minor scarring, hyperpigmentation, fine lines, and it would rejuvenate her skin beautifully.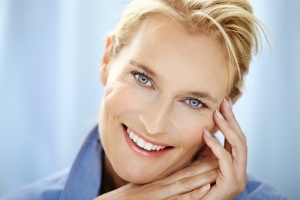 Day 1 The Treatment
Dr. Treen used a combination of several of the most effective medical peel agents available including TCA, Retin-A, Salicylic Acid, Phenol and Vitamin C.  Afterwards, Yolanda described that it felt like her face was slightly burning but it was tolerable.  Dr. Treen gave her the VI Peel take home kit and instructions on how to take care of her face for the next week. The only difference in Yolanda's appearance was a slight bronze tint from the peel. She had to leave it on for at least four hours after leaving the office.
Day 2 Skin Tightening
Yolanda's face started to feel tighter and look a little swollen. The texture changed around her mouth and chin and she could tell she would start to peel there soon.  There was no experience of pain or discomfort. She had no trouble sleeping or falling asleep.
Day 3  Skin Peeling
Yolanda's actual peeling started on the third day. Her peeling started in her nasolabial folds and then around her mouth and chin.  By the evening, there was a small area on her forehead as well as her cheeks that started to peel.
Day 4 Skin Rejuvenated
Almost all of the peeling had finished by day 4.  Yolanda described her face felt sunburned especially on her nose and on the sides of her cheeks.  Her skin was already looking new and rejuvenated and she was excited to see the end results.
Yolanda was looking for brighter, tighter skin with an even tone and to erase fine lines and hyperpigmentation. The Vi Peel gave her the gorgeous results she was looking for with no discomfort and with little down time.
If you would like to try the Vi Peel, be sure to schedule at least 2-3 days for downtime depending on the strength of peel you choose.  You will want to plan to avoid social engagements during your recovery. Your skin will be rejuvenated in only one treatment.  However, many of our clients, like Yolanda, get them monthly and enjoy dramatically beautiful results.
"I used to get monthly Photofacials, but now I am hooked on the Vi Peel. My skin glows, and the rejuvenation can't be beat. Even though there's more down time, it's minimal and the results are worth it!" says Yolanda.
At National Laser Institute Med Spa, you can expect luxury treatments without the luxury cost.  The Vi Peel starts at only $175 per area.   To find out what product or service would be the best fit for your skin, we invite you to call 800.574.8377 or click here and receive your complimentary consultation with one of our skin care specialists.