CoolSculpting in Dallas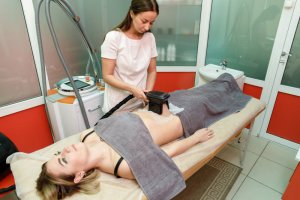 Are you interested in fighting those tough to lose fat areas? Is a healthy diet and exercise not enough? National Laser Institute Med Spa offers cutting edge CoolSculpting in Dallas, Texas. CoolSculpting in Dallas will remove fat from areas such as the stomach, arms, back, and thighs. In addition, it is a great treatment option for double chins!
What is CoolSculpting?
CoolSculpting is a non-surgical, non-invasive procedure offered at National Laser Institute. In addition, CoolSculpting in Dallas does not require anesthesia or painful incisions to work. Instead, it uses controlled cooling to reduce fat deposits in hard to fight stubborn areas.
How Does CoolSculpting Work?
The process of CoolSculpting works by using something called cryolipolysis. Cryolipolysis uses cooling technology to break down fat cells. In addition, cryolipolysis only targets fat cells. This leaves your skin undamaged. Then, fat cells are flushed out of the body. This creates your desired image. As a result, this process produces long-lasting results!
Firstly, you will pair up with one of our expert laser technicians. Then you will discuss the areas you want to treat. Once you have your consultation with our laser technician, the process can begin! A gel pad and applicator are placed on the target area. Then, the vacuum pressure will pull the target area between cooling plates. As a result, this process delivers cryolipolysis.
Post-treatment, you may experience some side effects.  These can be tenderness, redness, or swelling.
Benefits of CoolSculpting in Dallas
Lessened downtime, unlike surgical options
Minimal to no discomfort
Natural appearing results
What areas can I get CoolSculpting on?
Arms
Inner and outer thighs
Beneath the buttocks
Muffin tops
Spare tires
Back fat
Abdomen
Double chin
Schedule your complimentary consultation today for CoolSculpting in Dallas at National Laser Institute Med Spa.
Interested in learning more about cosmetic injections or laser services? We offer your choice of virtual consultations from the comfort of your home or in person complimentary consults. Click here to schedule yours.