Cosmetic Lip Injections in Dallas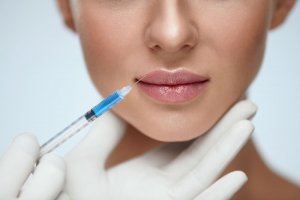 Do you want fuller, plumper, sexier lips? Made popular by movie stars and models, there's a rise in the popularity of lip filler and lip injections. There is one thing we can't deny, and that is that lip injections, or lip fillers, are continuing to grow in demand. Much like other medical injectable cosmetic treatments, lip injections offered in our Dallas Med Spa are a great non-surgical, non-invasive treatment that provides almost immediate results.
What are Lip Injections?
Lip Injections are used to plump, volumize, and soften the lips. Lip fillers are not permanent and are a great solution for someone looking for a fast fix to their small lips. In addition, it's important to know your options. and here at NLI Medical Spa Dallas we offer lip injections using both Juvederm and Restylane dermal fillers. When you call or come in, you will be given information on both options of filler. Therefore, giving the ability to come up with the best treatment plan for you.
Lip Injections Effectiveness
As the aging process hits all of us, our skin and lips are not spared. Though not permanent, lip injections take away from the hours spent applying lipsticks and liners to perfectly plump your lips with an illusion. To maintain volume and definition, you will need to have multiple treatments. Depending on your filler of choice, lip injection treatments can last from 3-12 months. Much like other cosmetic treatments, longevity is determined by many factors such as metabolism, age, amount of filler injected, and more.
Are there Pre-Treatment Guidelines?
Yes! At NLI Medical Spa Dallas, we take pre-treatment guidelines seriously. At your consultation appointment our trained team will explain steps to take before and after your lip injection to reduce side effects and bruising. Most importantly, to avoid taking blood thinners at least a week prior to your appointment. For example, alcohol and Advil should be avoided. When side effects from lip injections occur, they typically only last a few days.
Common Side Effects of Lip Injections
Bleeding
Swelling
Redness and tenderness
Bruising
Less Common Side Effects of Lip Injections
Infection
Lumps and bumps at the injection site
Discoloration or change in skin pigment
Looking for lip injections in Dallas? NLI Med Spa can guarantee a medically trained member of our team will discuss a professional care plan with you. Above all, we have the ability to offer you the most positive and affordable experience in both our luxury spa and training environments.
Interested in learning more about lip injections in Dallas or other cosmetic medical procedures? We offer your choice of virtual consultations from the comfort of your home or in-person complimentary consults. Click here to schedule yours!