Erase Regrettable Tattoos

Erase Regrettable Tattoos
Some tattoos are beautiful works of art, others have significant meaning, but some are plain blunders. Whether your ink is outdated, outgrown, or just outright bad, you no longer have to worry about its permanence. With today's laser technology you are able to erase regrettable tattoos and regain control of your appearance.
Laser tattoo removal feels like a rubber band gently snapping against your skin. To help with any pain or discomfort, a topical numbing cream is worked onto the desired area. As soon as the numbing cream has been activated, the laser is then used to break up the ink particles in the skin. Removing the ink from the cells themselves is why this treatment is so effective. The natural process of the lymphatic system distinguished the ink as foreign matter and eliminates it over time.
When it comes to how to erase your regrettable tattoo, it's completely customizable to you. Depending on if you desire complete or partial removal, or just a slight fade to place a newer tattoo on top. You no longer have to live with poor artwork permanently drawn on your skin. Men and women alike are receiving this treatment to say goodbye to undesired ink and hello to beautiful skin.
Take advantage of this modern technology and achieve your clear and natural skin again. This procedure is safe, FDA approved, and above all else effective. Laser tattoo removal is essentially painless. Several sessions may be needed to reach your desired goal. Depending on the size of your artwork more or fewer sessions may be necessary.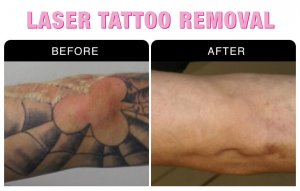 Our Facility 
The National Laser Institute is here to assist you in regaining control of your skin. Erase regrettable tattoos with the help of our dream team staff and facility. Call today at 480-290-7333 to become one of the many who are reclaiming the skin they're in. Click here to get scheduled for your free consultation at either our Dallas, Texas or Scottsdale, Arizona location.
When you arrive for your no-obligation consultation, you will meet with one of our highly trained laser technicians. During which they will determine the perfect tattoo removal plan for you. See for yourself how safe, effective, and easy it is to remove your regrettable tattoos. Furthermore, erase your unwanted ink with Laser Tattoo Removal, and live your life the way it was meant to be lived.
SaveSave