Facial Exercises Better Than Botox?
Have you considered using Botox, dermal fillers and laser procedures to fight wrinkles but are wary to try them because you don't want to use anything that is "unnatural" on your skin?  If you are in this frame of mind, you may be thinking about trying a natural remedy like facial exercises.
If your quest for a "natural" solution to avoid injections or laser procedures has lead you to facial exercises, you may be wondering: are facial exercises better than Botox? In today's blog we reveal the truth about fighting wrinkles with facial exercises.
Are Facial Exercises Better Than Botox?
You exercise the muscles in your body to keep them toned and supple. But can exercising your face with facial yoga actually reduce the appearance of fine lines and wrinkles?  
Going to the gym will keep you looking and feeling young, and facial fitness aficionados swear they achieve the same anti aging results on their face that gym goers achieve on their bodies.
Here's how facial exercise works: Your muscles are attached to your skin and pull it in different directions. As you age, it can be common to assume an aged facial posture by furrowing your brows and pursing your lips. The consequences are an aged face because you have strengthened muscles that pull your face downward and you lose control over the muscles that can pull your face upward.
Dermatologists generally agree you should avoid the facial exercise trend because these types of repetitive movements will only cause wrinkles, and not prevent them.
In other words, repetitive muscle contractions cause your skin to wrinkle. Regularly giving your facial muscles a "workout" will only speed up the process, increasing the chances you'll get wrinkles sooner.
While you may see temporary results from facial workouts, it's because your muscles are getting bigger and stretching out your skin. But the results won't last. This effect is temporary and will only produce more wrinkles and make wrinkles you already have worse.
Get Your Zen Face On
If you are still sold on the idea of facial exercises, there are a few that will help—you just have to be smart about the ones you do. The key is minimal, controlled movement.  
In yoga, an exercise that is taught to strengthen facial muscles that pull the face upward involves consciously doing a facial movement where you look like you're going to laugh or smile, but don't actually do it. This facial posture raises your eyebrows slightly and pulls the muscles around your ears up, strengthening them and pulling the skin over them back. As a result, you strengthen the muscles that pull your face up and weaken the ones that pull it down. It's like a facelift!
So rather than doing a ton of facial exercises, get your zen face on throughout your day with your most relaxed expression.  Strive to wear this facial posture throughout the day instead of your regular resting face, which may involve a wrinkle-promoting furrowed brow and pursed lips. To find this expression, take a few deep breaths to relax and look at yourself in front of the mirror—this is your best resting face. Over time and with practice, this can become as innate as good posture.
Botox: The Ultimate Wrinkle Buster
It goes without saying, there are several proven medical aesthetic techniques that will correct and prevent wrinkle formation. Wearing sunscreen regularly is one of the best ways because UV rays cause skin damage and thin collagen. And of course, Botox is the ultimate wrinkle buster. Botox, dermal fillers and lasers are all natural, chemical-free solutions to prevent and correct wrinkle formation.
Botox is a natural substance which tames the muscles that pull your face down so you can focus on strengthening the muscles that lift your face up. Injectables like Botox work to decrease facial muscle movements and prevent and reduce wrinkles.
Dermal fillers made from hyaluronic acid, a substance already found in the human body, will plump the skin and fill wrinkles. And, once wrinkles form, laser procedures can be performed to resurface the skin and plump collagen production.  
If you have exhausted your search for natural wrinkle solutions, you are not alone. This is one of the reasons why millions of Americans have turned to laser therapy for their aging concerns. Laser treatments offer the perfect alternative for a natural anti aging regimen.  Laser treatments are organic and chemical-free because they do not use a substance or product on your skin: they use light.
If it's in your nature to look for healthy ways to stay naturally beautiful, you are one of many who share this ideal. But if you have attempted the "natural route" and are disheartened by the less than stellar results facial exercises have made on your wrinkles, and possibly given you more wrinkles, we invite you to visit the medical aesthetic experts at the National Laser Institute Med Spa.
Choose the National Laser Institute Med Spa
We have the best natural medical aesthetic alternatives to prevent, correct and protect your skin from wrinkles. In fact, Botox, dermal fillers and lasers are the most natural, effective, wrinkle relaxing solutions available.
"I have been coming to National Laser Institute Med Spa since 2010, they are so professional and have the best prices around.  I will be a lifetime client and tell all my friends about NLI!" National Laser Institute Med Spa Client.
The National Laser Institute is the leading medical aesthetics school in the nation. We train physicians, doctors, nurses, nurse practitioners, and physician's assistants with the very best technology available in the marketplace today. You can choose to receive your anti aging treatments in our private med spa or in our training environment.  
If you choose to receive your anti aging treatments in our training environment, you will not only benefit from discounted pricing, you will receive your treatment from 4-5 students under the careful instruction of an expert instructor.  Our instructors are industry experts, dermatologists, and plastic surgeons who are there to carefully guide our technicians in training as they get hands-on clinical experience in our luxury med spa. We intentionally offer a low student to teacher ratio with small class sizes so that you can be comfortable and confident with your treatment in the training environment.
You can also choose to experience anti aging treatments in our private med spa performed by the same experts who teach doctors, nurses, and laser technicians from around the world how to administer anti aging treatments!
We invite you to treat yourself to natural Botox, dermal fillers and laser treatments where aging is optional: at the National Laser Institute Med Spa. Call 800-851-0969 or click here for your free consultation.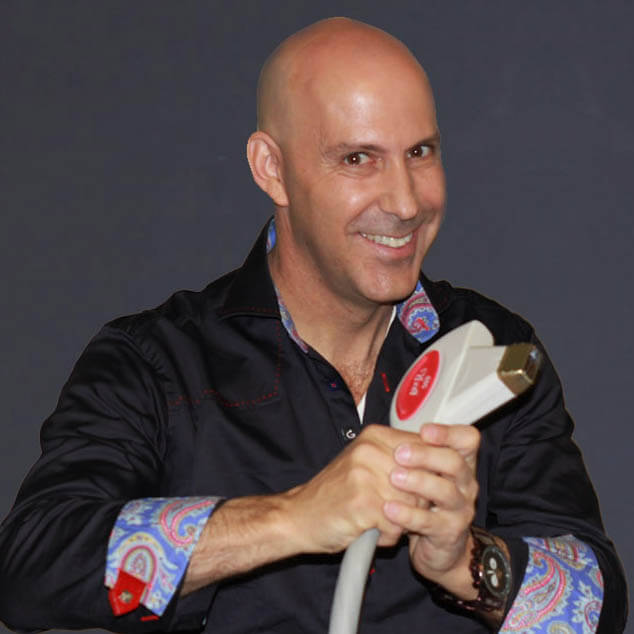 Louis Silberman
Louis J. Silberman is the CEO and Co-Founder of National Laser Institute, the pioneer of the medical aesthetics training industry and one of the largest educators in the country.