Gorgeous Gossip: How Celebrities Stay Young
Have you ever wondered about the beauty secrets of the rich and famous? Are you curious to find out how celebrities stay young? In today's blog, we reveal our celebrity insider secrets with Ashley and Rachel, two of our top Client Services reps here at the National Laser Institute Med Spa. Continue reading and we'll show you how Ashley and Rachel are preventing wrinkles and staying young with the same treatments the celebrities get.
Gorgeous Gossip: How Celebrities Stay Young
With glowing skin and not a wrinkle in sight, it is little wonder Ashley passes for a woman half her age. Ashley's skin has been treated by the National Laser Institute Med Spa for several years now. Inspired by how celebrities stay young, Ashley is happy to share her beauty secrets, revealing medical aesthetic treatments are behind her youthful glow.
"People often think I'm lying when they find out my age. Sometimes people are so stunned I almost have to get out my ID to prove it to them.  I like to focus on preventing wrinkles and keeping my skin youthful, just like my favorite celebs," says Ashley.
If you are like Ashley, and are inspired by your favorite celebrities and their gorgeous skin, continue reading as we reveal our insider celebrity skincare secrets.
RF Treatments Tighten & Tone
To maintain a wrinkle-free complexion, it's no secret celebrities get Botox. But the real secret on how celebrities stay young is they get regular RF treatments. Watch as Ashley experiences one of her favorite treatments at the National Laser Institute Med Spa: RF Skin Tightening.
RF, short for radiofrequency, tightens and firms the skin by stimulating collagen renewal. Radiofrequency targets the dermal layer in the skin and with only a few short treatments (usually 4-6), sagging and wrinkled skin is replaced with smoother, tighter skin as well as improved skin tone and texture. The results are long-lasting, meaning that the body continues to rejuvenate collagen and results gradually increase to a maximum visible effect at 3-6 months after the last treatment is done.
PRP Facelift Plumps Collagen
If you call the National Laser Institute, Rachel will tell you an ideal starting point for anti-aging treatments is the PRP Facelift: a perfect compliment to RF Skin Tightening. The PRP Facelift improves the skin by remodeling natural collagen and elastin currently present in your skin.
This treatment has been proven effective for reducing the appearance of acne and stretch mark scarring as well as smoothing fine lines and wrinkles. Rachel loves the fact that PRP Facelift treatments are quick, minimally invasive, and offer the benefit of very little downtime.

"Scar removal and wrinkle reduction have never been easier thanks to the introduction of the PRP Facelift. Because it produces such amazing results no matter the client's skin type, it has truly become the industry standard for anti aging treatments. Our team is so proud to be able to offer it to our clients as a way to help them maintain healthy and beautiful skin with long-term results," says Rachel.
Platelet Rich Plasma (PRP) Therapy involves having blood drawn from your arm, which is then spun in a centrifuge so that the yellow plasma can be extracted. The plasma is then placed onto the facial skin causing the skin to become plumper and firmer. Celebs often refer to this as the nirvana of treatments because it's one of the best ways to make your face look younger using your very own plasma.
The PRP Facelift uses Microneedling. Tiny pins are used to prick the skin which cause it to produce more collagen and reduce wrinkles. This procedure is known for its ability to produce significant results for those who want to reduce the appearance of acne and stretch mark scars and achieve brighter, smoother skin.
"Acne, collagen loss, and even stretch marks can really take a toll on us, leaving us longing for the bright, beautiful skin we had in our youth. For those who have been searching for a way to maintain their youthful appearance without risky or invasive procedures, the PRP Facelift is ideal. This procedure can be used on all skin types and is perfect for those who lead a busy lifestyle and don't have time for downtime," says Silberman.
RF Skin Tightening + PRP Facelift = Perfect Combination
In summary, RF Skin Tightening and the PRP Facelift are a perfect combination. The three major benefits of combining RF Skin Tightening with the PRP Facelift include:
No pain – We look for the best treatments with minimal pain. After all, who wants to correct an issue or improve their appearance and feel pain on sensitive areas such as the face?

Minimal redness post-procedure – On average we see only 12-24 hours of redness, where with other treatments it can take 5 to 7 days of downtime. 

You can have these treatments done on your lunch break and head straight back to the office.

No hyperpigmentation – It is safe to treat all skin types with Radiofrequency and PRP Therapy.
If you are inspired by Ashley and Rachel's insider-celebrity skin secrets, we invite you to re-discover your beauty for less and achieve a lasting return on your investment. Experience our customized luxury treatments without paying luxury prices. You can visit our training institute for deeply discounted rates on treatments. Or you can receive your treatments privately in our med spa by the experts that teach doctors, nurses, and laser techs how to perform laser and injectable treatments.
Call the experts at 800-851-0969 or click here for your complimentary anti aging rejuvenation consultation at the National Laser Institute Med Spa. We look forward to working together with you to help you achieve the skin of your dreams.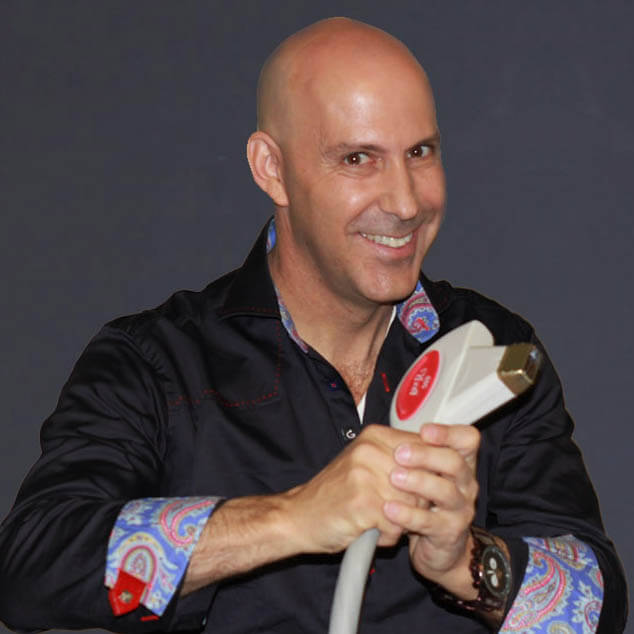 Louis Silberman
Louis J. Silberman is the CEO and Co-Founder of National Laser Institute, the pioneer of the medical aesthetics training industry and one of the largest educators in the country.