11 Signs It May Be Time for a Liquid Facelift Intervention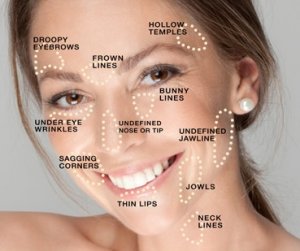 1)You Have Droopy Eyebrows That Need To Be Lifted
If your eyes aren't looking quite as bright as they used to, and you are looking tired even when you are not, it may be because your eyebrows have started to droop.  Aging is the most common cause of this issue.  While a surgical eyebrow lift was the most common cure for droopy eyebrows in the past, now the most popular liquid facelift request is the Botox Brow Lift, which instantly solves this aging woe.  The ends of your brows are lifted when Botox is superficially injected in the crow's feet area by an expert injector.
2)You Have Frown Lines That Need To Be Relaxed
If your loved one's and even strangers are asking you questions like, "are you okay?" or "why are you always upset," you may be suffering from frown lines.  The best way to soften frown lines is with a liquid facelift using Botox.  The goal is to make it harder to frown by freezing and weakening the glabella muscles for up to 3 months.
3)Your Temples Have Hollowed And Need To Be Filled
If you are looking older but just can't figure out what has changed, you may not be aware that your temples have hollowed.  Facial fat loss is a common aging issue. Fortunately, you can be treated for lost fat volume in your temples with a hyaluronic acid dermal filler like Juvederm. Replenishing lost fat volume in hollowed temples is one of most effective liquid facelift methods to instantly look younger.
4)You Have Under Eye Wrinkles That Need To Be Smoothed
Under eye wrinkles can be an endearing trait, especially when you've smiled so many times over the years to achieve them.  These wrinkles extend into the crow's feet area and, over time, they are etched into your skin even when you are not smiling.  A very small dose of Restylane filler injected just beneath the lower lash line corrects lower lid wrinkles.  And a touch of Botox in your crow's feet area will immobilize these muscles to keep the etched wrinkles from turning into deeper wrinkles.  
5)You Have Bunny Lines That Need To Be Tamed
Have bunny lines started to magically appear beside your nose when you smile?  This can occur as a result of Botox being injected into your frown lines, and your muscles on either side of your nose are overcompensating when you smile.  Bunny lines can also occur naturally. A little liquid facelift will tame your bunny lines when a small amount of Botox is injected in this area.
6)Your Nose Or Tip Is Undefined And Needs A Little Structure
Dermal filler is effectively used for non-surgical nose job reshaping.  The results are beautiful and natural and you do not have to go under the knife.  Results are temporary, lasting for up to two years.
7)Your Jawline Is Undefined And Could Use Some Sculpting
Defining an undefined jawline can be done with facial fillers like Restylane and Juvederm. These dermal fillers are intended for deeper injections and an expert injection specialist can reshape and define your jawline to give you the face shape of your dreams!  Like all dermal fillers, the results are temporary, but offer a great alternative subtly change your appearance to become more aesthetically appealing.
8)The Corners Of Your Mouth Are Sagging: Turn That Frown Upside Down
Dermal fillers such as Restylane and Juvederm Ultra Plus will turn your frown upside down.  These lines also called Marionette lines, will be softened and filled so you can look as happy as you feel!
9)You Have Jowls That Need To Be Filled And Lifted
Voluma is the go-to dermal filler that replenishes lost volume in your mid-face.  The goal with Voluma is to replace lost volume in your cheeks to lift your lower face. Lower jowls can be filled with additional fillers such as Juvederm or Restylane.
10)Your Lips Have Thinned And Need To Be Plumped
Just as you may have lost volume in your cheeks, you may have lost volume in your lips.  Hyaluronic acid fillers like Juvederm and Restylane are your ticket to fuller, plumper lips.  
11)You Have Vertical Neck Lines That Need To Be Softened
Neck bands develop as we age. There is a thin layer of muscle called the Platysma. The sole function of that muscle is to maintain the contour of the neck by sharpening the neck angle below the chin. There is a band of this muscle on both sides of the front of your neck. As you age, the muscle loosens causing the front edge of the muscle on either side to start hanging down and neck bands are formed.  We have a non-surgical solution for you: your vertical neck lines can be softened with a liquid facelift Botox regimen every 3 months.
Are you ready for a liquid facelift intervention? We invite you to the National Laser Institute Med Spa, the premier anti aging academy in the country providing the Gold Standard in innovative aesthetic techniques. Reserve your liquid facelift appointment now and call us at 480-290-7333 or click here for your complimentary anti aging consultation.