High Tech Skin Care For Less
High tech skin care allows you to shine the most natural beautiful you from the inside out. For the ultimate complexion perfecters, continue reading and we'll show you how you can love your skin again.
High Tech Skin Care For Less
Who doesn't want glowing, healthy, youthful skin without having to pay luxury prices? With the right treatment, incredible skin is achievable for everyone no matter what issue you may be struggling with.
At the National Laser Institute Med Spa, our doctors, nurses, aestheticians, and laser techs address the root cause of skin issues and provide a customized protocol to completely transform not only the skin but the entire body. Our high tech skin care treatments are they best way medical aesthetic science has discovered to get healthy, flawless skin.
"The high tech skin care at the National Laser Institute Med Spa has given me a whole new lease on life. It's very freeing to go without makeup and not have to shave my legs all the time. I love the way my skin doesn't need to be covered and concealed anymore. I am bikini ready: all I need now is sunscreen to protect my skin from sun damage," says Scottsdale client, Patty B.
It's like renovating a classic home and stripping back the layers of paint to reveal the gorgeous glow of the natural wood that was waiting to be discovered all along. Medical aesthetics lasers, radiofrequency and other high tech skin care treatments including broad band light therapy are the ultimate complexion perfecters.
"We are all about women embracing their beauty and wearing their skin front and center. Women don't need to paint their skin to be beautiful. We focus on correcting and preventing future damage to the skin from the harsh rays of the sun," says Louis Silberman, CEO of the National Laser Institute Med Spa.
Do you want to experience the ultimate high tech skin care complexion perfecters? Try our top treatments with our March specials!
Get 30% Off Laser Hair Reduction!
For the month of March, when you purchase a package of 4 or more treatments, you will get 30% off!  We think you will be amazed at how simple the treatment is and how beneficial it will be for your skin! Laser Hair Reduction works by first targeting the melanin (color) of the hair. Once the laser identifies the hair, energy and heat are sent to the hair follicle to destroy it. Because the hair follicle is what creates the hair, if you destroy the hair follicle…no more hair!  It's safe and effective for all skin types. You will start to see results after about your third treatment. The hair will stop growing completely in some places, while other areas will take longer to grow and come in thinner and sparser.
BOGO Velashape III!
For the month of March, when you buy one Velashape III treatment, you get one free!  Velashape III Cellulite Reduction is a non-invasive cosmetic laser treatment that reduces cellulite and fat cells. Velashape III is one of the easiest ways to gradually eliminate the cottage cheese appearance of cellulite while noticeably reshaping the treated area of your skin. 
Buy Two Forever Clear BBL Acne Treatments Get One FREE!
Our Forever Clear BBL Acne Reduction treatment specifically targets active acne bacteria using BBL wavelength technology. We apply a thin layer of gel to your skin, followed by your BBL treatment.There is minimal discomfort and downtime. After your treatment is completed you may experience temporary inflammation for 1-2 days. Makeup can be applied immediately if you choose to do so. We recommend the following treatment regimen: 9 visits within a 6-week period. You may need a touch-up treatment every month to 6 months, depending on your acne type and severity.
Microlaserpeel or Profractional Laser Treatment $595 (regularly $1500-$2000)!
Our Microlaserpeel treatment uses a laser to create thousands of tiny, microscopic holes in your skin to stimulate collagen production and send your body into an advanced healing and regeneration state. During this time your body starts producing new collagen at a very fast rate to add firmness and resilience to your newly refreshed and smooth skin. Directly after you've healed, you will notice immediate improvements in the tone and just the way your skin feels overall. However, the results don't stop there! You will also see a reduction in those annoying fine lines and wrinkles AND your skin will even get tighter! 
Our Profractional Laser treatment involves resurfacing a portion of your skin while leaving your surrounding skin intact to promote rapid recovery. This treatment is great as a stand alone but also provides amazing results in combination with other treatments, including: Microlaserpeels, Forever Clear BBL Acne Therapy, and SkinTyte. 
We invite you to take the first step to gorgeous, healthy skin, by contacting us today for your complimentary high tech skin care consultation. To find out what skin care product or service would be the best fit for your skin, call 800.851.0969 or click here.  Our professional skin care experts are here to help you take a smart, healthy approach to taking care of your skin with high tech skin care.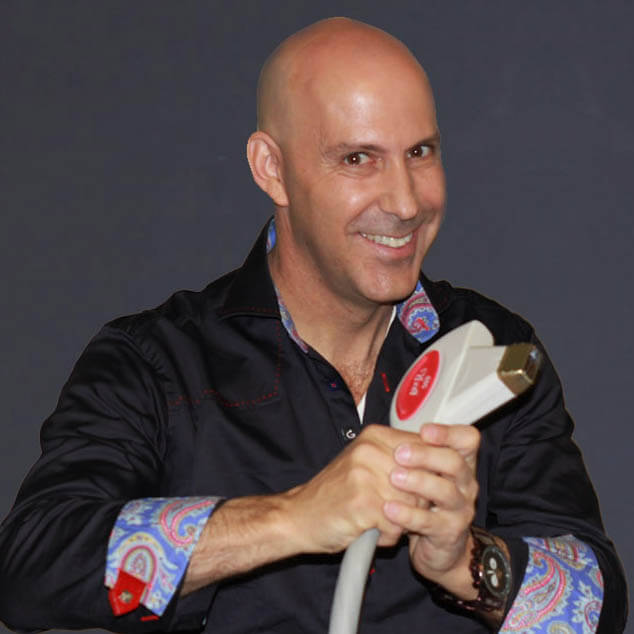 Louis Silberman
Louis J. Silberman is the CEO and Co-Founder of National Laser Institute, the pioneer of the medical aesthetics training industry and one of the largest educators in the country.