Laser Treatments Celebrities Use
Just like you, I follow celebrity skin care closely. I'm always looking to see who looks better than they did last year, especially on some of the popular housewives reality shows. Do you know what makes some of the reality star's skin look healthier, younger, and more vivacious than others? Laser treatments celebrities use will always make them look better than they did the year before.  It's like they are turning back the clock and their skin is looking better as time passes.
While this concept may defy reason to some, to those who are in the medical aesthetics industry, it's no secret: laser treatments celebrities use will make their skin look healthier, younger, and more supple over time.
If you want to get the same laser treatments celebrities use, you need to understand that it's not about immediate results. It's about your daily, weekly and monthly skin care routine. When you implement a consistent skin care plan, and put effort into your skin every single day, that's when transformation happens. This is how change occurs. 
The Truth About Laser Treatments Celebrities Use
While it may seem like celebrities effortlessly achieve beautiful skin overnight, the truth is, they implement a highly targeted, intelligent approach to get the most beautiful skin imaginable so they can continue to look great on the red carpet and in high definition. The laser treatments celebrities use include ablative lasers which require a week or more of downtime, but don't usually require a series of treatments. Non-ablative treatments have minimal to no downtime, but they return for multiple treatments.
One of the reasons the Halo Hybrid Fractional Laser is our most popular treatment at the National Laser Institute is because its customizable technology doesn't require our clients to choose between increased downtime or more treatments. With the Halo Hybrid Fractional Laser, our experts can adjust the intensity and depth throughout the treatment.
Get the Same Laser Treatments Celebrities Use at the National Laser Institute Med Spa
It's true: small disciplines repeated with consistency every day lead to beautiful skin achieved slowly over time. We are what we repeatedly do. Beautiful skin is not an act, it's a habit. If you are looking for the very best methodology to get your skin into it's most beautiful, natural state, consider the National Laser Institute Med Spa. We have the best and latest lasers in the industry and can treat anything and everything from dark spots to wrinkles and sun damage. Do you want collagen stimulation, laser hair removal, and smoother skin? We've got a laser treatment for you and great laser technicians too.
Medical Grade Skin Care with Skin Medica
One of our most requested medical-grade skincare product lines is SkinMedica. We highly recommend it for your daily at-home anti aging regimen. It's like insurance on your laser treatments – by applying SkinMedica to your skin in between laser treatments, you will protect the investment you have made in your skin.
SkinMedica offers a smart, beautiful, simple skincare line which beautifully rejuvenates your skin, reverses sun damage and helps you maintain the benefits of your laser procedures. If you don't know where to start with your new daily skin care routine, we recommend the following SkinMedica products. 
1)SkinMedica AHA/ BHA Exfoliating Cleanser is elegantly formulated to gently slough away dead skin, improving your skin's tone and texture. You can gently buff your skin everyday with this non-abrasive approach to keep your skin balanced without over-irritating.
2)SkinMedica TNS Essential Serum has 2 chambers. One chamber contains the TNS Recovery Serum and the other chamber contains peptides and antioxidant power. These 2 chambers work together to give you the results you are looking for. You will notice tighter and brighter skin. The Essential Serum will help to get rid of fine lines and wrinkles.
3)SkinMedica Ultra Sheer Moisturizer will provide you with long-lasting moisture, skin-tone-evening effects and ultimately prime your skin for makeup if you choose to wear it.
Why Choose the National Laser Institute Med Spa?
The National Laser Institute has been the premier anti-aging academy in North America for over a decade. Since 2004, we have trained students from around the planet in revolutionary medical aesthetic technologies including laser, IPL, and cosmetic injectable treatments. At the National Laser Institute Med Spa, you can choose to visit our training institute for deeply discounted rates on treatments.  Or you can choose to get your treatments from the experts that train doctors, nurses, and laser techs who fly in from across the globe including Dubai, Beverly Hills, Paris, New York, and London!
Call us at 800-851-0969 or click here for your complimentary consultation to get the same laser treatments the celebrities use at the National Laser Institute Med Spa.  We look forward to working together with you to help you achieve the skin of your dreams. Get the same medical grade skin care and laser treatments celebrities use at the National Laser Institute Med Spa!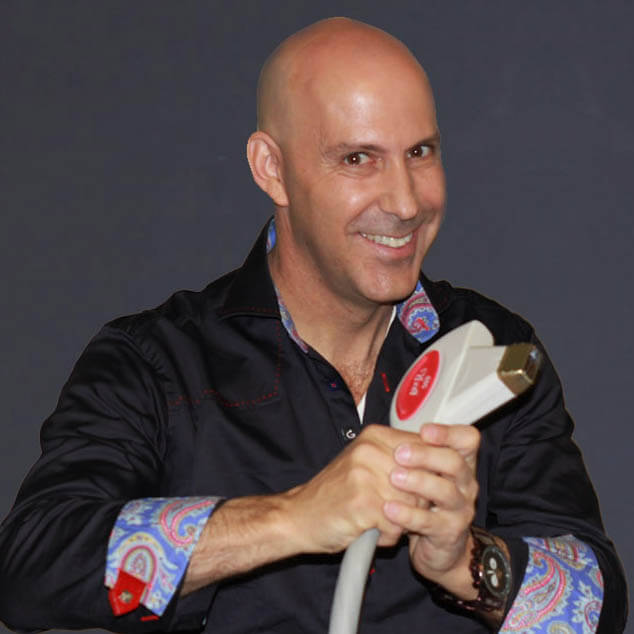 Louis Silberman
Louis J. Silberman is the CEO and Co-Founder of National Laser Institute, the pioneer of the medical aesthetics training industry and one of the largest educators in the country.