Look Younger Without Surgery
Look younger without surgery? Yes, it is possible to turn back the clock without going under the knife. Now we can soften the effects of time on your face with a plethora of non-invasive medical aesthetic treatments. We invite you to continue reading and we'll show you 4 ways you can look younger without surgery with the latest in anti aging breakthroughs.
STAY OUT OF THE SUN
Drinking plenty of water and getting your beauty sleep are important for overall health and beautiful skin. But one of the best ways you can look younger without surgery is by staying out of the sun.
According to a recent study by Harvard University, it is possible to look up to 20 years younger than you really are if you abstain from sun exposure. The study included 231 women of all ages who were questioned about their lifestyle, as well as if they worshiped the sun.
The reality is, small doses of incremental daily UV exposure is more aging than intermittent, intense UV exposure. Moreover, a close examination of the DNA of the women's skin provided a real look at the side effects of UV exposure. The gene known as CDKN2A was more active in the facial skin of the women who admitted they worshiped the sun and in those who looked older than their counterparts.
CDKN2A activity is a symptom that shows a cell is fatigued. It is essential to not only stay out of the sun, but to protect your skin rain or shine, all year long. This research provides us with proof of the detrimental effects of UV exposure on the rate at which skin ages and just how important it is to protect your skin every day. A great sunscreen we recommend is by EltaMD. It's the best medical grade sunscreen on the market, and we carry it here at the National Laser Institute Med Spa!
Avoiding the sun can be challenging, especially if you live in an area like Scottsdale, Arizona where we get an average of 299 days of sunshine per year.  If your skin has been damaged by UV and age, continue reading and we'll show you how it's never too late to rejuvenate your skin. 
USE SKIN CARE PRODUCTS WITH VITAMIN B3
It goes without saying, the power of antioxidants and vitamins in your skincare regimen are vital to the success of looking younger without surgery. Vitamins A, E and C are the usual suspects, but what about vitamin B3?  In most skin care products, vitamin B3 is listed as an ingredient known as niacinamide. The key benefit of vitamin B3 is how it helps cells communicate, which is an important factor for rejuvenating aging skin.  
As long as you protect your skin from UV exposure, vitamin B3 has been proven to boost the  elasticity of your skin.  Vitamin B3 also dramatically diminishes discoloration and rejuvenates tone and texture. If you find it's hard to avoid the sun, vitamin B3 will be very beneficial for your skin.  Not only does vitamin B3 help you look younger without surgery, it will reduce acne, too.
An important caveat: if you are a heavy drinker, vitamin B3 may react negatively with the increased levels of alcohol in your body. As with any new skin care regimen, there can be negative skin reactions. Add vitamin B3 gradually to your anti aging regimen to see how your skin reacts.
If you want to try a great product with vitamin B3, try SkinMedica's Hydrating Complex, which helps replenish moisture in your skin and also boosts your anti aging game with vitamin B3.  We carry the complete SkinMedica product line here at the National Laser Institute Med Spa.
GET BOTOX AND DERMAL FILLERS
Injections of Botox® and Dysport™ will help smooth your wrinkles.  Botox® and Dysport™  consist of a purified toxin from the botulinum bacteria. In small doses, Botox® relaxes the facial muscles that cause unwanted crow's feet, and frown lines, helping you look younger without surgery. In general, Botox® and Dysport™ are used for the top half of the face to freeze muscles from making unwanted expressions that cause lines and wrinkles.
Dermal fillers like JUVEDERM®, JUVEDERM® Ultra, JUVEDERM® Ultra Plus, Perlane®, and Restylane®, are used for the bottom half of the face to fill wrinkles and folds and restore lost facial volume. The main areas where dermal fillers are injected are the nasolabial folds, around the mouth, and marionette lines.  We inject dermal fillers into areas that need a little boost.  The most common and effective dermal fillers are comprised of hyaluronic acid and can last 9 months or longer.
RESURFACE YOUR SKIN & BOOST COLLAGEN
If you want to look younger without surgery, eMatrix can go a long way.  It's great for saggy, crepe-like skin.  This device uses radio-frequency energy to heat your skin. The heat prompts your body to make collagen, which then tightens the skin.
Every client has different skin needs in terms of tone, texture and fine lines. Our most effective, advanced laser treatment is the Halo Hybrid Fractional laser. The customizable dual wavelengths provide us with the ability to tailor treatments for all skin types. The Halo Hybrid Fractional Laser gives us the best of both non-ablative and ablative wavelengths. We can accurately dial in the precise treatment necessary for your skin type with amazing results within the desired downtime, usually between 5 and 10 days.
LOOK YOUNGER WITHOUT SURGERY
We hope our tips to look younger without surgery have inspired you.  They are definitely less risky than cosmetic surgery!  But don't take our word for it.  If you want to look younger without surgery, consider the following reviews from our Scottsdale, Arizona clients Christine and Grace.
"I LOVE going there. I am always trying to keep up with anything new that will fight aging and they always have the latest and greatest!!!" Christine
"I love the National Laser Institute Med Spa. I have been going to your business now for 6+ years! I find every person there so knowledgeable and personable. For private treatments, Brook and Angelica are my girls, they are excellent. I also go to the school with the instructor and students, this is my primary procedure on the National Laser Institute Med Spa laser treatments. Keep up the excellent technology and I look forward to the new HALO laser treatments. I have recommended 6 people both men and women, from my office to the National Laser Institute Med Spa and yes they love the National Laser Institute Med Spa also. I also am encouraging 2 young friends to attend the school I love the National Laser Institute Med Spa." Grace
The National Laser Institute is the premier anti-aging academy in North America.  We accredit physicians and nurses from all over the world in revolutionary medical aesthetic technologies including laser, IPL, and cosmetic injectable treatments.  
We invite you to look younger without surgery at the National Laser Institute Med Spa.  Trust our certified physicians, nurses, aestheticians and laser technicians to create your dream results using the Gold Standard in innovative aesthetic techniques.  Become a beauty insider and reserve your appointment now!
To find out more, we invite you to call 800.574.8377 for your complimentary consultation or click here to request your appointment online.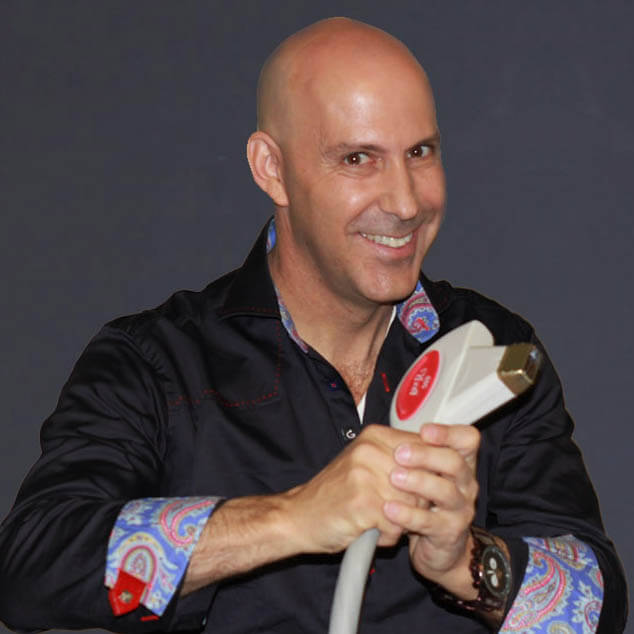 Louis Silberman
Louis J. Silberman is the CEO and Co-Founder of National Laser Institute, the pioneer of the medical aesthetics training industry and one of the largest educators in the country.