Microneedling Boosts Anti Aging Product Absorption by 3000%
Microneedling boosts anti aging skin care.  It's also known as collagen induction therapy and is a highly effective anti aging treatment often costing less that what other anti aging treatments cost.  Did you know your skin will be able to absorb nutrients by 3000% more during the hour after your treatment?  Continue reading and we'll show you how it works!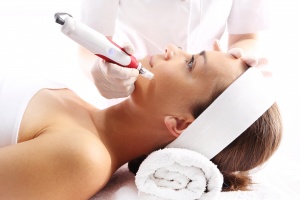 Microneedling Boosts Anti Aging Product Absorption by 3000%
When you arrive at your treatment, a topical numbing cream will be applied to your treatment area.  After about 20 minutes your skin will be numb. We will use a microneedling device called a micro pen, which gently punctures your skin with fine needles, causing a controlled injury.  These microtraumas will trigger your skin to repair itself because it is injured.  Your skin will be stimulated to produce more collagen and elastin and cell turn over will also be turbo- boosted.  
The benefits of microneedling are great.  Your skin tone will be evened out and hyperpigmentation will be diminished.  Fine lines and wrinkles and any crepey texture will also be smoothed.  Your skin will thicken and the appearance of broken capillaries will be reduced.  The firmness of your skin will increase and the appearance of stretchmarks and acne scars will be reduced.
And here's our favorite part: the channels created by the microneedles create a conduit for any substance you apply to your skin including hyaluronic acid, retinol, your own platelet rich plasma, and other anti aging products. Basically, microneedling optimizes the absorption and effectiveness of anti aging products by 3000%!
You will need to stay out of the sun for a few days post treatment.  We recommend between 3 to 6 treatments over one year, and then touch ups once or twice a year after that.  We invite you to call 800.574-8377 or click here to receive your complimentary microneedling consultation with one of our expert skin care specialists. Become a beauty insider and reserve your appointment now at the National Laser Institute Med Spa!