Oxygen Skin Rejuvenation
Here in the desert, the hot temperatures are finally winding down. We are starting to enjoy cooler, more enjoyable temperatures. Sweater weather and pumpkin spice latte's are finally back! Oh, and the other thing that's back is super skin rejuvenation with oxygen treatments! These celebrity-go-to treatments are great for rehydration and repair from too much time in the summer sun.
While every season brings it's own set of challenges for the skin, the summer months can deplete the moisture out of your skin causing hyper-pigmentation issues and a dull complexion. I invite you to counteract sun damage, restore your skin's health, and transition into autumn with a treatment focused on infusing your skin with oxygen and vitamin C.
Why oxygen? Oxygen is vital to sustain nearly all living things. It provides cellular respiration, an integral part of maintaining healthy skin. Oxygen detoxifies and fuels cellular activity. This is why oxygen skin rejuvenation boosts circulation and stimulates cellular regeneration.
An oxygen skin rejuvenation regimen is super beneficial for your skin, especially after a summer of sun, excess heat, and traveling. In my blog today, I want to touch on a few key ways to help you get the most out of oxygen skin rejuvenation treatments, whether at home or in the spa.
Oxygen Skin Rejuvenation At Home
PCA Skin will provide you with a good cleanse and exfoliation in your daily at home regimen to prepare your skin for the oxygen to penetrate deep into the cells of your skin. We retail PCA Skin at the National Laser Institute because they are based right here in Phoenix, and this product line is scientifically developed and carefully formulated to improve the health and appearance of your unique skin type.  Come on in to our Scottsdale location for your PCA Skin consultation and to purchase products that are tailored to your skin type. While you are here, you can schedule your Intraceuticals Oxygen Facial. 
PCA Skin formulates products with the best combinations of innovative ingredients to provide you with safe, highly effective products that deliver on their promises. All PCA Skin products are free of potential irritants like synthetic dyes and fragrances. Depending on your skin type and your goals you might begin with the Brightening Cleanser, Beta Green Tea, or Foaming Peptide Cleanser followed by a second cleanse with the Maui Cleanser.
PCA Skin prescribes oxygen therapy by combining a scrub with the H2O2 Emulsion. Blending a physical exfoliator with the H2O2 Emulsion, which is an oxygen-based formula, will help boost its ability to detoxify and aid in tissue respiration, loosen trapped surface debris, and brighten tone. The blend of low-strength acids in the H2O2 Emulsion also offer regeneration and rejuvenation to all skin types.  
According to PCA Skin, the goal is to stimulate, strengthen and hydrate your skin. Following the enzyme application and oxygen, a blend of peptides and vitamin C, such as that found in the C-Peptide Complex, will strengthen skin, deliver a potent dose of antioxidants, and support collagen synthesis. Peptide 38 and Pumpkin E Serum may also be applied for additional hydration, antioxidants, and skin-building support. A combination of the 12 Flower Mask and Milk Mask (aside from being pure bliss) further aid in brightening and strengthening the skin. To finish out the treatment, apply the Mandelic Arginine Serum and Growth Factor Serum. The duo will help stimulate healthy cellular regeneration. And, this may go without saying, use the Daytime Defense SPF30 to protect the healthy skin you just created.
Oxygen Skin Rejuvenation At The Spa
Now that you've prepped your skin at home, come in to the National Laser Institute Med Spa for your Intraceuticals Oxygen Facial.  Intraceuticals is an Australian company that invented this oxygen skin rejuvenation treatment in 2002 and still has the largest share of the oxygen facial market. With the Intraceutical technology, oxygen under pressure non-invasively delivers a special serum with low molecular weights of hyaluronic acid to the skin. There are no side effects and it's safe for all ages and skin types.
The oxygen facial is a no-nonsense, results-oriented treatment. During your treatment, we will first cleanse and exfoliate your skin. We will then analyze your skin to tailor the infusion serum to your skin concerns.
There are four infusion serum options. Each infusion serum features a targeted blend of hyaluronic acid, botanical extracts, antioxidants, peptides or vitamins:
Rejuvenate diminishes the appearance of fine lines and wrinkles while increasing hydration.

Opulence helps uneven skin tone look brighter and more luminous.

Clarity calms acne while restoring moisture balance and defending against breakouts.

Atoxelene softens and firms expression lines, defines the eye contour and plumps the lips.
Hyaluronic acid is the vital element as it attracts and binds moisture, helping your skin look firmer and more hydrated.  The infusion serum will first be sprayed on your skin and then the oxygen will be delivered with a wand that looks similar to a makeup artist airbrush applicator.  The wand transmits a flow of 90-95% oxygen under hyperbaric pressure (compared to the 18 to 21 percent naturally in our environment).
Oxygen will enhance serum absorption so your skin will get more benefit from the serum infusion.  The oxygen also has a cooling, calming effect, which is how we help you stay chill!  The oxygen feels like a blast of cold air on the skin with a gentle pressure. The whole process takes about 30-60 minutes, and then you can also buy the PCA Skin products mentioned earlier in the blog to help maintain your results at home.
So does the oxygen facial actually work? Yes! It's instant gratification. Your skin will be more hydrated, tighter, smoother, plumper, firmer, evenly colored and toned.  Keep in mind the Intraceutical Oxygen Facial is a great supplement to interventions that produce more dramatic and longer-lasting results.
Moreover, if you don't have the luxury of waiting 3 weeks for a product to work, and your special event is right around the corner, this is the perfect solution for you. Your skin will look incredible about seven days—which is perfect if you're doing it for a special occasion like a wedding, a school reunion, a series of parties, or anything else that requires your complexion to be in tip-top shape.
For the cost of one treatment at other luxury spas, you can knock two or three treatments off your celebrity beauty wish list at National Laser Institute! Our Intraceutical Oxygen Facial is only $160 per treatment. How do we keep our pricing so low? The National Laser Institute is the premier anti-aging academy in North America.  We train physicians and nurses from all over the world in revolutionary medical aesthetic technologies including laser, IPL, and cosmetic injectable treatments.
We invite you to revive your skin with oxygen at the National Laser Institute Med Spa.  Our expert physicians, nurses, aestheticians and laser technicians are here to help you achieve the skin of your dreams using the Gold Standard in innovative aesthetic techniques.
Visit our anti-aging academy for deeply discounted rates on treatments or receive your Oxygen Skin Rejuvenation treatment in our med spa by the experts that teach doctors, nurses and laser technicians privately. Become a beauty insider and reserve your appointment now! Call 800.851.0969 for your complimentary PCA Skin Consultation and Intraceuticals Oxygen Facial, or click here to request your appointment online.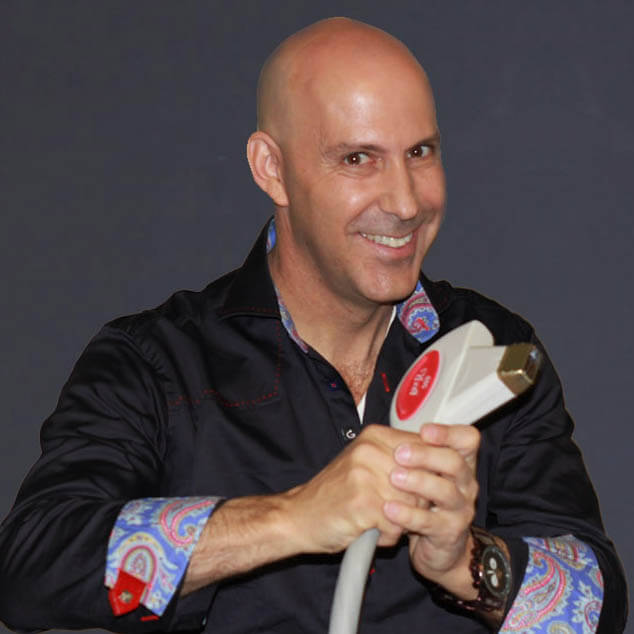 Louis Silberman
Louis J. Silberman is the CEO and Co-Founder of National Laser Institute, the pioneer of the medical aesthetics training industry and one of the largest educators in the country.