PCA Skin Collagen Hydrator
PCA Skin Collagen Hydrator treats visible aging. It's a rich moisturizer containing an advanced blend of ingredients to hydrate and firm dry and mature skin. PCA Skin Collagen Hydrator delivers intense hydration with a rich, antioxidant nightly moisturizer containing shea butter, olive fruit oil and sweet almond fruit extract.
If you are looking for a rich moisturizer that hydrates and firms dry and mature skin, look no further than PCA Skin Collagen Hydrator. Fruit extracts, including olive and almond, infuse antioxidants into the skin while firming it. Multiple rich moisturizing ingredients hydrate, soothe and smooth the skin.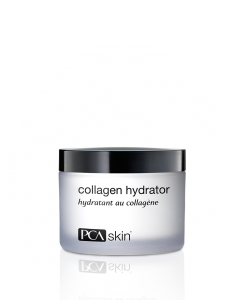 PCA Skin Collagen Hydrator
PCA Skin Collagen Hydrator contains:
Shea butter – softens the skin and maintains moisture without greasiness.
Sweet almond fruit extract – adds a smoothing film to the skin that firms while infusing nutritive benefits.
Olive fruit oil – a rich source of powerful antioxidants to protect the skin.
To use, smooth onto your skin after cleansing and applying any treatment serums. This nighttime treatment may be used during the day when additional moisture is needed. If used in the morning, follow with the appropriate PCA Skin broad spectrum SPF product.
All PCA Skin products are formulated with beautiful skin in mind. These products are scientifically developed and carefully formulated to improve the health and appearance of your unique skin.
PCA Skin understands the importance of formulating with the best combinations of innovative ingredients to provide you with safe, highly effective products that deliver on their promises. Moreover, PCA Skin products are free of potential irritants like synthetic dyes and fragrances. PCA Skin does not perform or condone animal testing.
You can use this moisturizer year round and you're going to love the way it makes your skin feel! Our clients tell us their skin never gets dried out in the winter and never feels greasy during the warmer months when they use PCA Skin Collagen Hydrator.
PCA Skin professional products are administered by our licensed healthcare professionals that have been trained and certified by PCA Skin to use them. The rigorous training provided by PCA Skin allows our skin care professionals to select and customize the treatments that best address your individual skin care needs.
We invite you to experience skin care for all season at the National Laser Institute Med Spa. Call 480-290-7333 or click here for your complimentary skin care consultation. Our experts will provide you with a PCA Skin care plan paired with our laser and light-based treatments customized for your skin type and lifestyle. While medical aesthetics is our passion, client care is our reason for being. We are dedicated to helping you discover the younger, healthier and more beautiful you – from the inside out.