PDO Thread Treatments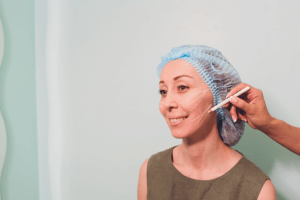 Are you interested in enhancing your body without undergoing surgery? Try PDO thread treatments at NLI. PDO thread treatments can not only enhance your face, but they can be used to lift loose skin on the body. Learn more about PDO thread treatments and what they can do for you.
PDO Thread Treatments
Why Thread Lifts?
PDO thread lifts provide people with a more affordable and low risk option to enhance their face. In addition, you can enhance your body as well. For example, thread lifts can perk up breasts, tighten arms and thighs, and provide shape to your buttocks.
Importantly, surgical recovery time from procedures such as breast lifts, Brazilian Butt Lifts, and face lifts is extensive. In contrast, a lift that uses PDO threads requires minimal to no downtime. In addition, the potential side effects of surgical procedures puts patients at a much higher risk than thread lifts.
Click here to learn more about other skin tightening procedures.
How do PDO Thread Lifts Work?
Firstly, PDO thread lifts are designed to lift up loose skin. This is due to the tension generated by the PDO threads. Moreover, these threads absorb in about 6 months, but they leave long-lasting effects.
Secondly, around each thread, collagen and elastin have been hard at work. With this in mind, fibroblasts remain in the tissue after the threads have absorbed, keeping the desired shape. Moreover, the role of fibroblasts is to provide structure in the connective tissue. As a result of fibroblasts and collagen working together, PDO thread treatments provide you with long-lasting results.
PDO Thread Face Lift
Thread lifts serve as an alternative to an invasive face lift.
PDO Thread Butt Lift
Thread lifts can be a much safer, alternative to a Brazilian Butt Lift.
PDO Thread Breast Lift
Thread lifts serve as an alternative to invasive breast lifts.
PDO Thread Arm Lift
Threads for arm lifts can stretch out loose skin to pull it tighter across your frame.
PDO Thread Thigh Lift
Threads for thigh lifts and elongate and pull loose skin taut.
Interested in learning more about cosmetic injections or laser services? We offer your choice of virtual consultation from the comfort of your home or in person complimentary consults. Click here to schedule yours.