Peptides for Wrinkles
Peptides are used in anti aging skin care products because science has proven that peptides can help manage wrinkles in your skin and reverse the signs of aging. At the National Laser Institute Med Spa we are very specialized, and we are seen as experts in the medical aesthetics community — and that's how we set ourselves apart. Whether it's laser, IPL, radiofrequency, PRP, Microneedling, or cosmetic injectables, we are the go-to med spa beauty insiders trust with their skin.  
But what about after your med spa experience? We believe it's important to take care of your skin daily with an anti aging skin care regimen. Think of it as insurance for all the work our experts do on your skin. One of the top ingredients to look for in any at-home anti aging skin care line are peptides.
How do peptides in skin care products make your skin look younger? Continue reading and we'll show you!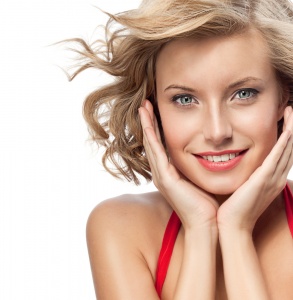 What are Peptides and How Do They Work?
Skin is comprised mostly of collagen. And collagen is a protein which is structured by long segments of amino acids arranged like a chain. When we perform anti aging treatments, the number one way to look younger is to boost collagen production.  Why? Because collagen provides a foundation and thickness for skin. Both of these attributes are what makes skin look young.  Women under 30 have ample collagen, which results in smooth, tight skin. The rest of us have less collagen –  skin tends to be thinner, revealing more wrinkles.
When collagen breaks down, short segments of amino acids are formed. These are the tiny proteins and active molecules known as peptides. Peptides in skin care can provide significant anti aging benefits. In other words, peptides in skin care encourage collagen production for more youthful skin.

When collagen is depleted by age and environmental factors, including sunlight, it is not fully replaced. As a result, smooth, young skin slowly becomes thinner and wrinkled over time. As collagen is depleted, it produces certain peptides. Research shows that these peptides send a "message" to your skin that it has lost collagen and needs to generate more.
When skin care peptides are applied topically, your skin is given the message that it's a collagen breakdown product and that your body needs to manufacture new collagen. So you can successfully minimize wrinkles and give your skin a more youthful appearance with the application of skin care peptides that trigger the production of collagen. It is therefore important to use a good peptide wrinkle serum.
The most commonly used peptides in skin care are neuropeptides that reduce fine lines exceptionally well.  Research shows that the right peptide skin care product can play an important role in repairing wounds and improving skin conditions including eczema and dermatitis. No adverse side effects have been reported in the use of skin care peptides.

Peptides in Skin Care Products Help Remove Wrinkles
Wrinkle serums containing anti aging peptides are popular and effective skin care products. Argireline has been marketed as a safer, less expensive, and non-invasive alternative to Botox. This anti aging peptide works by causing facial muscles to relax, thereby minimizing wrinkles.

Let's review. Why are peptides beneficial in anti aging skin care products? Peptides are included in many anti aging products because they contain amino acids and fatty acid to promote absorption. Peptides trigger the formation of several important skin components, including elastin and collagen.  
At the National Laser Institute Med Spa, one of our most popular peptide products is Exlinea by PCA Skin.  This peptide spot treatment serum minimizes the appearance of expression lines and hydrates, smooths and firms aging skin. It also:
Minimizes the appearance of expression lines due to repeated facial muscle movements, and
Firms, tightens and strengthens aging skin
To find out more about the best anti aging products and services that would be best suited for your skin, please call us at 800-851-0969 or click here for your complimentary consultation. The staff at the National Laser Institute Med Spa are experts who train doctors, nurses, and laser techs from around the world how to perform laser and injectable treatments for the most naturally beautiful results.