Tattoo Addiction
Tattoo addiction?  It's a real thing.  Getting a tattoo can be a rite of passage, a form of self-expression or even rebellion. But for some, it may also be an addiction. Psychiatrists report seeing patients seeking therapy for tattoo addiction because of the high they get after getting a tattoo.
Tattoo addicts can acquire dozens of tattoos over time. For this segment of the tattoo wearing population, it starts out as an exhilarating experience of self-expression that can turn into an obsession. Continue reading to find out if you have a tattoo addiction.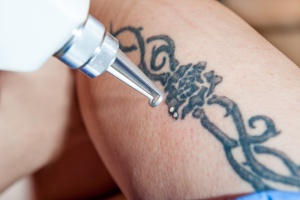 Tattoo Addiction
On a physical level, tattoo addiction is not really about the pain, but primarily to free-flowing endorphins that accompany the pain. Endorphins are a hormone-like substance that the body releases whenever a pain or injury is experienced. Similar in structure and effect to opiates, endorphins are pain-killers.  
At the National Laser Institute Med Spa, we regularly see clients covered entirely in tattoos which can lead to serious skin infections or rashes. Colored tattoos are more prone to reactions. The reality is there could be blistering under the skin even a year after a tattoo is made.
There are additional dangers to covering your entire body with tattoos. You can get severe allergies, skin infections, and your skin could react to the dye as a foreign object leading to granulomas, which would need to be removed surgically.
None of this, though, discourages those addicted to the high a tattoo brings, say experts. There is a small but definitive number of people who are addicted to tattoos, according to doctors. People have different ways of dealing with life. And for some, it's getting a tattoo. 
Tattoo addiction has also given rise to more people lining up for tattoo removal treatments. It can take 10-12 sessions to remove a tattoo. More importantly, if more than 50 percent of your body is covered with tattoos, your skin may not be able to fight UV damage effectively. Moreover, while there is a risk of infection, tattooed portions of the body also heat up quicker under the sun, affecting the body's temperature regulation.
At the National Laser Institute Med Spa, our Laser Tattoo Removal specialists can fade one tattoo to change its appearance, get rid of outdated or poor artwork for good, or fade it just enough so you can place a new tattoo on top of an old one. When you come in for your free consultation, you can meet with our wonderful staff to determine how many treatments you specifically need and how far apart your treatments need to be scheduled.
At the National Laser Institute, we are able to offer Laser Tattoo Removal for less than other med spas throughout the world because we offer the service in our training environment. Laser Tattoo Removal at the National Laser Institute starts at only $75 per area.
Okay – so you may not have a tattoo addiction. But if you have tattoos you want to get rid of, we invite you to come in for your complimentary consultation to discover how we can safely, effectively and successfully fade or remove your unwanted tattoos.  Call 480.290.7333 or click here to reserve your appointment.