Photofacial Around Phoenix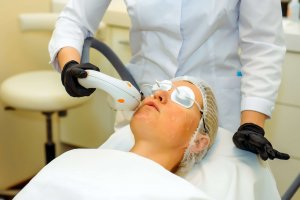 Are you looking for a place to get a Photofacial around Phoenix, but want to learn more about it first? National Laser Institute offers Photofacials performed by our experienced laser technicians. Photofacials treat a variety of skin problems. These include sun damage, rosacea, and hyperpigmentation caused by mild acne scarring. In addition, it can treat superficial broken capillaries, freckling, and age/dark spots.
Where Can I Get a Photofacial around Phoenix?
National Laser Institute Med Spa has a location in Scottsdale for your convenience.
16602 North 90th St. Scottsdale, AZ 85260
What is a Photofacial?
Photofacials are a laser treatment developed to fix a variety of skin issues. In addition, Photofacials use IPL, intense pulsed light. The wavelengths from this light spectrum are designed to stimulate collagen growth. In addition, it boosts elastin production.
What does a Photofacial treat?
Broken capillaries
Spider veins
Acne scarring
Sun damage or photoaging
Freckling
Dark/age spots
Photofacial treatments are beneficial because they are non-invasive and non-surgical. Client's experience minimal to no discomfort during the session. In addition, Photofacials require no downtime!
Preparing for your Photofacial
Stay away from tanning beds and direct sunlight
Avoid waxing and chemical peels
Steer clear of products containing vitamin A
Avoid aspirin and ibuprofen
What areas can I receive Photofacial treatments?
A Photofacial treatment can be applied to the face, neck, and chest. In addition, we can treat shoulders, your back, arms, and legs.
What Can I Expect During the Treatment
Firstly, your technician will place a cool gel on your skin. At this time, the IPL device will channel energy into your skin. This process eliminates pigmentation changes. In addition, it minimizes scarring, wrinkling, and spider veins.
Overall, the Photofacial will activate the body's wound healing response. As a result, the skin boosts collagen and elastin production.
How many treatments will I need?
NLI recommends 3-6 treatments total for outstanding results.
What can I expect post-treatment?
You can experience some side effects such as redness or swelling. Moreover, these effects are only temporary.
Treated brown/age spots will begin to slough off the skin. This can occur about seven to fourteen days post-treatment.
Come on down to National Laser Institute for your Photofacial around Phoenix skin rejuvenation. We will pair you up with one of our expert laser technicians for a complimentary consultation. From there, you will be able to discuss a treatment plan that is customized perfectly to you!
Interested in learning more about cosmetic injections or laser services? We offer your choice of virtual consultation from the comfort of your home or in person complimentary consults. Click here to schedule yours.