Photofacial Treatment

Photofacial Treatment 
If you are looking for a more even skin tone and just overall improving your skin, then a Photofacial treatment may be exactly what you are looking for. It's never too late to start achieving your dream complexion. Blemishes such as age spots, rosacea, wrinkles, and sun damage can become a thing of the past. Whether you would like to start taking preventative aging measures or reverse already visible signs of aging, the Photofacial Treatment will help you achieve it.
This type of skin rejuvenation therapy will precisely target and lift unwanted pigmentation. Using directed Intense Pulse Light to the deeper layers of your epidermis, we are able to remove imperfections such as fine lines, broken capillaries, freckles, dark spots, and age spots. Rejuvenate and improve the tone and texture of your skin with this age-reversing procedure. Younger looking skin is as easy as that!
Even after just one treatment, you may notice an improvement in the overall quality of your complexion. As your skin heals, the undesired pigment will begin to rise and slough off, revealing a younger and fresher layer of skin. For most of our clients and Beauty Insiders, it can take anywhere from three to five sessions to really achieve your desired results. Discover all the benefits the Photofacial treatment has to offer.
Also known as IPL, the Photofacial sessions are quick, painless, and involve very little downtime. This convenient procedure yields amazing results, with very little to do on your part. Men and women alike can enjoy and partake in the many benefits of IPL. It's also so simple it can even be performed on your lunch break, with time left to spare!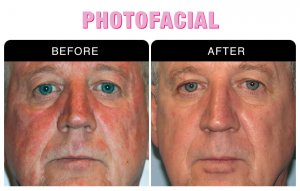 Begin Your Journey
If you're ready to achieve the skin you have always wanted then the National Laser Institute would like to invite you to receive this age-defying treatment. Since every person and skin type is different, a completely tailored and personalized beauty plan will be created just for you. You will receive a complimentary consultation, where you can discuss your skincare goals with a certified professional.
Achieve younger looking skin at our medical spa, and get all-around healthier skin. With our Photofacials treatment, you can remove sun damage, wrinkles, and other tell-tale signs of aging. The National Laser Institute is passionate about getting you on the right path to your dream skin and appearance. Call us at 480-290-7333 or click here to receive the Gold Standard in medical esthetic treatments.