Premature Aging Symptoms
If you are in your thirties, you may be wondering about premature aging symptoms. You may feel too young to be seeing wrinkles, dull skin, and hollowing cheeks. Continue reading and we'll show you what the premature aging symptoms are and what we can do to combat them with medical aesthetic treatments at the National Laser Institute Med Spa.
A major cause of aging is "oxidative stress." It is the damage to DNA, proteins, and lipids caused by oxidants, which are highly reactive substances containing oxygen. These oxidants are produced normally when we breathe, and also result from inflammation, infection, and consumption of alcohol and cigarettes.
If you live a healthy lifestyle, you can greatly diminish premature aging symptoms. But if you've made a few mistakes along the way, it's never too late to reverse the signs of premature aging. The experts at the National Laser Institute Med Spa will help you protect, correct, and maintain the beautiful skin you were born to have.
Premature Aging Symptoms
Thin Crepey Skin With Etched Lines
Does your skin bounce back after you pinch it? Crepey, thin skin will stay pinched, showing a loss of laxity that has occurred over time from sun exposure, loss of collagen, and lack of hydration. A real life example of the pinch test is to look in the mirror after you've spent some time outdoors, squinting from the sunlight. If the lines in your face stay pinched, especially around your eyes, you may be experiencing premature aging symptoms. This is especially true if before you went outside, you did not notice the exaggerated lines we call crow's feet.
Over time, the more you make certain facial expressions, the more etched these lines will become and you will see deeper lines start to form. The reason this happens is because your skin loses both collagen and elastin, so your skin gets thinner and has trouble staying hydrated. The fat in the subcutaneous layer that gives skin a plump appearance also begins to disappear, and the skin starts to sag, and wrinkles form.
One way to counteract unwanted expression lines is to relax the muscles that are causing your skin to stay pinched. Botox and Dysport are two of our most requested treatments for these premature aging symptoms. Botox and Dysport are different brands of injectables both made from botulinum type A and relax the muscles that cause unwanted lines and furrows on the face. Both injectables have a high safety rating which means both can be used on various parts of the face and body. You can choose which brand you prefer. Dysport or Botox should be injected every 3-6 months for best results. 
To boost skin laxity, thickness, and to build collagen, we recommend our PRP Facelift. PRP is a powerful blend of growth factors and stem cells which stimulates your body's natural healing process to slow the course of your skin's aging. This trending highly effective therapy restores your skin as we inject growth factors in the areas of your face where your skin needs to be repaired and rejuvenated.
Our PRP Facelift involves using a powerful blend of growth factors and stem cells, extracted from your own blood through an advanced centrifuge selection process. We inject your own PRP into your skin along with a hyaluronic acid dermal filler, such as Juvederm, to smooth out your wrinkles and supercharge your collagen production as well as fill in and lift facial hollows.
Dull Skin With Hollow Cheeks
Have you looked in the mirror recently and not recognized yourself? This is the reason why many of our new clients call us for the first time. One of our new clients put it this way, "I saw an old person with sunken cheeks and dull skin looking back at me in the mirror, and I was too young for this to be happening!" 
If your skin doesn't seem to "glow" the way it used to, and gravity is taking a toll on your face, you may be experiencing premature aging symptoms. If you notice your skin looking duller than usual, be sure to check in with a skin care expert at the National Laser Institute Med Spa.  
To get that glow back and achieve a dewy complexion, you have to be diligent about stripping off that top layer of dead skin cells with Chemical Peels. This allows the products you use at home to penetrate better, and it increases blood flow, which brings more oxygen to your skin's surface and spurs collagen production.
If you want to take getting your glow on to the next level, we recommend the Halo Hybrid Fractional Laser for skin resurfacing. It does double duty to remedy dull skin and plump up your skin by stimulating collagen production. The Halo Hybrid Fractional Laser is the complete skin rejuvenation treatment.
You will see huge improvements in overall tone, texture and a significant reduction in fine lines, pore size, and discoloration. Halo Hybrid skin resurfacing works by sending focused energy to the deeper layers of your skin. This leaves the surface of your skin mostly untouched and promotes a faster healing time.
Not only does the Halo Hybrid Fractional Laser provide advanced results without the downtime, but it also boasts specialized targeting technology that will auto-adjust the settings to maximize the efficacy based on the area that is currently being treated.
Our technicians recommend 3 treatments about 6-8 weeks apart from each other for best results. You will notice an immediate improvement in tone/texture about a week after you have fully healed. However, similar to other resurfacing treatments, the best results will show on the surface of the skin about 2-3 months after your final treatment.
Finally, to fully correct sunken cheeks, we recommend Juvederm Voluma XC, an FDA-approved Hyaluronic Acid (HA) dermal filler designed to instantly add volume to your mid-face and cheek area, resulting in a subtle lift. Voluma's patented HYLACROSS™ technology will give you smooth, natural-looking results. In fact, a trial survey for Voluma reported that clients felt like they had dropped half a decade after treatment! If you want to defy gravity and get back the sculpted fuller face of your youth, Juvederm Voluma XC is your best alternative.
When you come in for your Juvederm Voluma XC appointment, your mid-face will be filled, gently contoured and you will see an instant lift in your mid-face.  This dermal filler requires only minimal downtime: in just 24 hours, you will be able to resume your daily routine.
The National Laser Institute is the premier anti aging academy in North America. We train physicians and nurses from all over the world in revolutionary medical aesthetic technologies including laser, IPL, and cosmetic injectable treatments.
Combat premature aging symptoms with medical aesthetic treatments at the National Laser Institute Med Spa. You can trust our certified physicians, nurses, aestheticians and laser technicians to create your dream results using the Gold Standard in innovative aesthetic techniques. Call us at 800-851-0969 or click here for your complimentary consultation. Become a beauty insider and reserve your appointment now!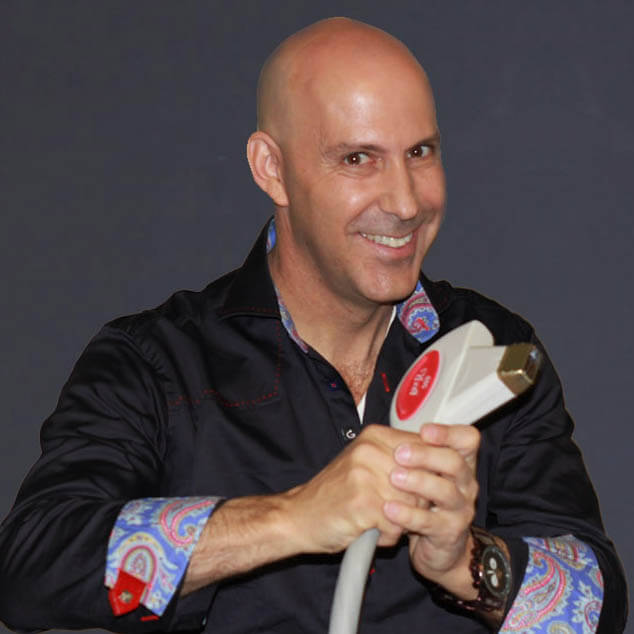 Louis Silberman
Louis J. Silberman is the CEO and Co-Founder of National Laser Institute, the pioneer of the medical aesthetics training industry and one of the largest educators in the country.