December Product of the Month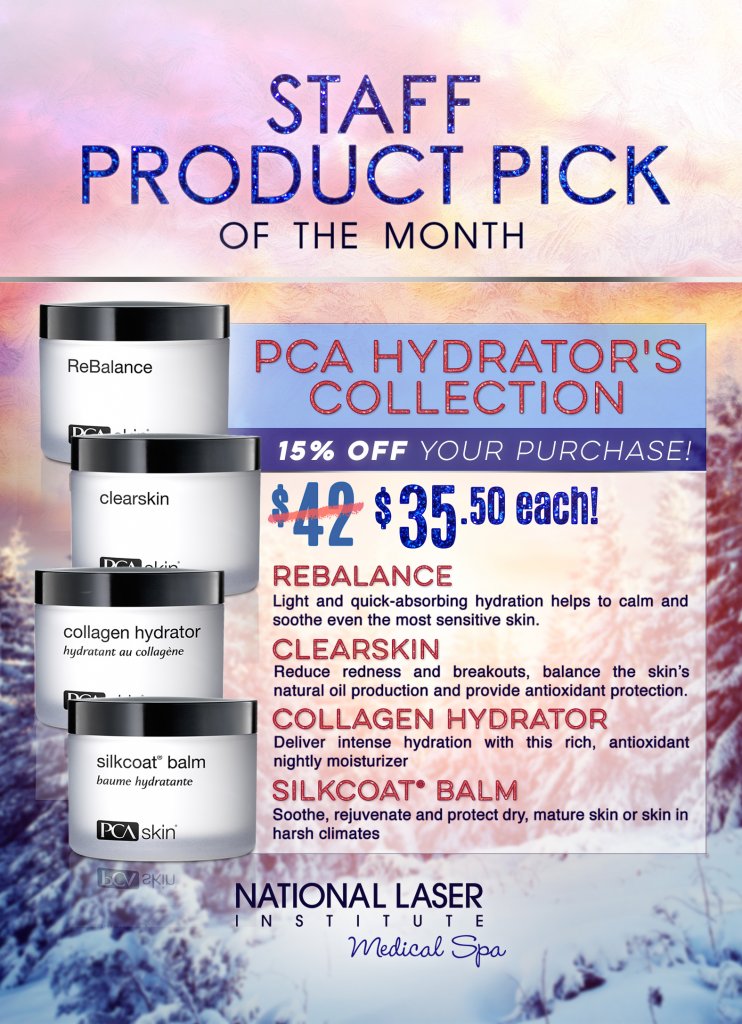 For the month of December, we are offering all products in the PCA Hydrators Collection at 15% off their original price! You can get every product in the collection this month for just $35.50! Here's an overview of what this powerful skincare collection can do for your skin.
Rebalance
This is a light moisturizer that absorbs into the skin quickly. If you have skin that is sensitive this is the perfect product to use to help calm and soothe the skin. It also keeps the skin balanced and has powerful antioxidant protection.
Evening Primrose seed oil calms and soothes the complexion
Vitamin E provides powerful antioxidant protection
Pro-Vitamin B5 hydrates skin to help balance oil production
Clearskin
This is a moisturizer that hydrates and soothes the skin. It's great for normal to oily skin that is prone to breakouts or skin that is very sensitive. It also helps to balance the oil production in your skin and provides antioxidant protection.
Quick-absorbing, non-oily feel
Reduces discolorations due to breakouts
Targeted ingredients that balance moisture levels
Plant extracts that purify and calm the skin
Collagen Hydrator
This is a rich moisturizer that hydrates dry skin and firms up skin that is aging. It's antioxidant and is the perfect nighttime moisturizer.
Fruit extracts, including olive and almond, infuse antioxidants into the skin while firming it
Multiple rich moisturizing ingredients hydrate, soothe and smooth the skin
Silkcoat Balm
During the winter months, this is a great product to use to soothe, rejuvenate, and protect your skin. It is also great for aging skin as it improves signs of aging. It's a deep moisturizer that has powerful antioxidant protection.
Jojoba seed oil offers rich moisturizing properties
Hydrolyzed silk proteins provide deep, non-greasy moisture
Squalane helps keep skin hydrated
Vitamin E provides antioxidant benefits
If you are interested in any of these products come in this month and pick one (or all!) up. Get your skin on the right track for 2020!