PRP Skin Rejuvenation
Do you have fine lines and sagging skin around your mouth, cheeks and eyes? Is your skin not as healthy, firm, and glowing as it once was? Have you got dark circles and bags under your eyes? One of the best treatments we offer to treat these concerns is PRP Skin Rejuvenation.  Continue reading and we will show you how the fastest growing treatment in the medical aesthetic industry can rejuvenate your skin and what you can expect when you get your first treatment.
What Is The History of PRP Therapy?
Platelet Rich Plasma (PRP) has been used in healing and patient recovery for years. Elite athletes receive Platelet Rich Plasma therapy for issues ranging from sprained ankles to chronic tendon injuries. Blood contains small solid components including red cells, white cells, and platelets. Platelets contain hundreds of proteins called growth factors which are vitally important in the healing process for injuries.
Increasing awareness of the benefits of Platelet Rich Plasma have fueled a booming industry.  According to a recent report by Transparency Market Research (TMR), "The global market for platelet rich plasma, which stood at $0.16 billion in 2013, will reach an estimated valuation of $0.35 billion by the end of 2020."  In fact, the Platelet Rich Plasma industry is slated to double by 2020.  Not only is Platelet Rich Plasma used in sports rehab, it's now a burgeoning new service in the anti aging marketplace for rejuvenating skin and treating hair loss.  
PRP Therapy Enters a New Market
It's only recently Platelet Rich Plasma therapy was adopted by the beauty industry. PRP skin rejuvenation therapy generates new collagen when it permeates your skin. Recent studies reveal that PRP skin rejuvenation therapy can ease sun damage as well as aging skin problems.  
Platelet Rich Plasma is naturally produced in your body. Platelets are the cells in your blood that help tissue to heal and grow new cells. For PRP skin rejuvenation therapy, we draw a small amount of blood from your arm and place it into a centrifuge machine. The machine separates and concentrates your stem cells, growth factors and platelets that are very important for tissue healing. This small amount of blood with a high concentration of platelets and growth factors is used to rejuvenate your skin.
PRP skin rejuvenation is a procedure that involves the application of your own Platelet Rich Plasma to your skin to naturally tighten your skin and create a smoother skin texture and tone. If you want to rejuvenate your skin without plastic surgery, PRP skin rejuvenation therapy is an excellent alternative.
Boost PRP Injections With Dermal Fillers
PRP skin rejuvenation therapy is used for volumizing your face to plump cheek indentations, soften under eye hollows, improve skin tone, tightness, and texture, and fill in areas where dermal fillers cannot reach or are not designed for use.
Dermal fillers are comprised of hyaluronic acid (HA), which soften fine lines and deeper skin folds and usually last from six to eighteen months. When used together, Platelet Rich Plasma and dermal fillers will supercharge your anti-aging results of your injection treatments.
The difference between PRP and HA, is that PRP triggers collagen growth for total facial rejuvenation. Whereas, HA is used for individual wrinkle improvement. You can choose to add a HA dermal filler to boost your PRP skin rejuvenation therapy. When we mix HA fillers with your Platelet Rich Plasma, the fillers will work to fill particular wrinkles while PRP skin rejuvenation therapy will enhance overall wrinkle improvement.
What To Expect During Your PRP Skin Rejuvenation Treatment
Beauty insiders trust their skin to our skin care specialists at the National Laser Institute because we are experts that teach physicians, nurses and other laser technicians from around the world the Gold Standard in advanced laser skin resurfacing and injection techniques. You can choose to visit our anti-aging academy for deeply discounted rates on treatments or receive your treatment in our med spa by the experts that teach doctors, nurses and laser technicians privately
To boost collagen and rejuvenate your skin, you can choose from the following powerful anti-aging PRP skin rejuvenation treatment options:  
PRP Blood Injection: Your own PRP is injected into your skin in areas that are damaged and need to be restored. 
PRP Blood Facial: Your own PRP is spread over your skin after a Microneedling treatment to smooth out wrinkles and maximize collagen production. Microneedling boosts PRP absorption by 3000%!
PRP Blood Facelift: We inject your own PRP into your skin along with a hyaluronic acid dermal filler to smooth out your wrinkles and supercharge your collagen production as well as fill in and lift facial hollows. 
At the start of your PRP skin rejuvenation treatment, a small amount of blood will be drawn from your arm. While the Platelet Rich Plasma is being prepared, your skin will be cleansed and prepared for the treatment. The procedure is quick, lasting about 15 minutes. It's relatively painless and requires no post-procedure care or time off from daily events. Mild swelling, redness, or bruising fade within one to three days. The Platelet Rich Plasma is made from your own cells, which means the likelihood of an allergic reaction is non-existent.
The objective of PRP skin rejuvenation therapy is to improve your skin tone and texture, tighten your skin, and soften lines and pores. Results can be immediate and are fully revealed three to four weeks after the treatment session and continue to improve with time.
PRP skin rejuvenation therapy can be combined with laser therapy, microdermabrasion, chemical peels, Restylane, Juvederm, Botox®, and/or Dysport® to achieve younger looking skin. Maintenance Platelet Rich Plasma treatments should be given over time. Three treatment sessions are generally recommended, spaced one to two months apart, to achieve the best outcome.
Are You Ready to Try PRP Skin Rejuvenation?
PRP skin rejuvenation therapy creates dramatic anti-aging results. When Platelet Rich Plasma is injected into areas of your skin that need rejuvenation, the high platelet concentration stimulates the growth of new collagen, revitalizes skin tissue creating naturally smooth and firm skin. PRP skin rejuvenation therapy smoothes wrinkles, treats scars, and creates a smoother skin feel and tone. Improvement of your skin tone and elasticity will be visible after treatment.  
We've got the insider secret on how you can rediscover your beauty for less and achieve a lasting return on your investment.  At the National Laser Institute, you get the same luxury treatments you would get from any luxury med spa around the world, but without paying luxury prices. For the cost of one treatment at other luxury spas, you can knock two or three treatments off your beauty wish list at National Laser Institute, and that's real value. 
Please call 800.574.8377 for your complimentary consultation to determine which treatment is best for your skin. Or click here to request your appointment online.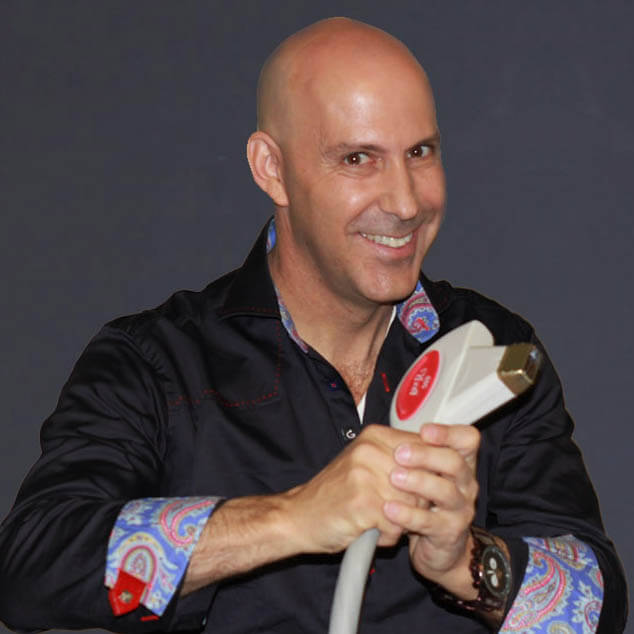 Louis Silberman
Louis J. Silberman is the CEO and Co-Founder of National Laser Institute, the pioneer of the medical aesthetics training industry and one of the largest educators in the country.