Puffy Eyes In The Morning
Have you ever looked in the mirror first thing in the morning and wondered, why is my face so puffy? You may be surprised that a plethora of issues can cause puffy eyes in the morning. If you desire #iwokeuplikethis dewy, glowing, firm skin, keep reading and we'll show you how you can get it and stop puffy eyes in the morning.
Certainly, having puffy eyes in the morning is not the end of the world. But is it too much to ask to look refreshed? When you wake up, you don't want to see tired eyes and dull skin in the mirror, especially when it doesn't correlate to how energized you feel.

So what causes puffy eyes in the morning in the first place? A puffy, swollen face occurs when fluids accumulated in your facial tissue. Excess fluid can be caused by all sorts of issues, but the most common is from fluids gathering in your face while you lie down. The water retention can also be caused by dehydration, a diet with too much sodium, and from PMS.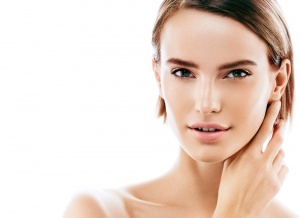 4 Tips To Fix Puffy Eyes In The Morning
Puffiness doesn't happen to everyone, and some people don't even notice. But if puffy eyes in the morning are bothering you, then try these 4 simple tricks for dewy, glowing, firm skin.
1)Drink plenty of H20
Drink water to flush out water retention. Dehydration can cause water retention in certain parts of the body, especially the face, ankles and stomach. It's a good idea to drink enough water throughout the day and before bed to avoid puffiness.
2)Avoid alcohol & cut out the salt
If your puffy skin is really bothering you, then you may want to consider giving up that glass of wine. Alcohol is dehydrating and causes puffiness. However, if you absolutely must sip wine with dinner, be sure to drink at least one glass of water for every drink you consume. Cutting out salt also helps eliminate puffy eyes in the morning.
3)Elevate your head
Use an extra pillow and sleep on your back to allow the fluids around your eyes to drain easier and keep the puffiness to a minimum. Be sure to eliminate allergens and wash off your makeup before your head hits the pillow to avoid puffy eyes in the morning.
4)Get eMatrix
eMatrix is a radiofrequency skin rejuvenation treatment which is safe for all skin types. We use a special focal tip which is safe for treatment around your eyes. We can treat all parts of the body including the face, neck and chest. eMatrix promotes collagen production by sending energy deep below the surface layers of your skin to improve the overall texture and tone of your skin. For tightening and reduction in fine lines and wrinkles, your best results will be revealed about 2-3 months after your treatment. We usually recommend 3-6 treatments about 4-6 weeks apart for optimal correction. However, everyone is unique. If you would like a better idea of the number of treatments you may need, you can schedule a free consultation.
The National Laser Institute is the premier anti-aging academy and private med spa in North America and we've been in business for over a decade.  We train physicians, nurses and laser technicians from all over the world in revolutionary medical aesthetic technologies including laser, IPL, and cosmetic injectable treatments.
Get luxury treatments without luxury pricing! Visit our anti-aging academy for deeply discounted rates where our eMatrix Skin Rejuvenation treatment is $200 per treatment area. Or you can visit our private med spa to receive your eMatrix Skin Rejuvenation treatment for $595 per treatment area from the experts that teach doctors, nurses and laser technicians.
You can trust our dream teams in Scottsdale, Dallas, Chicago, Boston, Philadelphia and Nashville to create your dream results using the Gold Standard in innovative aesthetic techniques. Please call us at 480-290-7333 or click here and we can get you scheduled. It's our pleasure to partner with you to achieve your skincare goals. Puffy eyes in the morning is optional. If you make these little changes you can be sure to post #iwokeuplikethis with the best of them!