Sun Tanning Trends
Sun tanning trends have been on a downward spiral for years. So how can it be that I still see people out sunbathing poolside, wearing OIL?!  
It's the 4th of July long weekend. Bright sunshine, lounging by the pool or at the beach, soaking up the sun, getting a tan, that's what summer is all about, right?  Even with sunscreen on, do we really understand the danger that UVA and UVB rays pose?  What are the rules of engagement when it comes to actually protecting your skin from the damaging rays of the sun? We all want to prevent photo aging and skin cancer.  In today's blog we reveal how just a little effort now will go a long way towards averting potential skin disaster later on.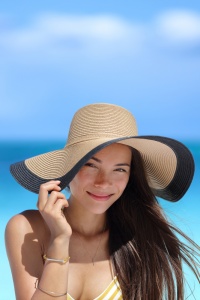 What's The Worst That Can Happen?
The UVA and UVB rays from the sun are highly damaging. Both UVA (Ultraviolet Aging rays) and UVB (Ultraviolet Burning rays) whether they are from the sun or an indoor sun tanning bed, cause premature skin aging, eye damage, and skin cancers. UV rays are a proven human carcinogen, and the main cause of basal cell and squamous cell skin cancers, as well as melanomas.The most damaging rays are the most intense between 10 AM and 4 PM from April to October.
Is Skin Cancer Common?
Yes. Unfortunately, skin cancer is the most common form of cancer in the United States. But the good news is, it is one of the most preventable cancers. 
Your chances of developing skin cancer are higher if one or more of the following risk factors apply to your skin type, lifestyle, and genetic makeup:
Fair skin.

Family history and genetic predisposition to skin cancer.

Exposure to the sun.

A history of sunburns as a child.

A history of indoor sun tanning.

Skin that burns, freckles, or reddens easily.

Blue or green eyes, blond or red hair.

A large number of moles.

Immune deficiency from cancer or disease.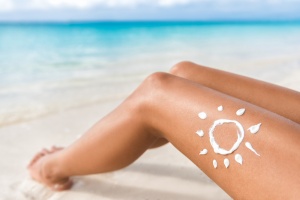 Skin Cancer Prevention
Seek shade, especially between the hours of 10 AM and 4 PM.

Avoid sun tanning and UV sun tanning booths.

Cover up with clothing, including a broad-brimmed hat and UV-blocking sunglasses.

Use a broad spectrum UVA and UVB sunscreen with an SPF of 30 or higher daily. For extended outdoor activity, use a water-resistant, broad spectrum sunscreen.

Apply 1 ounce of sunscreen to your entire body 30 minutes before going outside. Reapply every two hours, or immediately after swimming or excessive sweating.

Examine your skin, head to toe, every month.

See your physician every year for a professional skin exam.

Put on sunscreen every single day, rain or shine.
Are Sun Tanning Salons the Answer?
Sunlamps used in sun tanning salons emit doses of UVA as much as 12 times that of the sun. People who use sun tanning salons are 2.5 times more likely to develop skin cancer. According to recent research, exposure to sun tanning beds in youth, increases skin cancer risk by 75 percent!
Use Medical Grade Sunscreen & Treatments
Taking your chances with UV damage is risky business. Protect your skin with medical grade sunscreen. EltaMD® Tinted Sunscreen is only available by prescription. It's the best medical grade sunscreen on the market, and we carry it here at the National Laser Institute Med Spa. To reverse the signs of sun damage, we invite you to visit our training institute for deeply discounted rates on treatments or receive your treatment in our med spa by the experts that teach doctors, nurses and laser technicians privately.
The National Laser Institute Med Spa offers complimentary consultations. Call 800-851-0969 or click here for your free consultation with one of our skincare experts. Avoid sun tanning and have a happy 4th of July from the staff at the National Laser Institute Med Spa.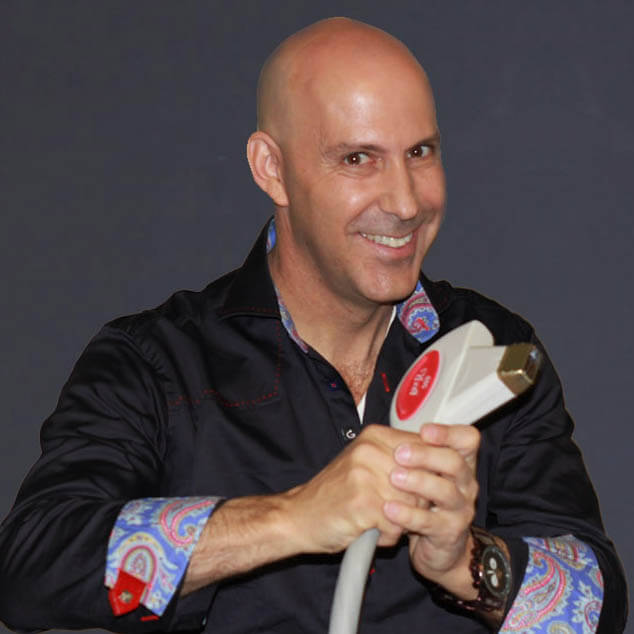 Louis Silberman
Louis J. Silberman is the CEO and Co-Founder of National Laser Institute, the pioneer of the medical aesthetics training industry and one of the largest educators in the country.