Tattoo Removal Offers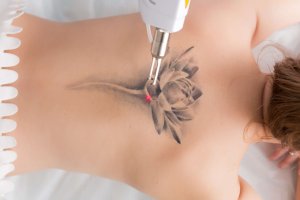 When you are looking for tattoo removal offers, there are many factors to consider. Depending on the type and color of your tattoo, it can be a costly endeavor. Moreover, not only should you shop for the best price, you should shop for experienced technicians. Learn more about tattoo removal offers at NLI.
Laser Tattoo Removal
How does Laser Tattoo Removal Work?
Laser tattoo removal works by using wavelengths that penetrate deep into the skin to target tattoo ink. Different pigments of ink respond to different wavelengths of the laser. Moreover, the targeted pigmented ink is breaks down. Then, it is flushes through the lymphatic system.
Why You Need More Than One Treatment
The treatment area is the size of less than half a sheet of paper. The body is only capable of processing so much pigment at once. As a result, laser tattoo removal sessions are spaced out so your body can safely flush the pigment out.
In addition, larger tattoos may require even more sessions due to the size limit of the treatment area. Moreover, different wavelengths target different ink colors. As a result, a tattoo with multiple colors will require more than one treatment.
Tattoo Removal Considerations
Tattoos with black, dark green, brown, or dark blue ink will be easier to remove. In contrast, red, pink, orange, yellow, or pale blue ink colors may require more sessions to remove. In addition, older tattoos are easier to remove than newer ones.
Tattoo Removal Offers
NLI offers laser tattoo removal beginning at $99 per treatment. This will all be dependent on the size of your tattoo and the colors used in the ink. In addition, NLI also offers laser tattoo removal beginning at $59. These treatments are performed by NLI's highly trained students.
Why National Laser Institute?
"Great place! I've had 3 tattoos removed, a total of 9 treatments all together. Always professional and hardly no wait time at all. I recommend you guys every chance I get!" -Melanie M.

"My tattoo removals are going well. I have only had 3 sessions on one of them and it is almost gone (it is black ink only). I have another with color that is starting to fade now. The staff is always really nice to me and they make me feel comfortable. Obviously tattoo removal hurts, but they let you know it is quick and they make sure to ask you if you are doing okay. Very nice people, happy with my results so far!" -Anonymous

"Getting laser treatments to remove a tattoo is a painful experience. However, Shelley Cook at NLI is precise, fast and cheerful, making the treatment as painless as humanly possible." -Linda B.
Interested in learning more about cosmetic injections or laser services? We offer your choice of virtual consultations from the comfort of your home or in person complimentary consults. Click here to schedule yours.