Thirsting For Hydrated Skin?
Are you thirsting for hydrated skin?  Pumpkin is the perfect beginning to celebrate Fall and replenish dry, summer skin.  The Rhonda Allison pumpkin skin care products exfoliate surface skin cells, provide antioxidant support, stimulate collagen activity, and leave skin feeling smooth and polished!
Pumpkin contains the highest content of naturally occurring Vitamin A and Beta Carotene over any other fruit. Pumpkin is nature's collagen therapy that also helps remove toxins that are stuck deep in pores and neutralize free radicals. It naturally protects skin from ultra violet rays due to its high zinc content.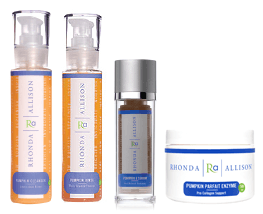 Thirsting For Hydrated Skin
If you are thirsting for hydrated skin, we asked our skin care professionals about how the following Rhonda Allison skincare treatments can benefit your skin. Here's what we found out.
Pumpkin Cleanser is gentle enough for ultra sensitive skin, but cleanses deeply for normal to oily skin types. It removes toxins that are stuck deep in pores and neutralizes free radicals.  This creamy cleanser contains lactic acid to hydrate your skin and encourage exfoliation. It's also made from an ultra-mild, natural sugar-based, sulfate-free surfactant that helps boost the effectiveness of the lactic acid. Super antioxidant, beta carotene, increases cell turnover and protects skin from photo-damage. The signature ingredient, pumpkin seed oil, is a valuable source for vitamin A & C, zinc and beta carotene. Ginger root oil is high in antioxidants and treats inflammation. Clove leaf oil provides antioxidant and antiseptic support. Cinnamomum cassia leaf oil contains antibacterial and anti fungal properties and stimulates and tightens skin.
Pumpkin Peptide Polish offers a new approach to sophisticated skin rejuvenation using many key cosmeceuticals including AHAs, Pumpkin/Retinoic Acid, Peptides, Multi-Acids, Retinaldehyde, and Growth Factors. Leaves skin feeling smooth and looking bright for a more youthful appearance – great for all skin types!
Pumpkin Refresher contains powerful extracts to dissolve, soften and exfoliate dead skin cells, resulting in healthy, glowing skin. You will see smoother texture and brighter skin tone while pumpkin attacks pigment cells, improving texture, photo-aging and uneven skin tone.  The powerful infusion of antioxidants and nutrients makes Rhonda Allison's Pumpkin Refresher a vital part of keeping your skin healthy.
Pumpkin Body Facial has natural surface-reducing lipids and essential oils. It provides valuable antioxidants and vitamins for the entire body – gentle enough for ultra-sensitive skin, but effective enough for normal to oily skin types. With a blended exfoliator using pearl powder and bamboo extracts, this unique body facial lifts away dead skin cells and leaves the skin refreshed and hydrated. With the additional benefits of lactic acid, skin feels softer, more toned, and renewed. The perfect body treatment to compliment any Fall facial.
Are you looking for the perfect gift, beautifully packaged and ready to go, or perhaps just wanting a special treat for yourself? Look no further, Rhonda Allison's pumpkin skincare is the answer!  Beautifully packaged, this high-end system is a potent ally in the anti aging business, protecting skin from free radical damage and supplying important nutrition for healthy, younger-looking skin.
If you are thirsting for hydrated skin, revitalize and refresh your skin with the collagen-boosting effects of pumpkin. Natural enzymes help keep your skin refined and antioxidants fight free-radical damage. 
In addition to the Rhonda Allison product line, the National Laser Institute Med Spa offers a variety of medical-grade skin rejuvenation products for a radiant complexion such as SkinMedica and PCA Skincare which go hand-in-hand with our advanced cosmetic laser, radiofrequency, and IPL services. To find out what product or service would be the best fit for your skin, call 800.851.0969 or click here and receive a free consultation with one of our expert skin care specialists.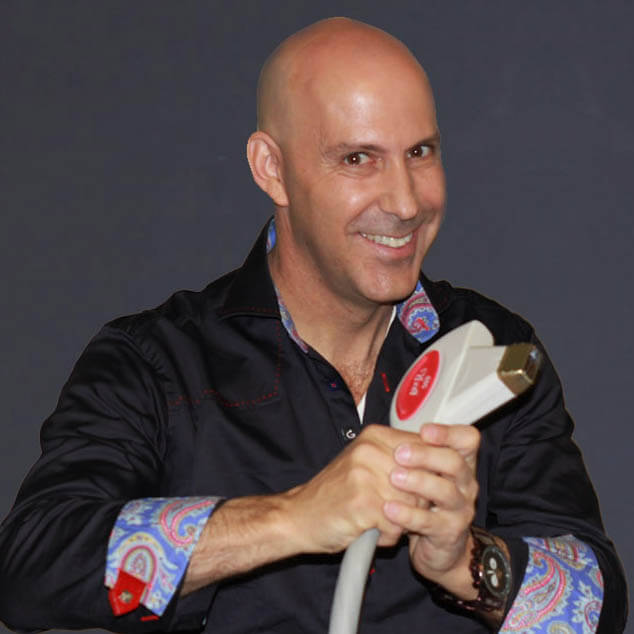 Louis Silberman
Louis J. Silberman is the CEO and Co-Founder of National Laser Institute, the pioneer of the medical aesthetics training industry and one of the largest educators in the country.