Wrinkle Treatments Scottsdale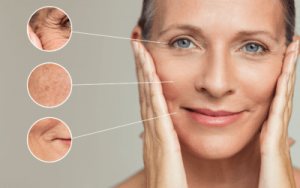 Wrinkle treatments have advanced since the days of its start to produce more natural-looking results. In addition, it is becoming increasingly common to use non-surgical techniques to stave off the effects of aging. Try wrinkle treatments in Scottsdale at National Laser Institute. Moreover, there are many treatment options for non-invasive laser techniques. In addition, NLI offers injectable fillers for wrinkle treatment.
Wrinkle Treatments in Scottsdale
What you are going to notice is a lot of laser wrinkle treatments in Scottsdale incorporate different approaches to achieve the same result. Moreover, many of the function of wrinkle treatments are to boost collagen and elastin production. In addition, they use the function of creating tiny columns within the skin to trigger healing responses. This is a good thing! These in turn, effectively stimulate collagen and elastin production. As a result, this erases fine lines and wrinkles from your complexion.
Laser Wrinkle Treatments
eMatrix
eMatrix is an excellent one of many wrinkle treatments in Scottsdale. This procedure is non-invasive and works by resurfacing your skin. In addition it uses radiofrequency waves to create controlled micro-injuries beneath the surface of your skin. As a result, this process stimulates the production of collagen and elastin.
Try an eMatrix focal tip treatment for smaller and more sensitive areas of the skin. eMatrix focal tip treatments focus on the surrounding eye area. Moreover, it treats "crow's feet" and other fine lines around the eye. In addition, the treatment can be applied to the area surrounding your mouth. As a result, it can focus on "smoker's lines" or "smile lines."
1540 Fractional Laser
A 1540 Fractional Laser treatment is another one of many great wrinkle treatments in Scottsdale. 1540 Fractional Lasers use resurfacing technology to create tiny channels under the surface of the skin. Moreover, the small channels activate the body's natural healing response. As a result, collagen and elastin production is boosted to heal your skin from the inside out.
MicroLaser Peel
A MicroLaser Peel provides all-over skin rejuvenation. This in turn reduces fine lines and wrinkles. In addition, it creates microscopic columns within the layers of the skin to boost collagen and elastin production.
Profractional Laser
A Profractional Laser treatment will provide you with smoother and firmer skin. It uses a new generation ablative laser. Moreover, this laser is able to safely create microscopic channels within the surface of the skin. This in turn, stimulates the production of collagen and elastin. Then, the wound healing response of the body begins to produce new, healthy skin cells to fill these channels.
Injectable Wrinkle Treatments
Botox injections for wrinkle treatments work by weakening the muscles associated with fine lines. As a result, the muscles no longer contract to form wrinkles. In addition, Botox injections can be applied to a variety of areas on the face to treat each little wrinkle.
Schedule a consultation to find out which wrinkle treatment option will give you the overall results you are looking for. An expert laser technician will discuss treatment plans based on your skin. Then, they will customize a plan that perfectly fits to your individual needs!
Interested in learning more about cosmetic injections or laser services? We offer your choice of virtual consultations from the comfort of your home or in person complimentary consults. Click here to schedule yours.