January Spa Specials!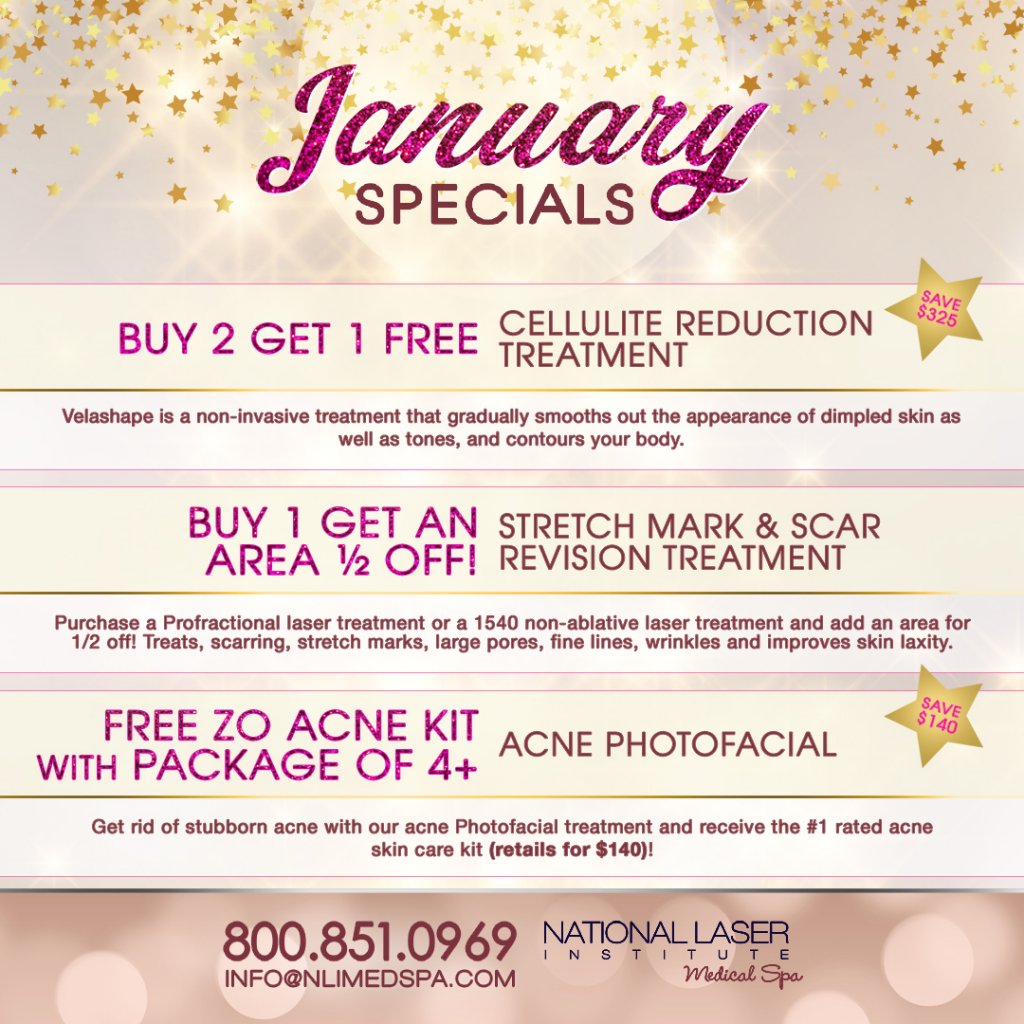 This month for the new year we have three exciting treatments to help you look and feel your best in 2020! This month we are offering specials to help you with cellulite, stretch marks, scars, and acne. Velashape treatments are buy two, get one free. Purchase a profractional laser treatment or a 1540 non-ablative laser treatment and add an area for half off! Acne Photofacial treatments are buy a package of four or more and get a free ZO acne kit! These are great deals that you don't want to miss out on! Keep reading to learn how these treatments can benefit your skin so that 2020 becomes the year you finally achieve the skin of your dreams!
Cellulite Reduction Treatment
Cellulite can be a frustrating skin condition that causes the skin to appear dimpled and lumpy and usually shows up on the thighs, hips, buttocks, and abdomen. It can cause many people to feel uncomfortable in their skin. Cellulite appears more frequently in women than in men. Here at the National Laser Institute, we offer a cellulite reduction treatment that improves the overall appearance of cellulite. The treatment, Velashape is a combination of infrared light, bipolar radiofrequency, and vacuum and massage techniques that all work together to target unwanted cellulite. The treatment is customized to your skincare goals and prior to treatment, you'll have a consultation with one of our medical aestheticians. Take advantage of this amazing treatment being a special this month and get two Velashape treatments for the price of one!

Stretch Mark and Scar Revision Treatment
Stretch marks can happen due to a few different reasons. Through things such as pregnancy or through rapid weight gain or loss. Here are a few different things that may increase your likelihood of getting stretch marks:
Having a personal or family history of stretch marks
Being pregnant, especially for younger women
Being overweight or obese
Rapidly gaining or losing weight
At our medspa, you can get laser stretch mark reduction that reduces the overall appearance of stretch marks by using a fractional laser that scatters pulses of light over the area of stretch marks
The fractional laser creates microscopic, fractionalized columns that generate the natural healing process in the skin. The treatment stimulates collagen and begins to fade the appearance of stretch marks. This treatment is customized to your needs and you'll have a consultation with one of our medical aestheticians prior to treatment. Both the profractional laser treatment and the 1540 non-ablative treatment help with the appearance of scars on the skin. Take advantage of this great offer for January and purchase a profractional laser treatment or a 1540 non-ablative laser treatment, and add an area for half off!

Acne Photofacial
If you are looking to get clear skin in 2020 and finally get rid of stubborn acne then consider getting an Acne Photofacial at our medspa. This treatment kills the bacteria that is the cause of acne on the skin and decreases the appearance of redness and acne scarring.
Acne Photofacials can treat the following:
Pimples
Cystic acne
Zits
Pustules
Acne scars
Active acne breakouts
Facial redness caused by acne
If you buy a package of four or more Acne Photofacial treatments then you'll get a FREE ZO Acne Kit! Take advantage of this special offer this month!
If you're interested in any of these treatments then give us a call at 1-800-851-0969 to set up a consultation or get scheduled!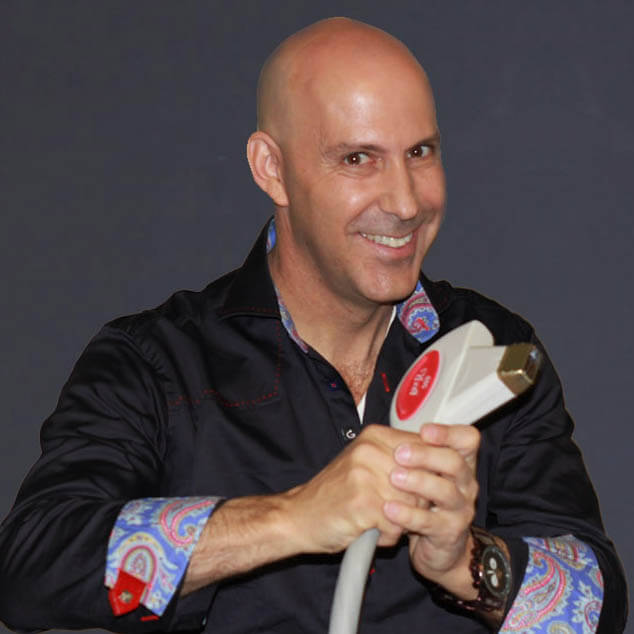 Louis Silberman
Louis J. Silberman is the CEO and Co-Founder of National Laser Institute, the pioneer of the medical aesthetics training industry and one of the largest educators in the country.