Best Sunscreen For Face
Let's face it. Who doesn't love the way the sun makes them feel? Researchers say vitamin D derived from sunlight exposure is associated with an overall sense of wellbeing. But did you know the increase in skin pigment called melanin, which causes the tan color change in your skin, is a sign of damage? The bottom line is there's no such thing as a safe tan.
While we focus on applying sunscreen to our skin when we plan to spend time outdoors, the reality is sunscreen should be applied every morning even if you are staying indoors. Our clients invest in their skin and want to know how they can best protect their investment. In today's blog, we'll talk about our best sunscreen for face and body so you can protect your skin. Continue reading and we'll show you what to look for when shopping for the best sunscreen for face and body skin protection.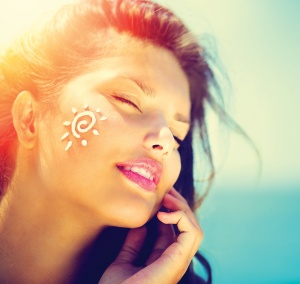 Broad Spectrum Protection
There are two types of rays that penetrate the ozone layer which age and burn your skin: long wave ultraviolet A (UVA), and short wave ultraviolet B (UVB). The best sunscreen for face and body skin protection is broad spectrum, and will protect your skin from both UVA and UVB rays.
UVA rays account for 90 to 95% of ultraviolet light. These rays penetrate deep into your skin and are responsible for skin aging, wrinkling and tanning. UVA rays are present at relatively the same intensity all day long, at all times of the year, and they can penetrate clouds and glass. So when you're inside or driving in your car, you're still soaking up these rays.
UVB rays damage the to layers of your skin, causing redness and a sunburn. Unlike UVA rays, UVB rays cannot penetrate glass – so when you're inside your skin is protected. When looking for the best sunscreen for face and body, look for Broad Spectrum.  If 'broad spectrum' is not on the label, do not buy it. It means that it does not screen against UVA and UVB rays.
Chemical vs. Mineral Ingredients
Active ingredients in sunscreens are either chemical or mineral. Chemical sunscreens form a protective film on the surface of your skin and absorb UV radiation before it penetrates your skin. In contrast, mineral sunscreens form a barrier on the surface of your skin and reflect UV rays away from your skin.
FDA-approved chemicals used in sunscreens that absorb UVA and UVB rays include dioxybenzone, oxybenzone, and sulisobenzone. Approved UVA filters include avobenzone, ecamsule, and meradimate. There is potential for chemical UV filters to absorb into your skin and get into your bloodstream. However, chemical sunscreens have been declared safe by The Skin Cancer Foundation and the American Academy of Dermatology.
Mineral sunscreens contain active mineral ingredients, such as titanium dioxide or zinc oxide, and protect against both UVA and UVB rays. Mineral sunscreens are the safest because they are stable in sunlight and do not penetrate the skin. When you are looking for the best sunscreen for face and body, zinc is one of the only ingredients that covers the full broadband protection of both UVA and UVB rays. The added benefit of choosing a mineral sunscreen is they are effective immediately, whereas chemical sunscreens need to be applied 30 minutes before sun exposure. When looking for the best sunscreen for face and body, look for zinc.  Zinc is a formidable barrier, and is the leading filter for UVA and UVB rays.
EltaMD Sunscreen Best Sunscreen For Face
At the National Laser Institute Med Spa, we recommend EltaMD Sunscreen. There are 4 EltaMD sunscreen formulations that will meet your specific needs: EltaMD UV Clear, EltaMD Daily Tinted, EltaMD UV Physical and EltaMD UV Sport. All formulations contain 9% transparent zinc oxide, have antioxidants to absorb free radicals, are fragrance-free, oil-free, paraben-free, non-comedogenic, sensitivity-free, and leave no residue.
EltaMD UV Clear helps soothe and protect sensitive skin predisposed to breakouts, rosacea and blotches. It consists of niacinamide (vitamin B3), hyaluronic acid and lactic acid. The UV Clear sunscreen is lightweight and velvety and it can be worn with makeup if desired. It's also available in a tinted formula to even out skin discoloration. It also calms and protects skin susceptible to acne.
EltaMD UV Daily Tinted offers major UV blocking power and first-rate hydration. EltaMD UV Daily has hyaluronic acid to boost moisture retention and diminish fine lines. This lightweight moisturizer with UV protection can be worn alone or under makeup. You can choose from tinted and untinted formulas for daily use. Hyaluronic Acid increases skin smoothness, softness and decreases wrinkles.
EltaMD UV Physical offers sun protection with just a touch of color, our lightly tinted UV Physical is a healthy choice. This chemical-free natural mineral sunscreen has antioxidants to neutralize free radicals. Water-resistant UV Physical withstands water, humidity, and perspiration.  This formula is lightly tinted and is water resistant for 40 minutes.
EltaMD UV Sport is great for outdoor athletes and aficionados. UV Sport is water-resistant so it won't rinse off in water or get into your eyes when you perspire. This formula is water resistant for 80 minutes and can be applied to wet or dry skin.
The National Laser Institute Med Spa offers a variety of medical-grade skin rejuvenation products for radiant, glowing skin. Our retail products including SkinMedica as well as Rhonda Allison and EltaMD, go hand-in-hand with our advanced cosmetic laser, radiofrequency, and IPL services. To find out what product or service would be the best fit for your skin, and to purchase the best sunscreen for face and body, call 480.290.7333 or click here and receive a free consultation with one of our expert skin care specialists.