Fractional Laser Reviews
Most of us wish we could slow down the effects aging has on our appearance. Advances in anti aging medicine allow us to slow down the effects of aging and turn back time in the process. Fraxel® is proven laser technology that can help reverse the effects of aging on your skin so you can look as young as you feel. If you have sun damaged, aging, irregularly pigmented, acne scarred, wrinkled, sagging, or irregularly textured skin, you don't need surgery—you need to read our Fractional Laser Reviews for ageless inspiration!
As the pioneer in cosmetic laser technology, Fraxel fractional laser skin rejuvenation has treated over 800,000 clients. Fraxel provides a non-invasive treatment that safely solves some of your biggest skin care concerns.
WHAT ARE THE BENEFITS OF FRACTIONAL LASER SKIN REJUVENATION?
Fractional Laser Skin Rejuvenation reduces the following skin concerns:
Fine lines and wrinkles

Surface scarring

Pigmentation

Sun damage

Actinic Keratosis
Fractional Laser Skin Rejuvenation is one of the best treatments to get the most results in one treatment.  If you have 7-14 days for downtime, having this one treatment is like having multiple other non-invasive treatments at once. It is also one of the best single treatments for advanced skin damage and wrinkling.
HOW THE FRACTIONAL LASER WORKS
Fractional Laser Skin Resurfacing removes layers of skin tissue in a fractionated method. Columns of skin are removed, leaving the skin surrounding each column intact to aid in healing. Collagen production is stimulated while replacing the older skin with firmer, smoother, and rejuvenated skin.
Fractional Laser Skin Rejuvenation works in 4 steps:
A Smart scanning handpiece ensures consistency and safety during treatment

Fractional lasers penetrate the top layers of your skin

Fraxel light energy stimulates collagen production and resurfaces the top layer of your skin

Your skin's natural healing process stimulates collagen production, smoothing wrinkles, and scars
Your treatment will last 15-45 minutes. Most of our Fractional Laser Skin Rejuvenation clients report the sensation of a light sunburn immediately following treatment, but treatment plans can vary. Our staff will guide you through your best treatment plan options to meet the needs of your specific skin type and skin care concerns.
Fraxel works with your body's natural healing process, so results typically take one to three weeks to take effect. Results include a significant and noticeable reduction in the components of sun damaged skin such as age spots, freckles, fine lines, wrinkles, acne scarring, skin laxity, texture issues, and dullness. Your skin will continue to improve  as more collagen is produced for a period of six months following the procedure as long as proper skincare is used and sun exposure is minimized.
Fraxel Fractional Laser Reviews are built on transformative results for thousands of people around the world. In science and medicine, sometimes numbers reveal the Fraxel story best. Here are some impressive statistics:
Fraxel is available in more than 80 countries worldwide

Over 2,500 physicians offer Fraxel treatments

Over 800,000 procedures have been performed

More than 55 peer-reviewed articles have been written

Over 45 patents have been issued on unique fractional laser technology

Fraxel received aesthetic clearance in November 2003
FRACTIONAL LASER REVIEWS
"If you use the actual spa I totally recommend Kellie Jones. She was wonderful to my mother and myself! We had two photofacials and I was happy with the results, being in the field. She was friendly and she knows her stuff! My mom is getting fraxel laser from Kellie and she is looking gooooood! I recommend my clients to her for laser hair removal as well! I don't know much about the school myself but clients have gone and have been happy with the prices and their results!" Lisa F.

"I originally went to Deb Schechner to get to laser hair removal and she was awesome!  She made me feel totally comfortable, we had great conversation and I was in and out of there in a flash!  I'm very happy with the results. I only shave about once a month to get the random stragglers. After I finished getting laser hair removal, I decided to see Deb for a fractional and I'm shocked at how instant the results were. My pores are smaller and my skin looks all around youthful and smooth! Absolutely love the results, I've had peels and facials before but never seen results like this. If you're considering either treatment I'd highly recommend Deb!" Rebecca A.
At the National Laser Institute, you get luxury treatments without luxury pricing. Visit our anti aging academy for deeply discounted rates where our Fractional Laser Skin Rejuvenation treatment starts at $200 per area. Or you can visit our private med spa to receive your Fractional Laser Skin Rejuvenation treatment starting at $595 per area from the experts that teach doctors, nurses and laser technicians privately.
If our Fractional Laser Reviews inspired you, we invite you to call 800-851-0969 or click here for your complimentary consultation with one of our expert skin care specialists to find if you are a candidate for treatment. While medical aesthetics is our passion, client care is our reason for being. With our locations in Scottsdale and Dallas, and our destination events in Philadelphia, Boston, Nashville, and Chicago, we are dedicated to helping you discover the younger, healthier and more beautiful you – from the inside out.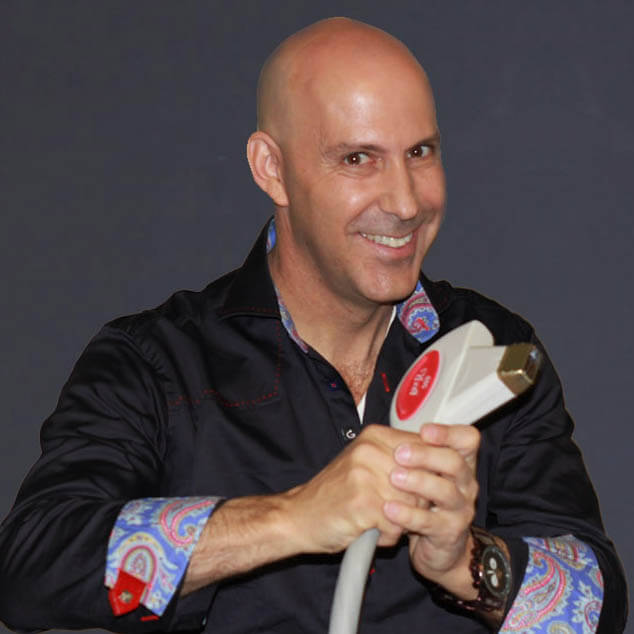 Louis Silberman
Louis J. Silberman is the CEO and Co-Founder of National Laser Institute, the pioneer of the medical aesthetics training industry and one of the largest educators in the country.