CoolSculpting Now Available At National Laser Institute Med Spa!
Did you know CoolSculpting is the best kept secret in Beverly Hills? In fact, this non-invasive treatment has quickly become the most requested fat-reduction procedure on the planet! Now you can get the revolutionary CoolSculpting treatment at the National Laser Institute Med Spa in Scottsdale!
What Is Coolsculpting?
There have been over 2 million CoolSculpting treatments performed since its inception. Our CoolSculpting clients are thrilled to look as good as they feel thanks to the revolutionary CoolSculpting procedure, without downtime!
CoolSculpting is the only FDA-cleared,* non-surgical fat-reduction treatment that uses controlled cooling to eliminate stubborn fat that won't go away even with diet plans and fitness routines. The lasting results speak for themselves. As a non-invasive procedure, patient satisfaction is high!
CoolSculpting is the number one proven, safe and effective non-surgical fat reduction treatment. With more than 50 scientific and clinical journal papers, medical meeting posters, and technical reports, CoolSculpting is based on a solid foundation of medical science.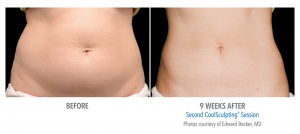 How Does CoolSculpting Work?
CoolSculpting technology safely delivers precisely controlled cooling to gently and effectively target the fat cells underneath the skin while leaving the skin itself intact.
Treated fat cells are crystallized and then die. Over time, your body naturally processes the fat and eliminates these dead cells.
Our specialists provide in-depth training and certification to doctors, nurses and laser technician from around the world. At the National Laser Institute Med Spa, CoolSculpting treatments are performed under the close supervision of a licensed professional to ensure you receive the best standard of care.
The CoolSculpting system is the only controlled cooling device that is designed with built-in safety controls. If the system senses the temperature of your skin is getting too cold, the system will shut down automatically.
Just like the 2 million people who have already experienced the safe and effective results, you can be confident CoolSculpting will work for you.
The benefits of CoolSculpting are non-invasive which means you can reduce fat without:
surgery

anesthesia

needles

invasive techniques, or

downtime
Now you can experience the FDA-cleared CoolSculpting treatment to freeze away stubborn fat at the National Laser Institute Med Spa. Eliminate fat where the bulges really bother you in these 5 treatment areas:
Abdomen

Love Handles

Double Chin

Inner Thighs

Outer Thighs
What To Expect During Your Treatment
At your first visit, you will meet with our expert CoolSculpting staff for your consultation. We will formulate a holistic plan to achieve your goals for reshaping your body and target specific areas where you would like eliminate fat.
Together we will look at areas you would like treated and prescribe how many treatments you will need to attain the sculpted shape you want.
During your treatment, a gel pad and applicator will be applied to the targeted area. The CoolSculpting applicator delivers controlled cooling to the targeted fat. During your procedure, you are free to read, check email, or even take a nap.
We will work together with you to customize the optimal treatment plan to meet your needs. Every body is different. It may take as little as one office visit to achieve your goals.
A customized treatment plan may include more than one CoolSculpting treatment.
If you want to freeze away fat from your inner and/or outer thighs—and also get rid of that muffin top, different applicators can be used for your desired aesthetic outcome.
Special Offer
Many of us have stubborn fat despite diet and exercise. CoolSculpting technology uses controlled cooling to target and kill only these fat cells.  In the weeks to follow, your body naturally processes the fat and eliminates dead cells.  CoolSculpting results are long term because treated fat cells are gone for good. Untreated areas will have no change in fat cell distribution.
The CoolSculpting procedure is proven, safe and effective. You will love how your clothes fit better, you feel better, and you look better. Take advantage of our introductory offer and get CoolSculpting for $200 off!
At the National Laser Institute Med Spa, it's easy to get started on your CoolSculpting journey to a slimmer you. Your first step will be scheduling your complimentary consultation by calling 480.290.7333 or clicking here.