Dermal Filler Lip Injections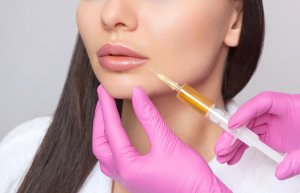 Most people are wary of any type of permanent procedures or disfiguration to their body. Today's progressive aesthetic industry gives clients a safe solution with no permanency. As a result, you have a very low risk of being stuck with undesirable effects. Injectable cosmetics are popular in the cosmetic industry, and evolving all the time! Common uses for injectables are filling deep wrinkles or adding volume to areas of your face. More so, if you're interested in the infamous pout, dermal filler lip injections are your solution. 
What are Dermal Fillers? 
Dermal fillers are safe, non-invasive and non-surgical injectable treatments. This gel-like filler has a hyaluronic acid-base and is injected beneath the skin. As a result, restoring lost volume to the skin by filling deep creases and fine lines, and enhancing your facial contouring. Hyaluronic acid is a natural substance produced in the body. Therefore, contributing to healthy, moist tissue in the skin. As we age we lose the ability to retain the water and moisture and in return, we see wrinkles. As a result, fillers almost instantly show results. Creating a natural, soft, and fresh look. 
Dermal Fillers Lip Injections
The gel-like filler can plump thinning, support structure, and reshape undesirable lips. With the hyaluronic acid-base, you have the ability to control the volume of your filler with a natural substance. All Dermal fillers are specific to each person and not permanent. No injection is a one-size-fits-all treatment. Therefore making injectable cosmetics a completely custom experience to each individual client and Dermal filler lip injections extremely popular.
Side Effects
As with any elective cosmetic procedure, there are side effects and risks to consider. The majority of people who experience side effects from Dermal fillers in the lips have mild symptoms. Though most side effects will go away within days of treatment. 
Redness, bruising, bleeding, or swelling at the injection site

Rash and itching 

Lumps and Bumps 

Discoloration in pigment 

Skin damage or scarring 
Pre-Treatment Care
With any injectable treatment, there are steps to take to reduce your chance of mild side effects such as bruising and bleeding. We recommend avoiding the use of alcohol or blood thinners like Ibuprofen and aspirin for at least 24 hours but preferably a week prior to treatment. 
Post-Treatment Care
One of the best incentives with Dermal filler lip injections, there is no downtime necessary! In other words, you can walk out of your treatment and presume your daily activities. As a precaution, avoid the gym and other vigorous exercises, do not massage the injected area, and avoid excessive heat or sun exposure for at least 3 days after your injections. 
NLIMedSpa for Dermal Fillers in Lips
We offer this quick treatment at every convenient location. In addition, we guarantee all procedures to only be performed by trained, medical professionals. When you come to NLIMedSpa for your Dermal filler lip injections, you have the option to receive treatment in one of two ways. As a result, you have the ability to make the best decision for you, financially. Receive your injections in our private medical spa with competitive pricing in the market. Or, in our training environment that offers procedures at a discounted service. Because of this, our staff can train students in a hands-on environment. 
Interested in learning more Dermal filler lip injections? We offer your choice of virtual consultations from the comfort of your home or in-person complimentary consults. Click here to schedule yours!