Halo Pro Laser Treatment Review
In today's vlog, we will show you how the revolutionary Halo Pro Laser can transform your skin.  Watch as Kayla experiences the Halo Pro Laser to treat her acne, sun damage, pigmentation, and scarring concerns.
Laser technician, Hilary, begins Kayla's treatment by explaining how the Halo Pro Laser will first measure Kayla's face. She then describes how the treatment will feel.
"It's a one of a kind treatment where the machine actually takes a facial measurement to determine the optimal level of Joule output required for that area of skin. You will feel me measuring, and you will not feel any pain or discomfort whatsoever. And then after that, when we start the treatment, it's going to feel warm. And it will start to build – it will feel pretty hot as soon as I'm done with that area," says Hilary.
Because Kayla received a numbing cream applied to her skin upon arriving, she will be comfortable during her treatment. Hilary applies protective eye patches over Kayla's eyes. Next, the Halo Pro Laser measures the exact dimensions of Kayla's face.
"Traditionally, when you use fractional lasers, there's really nothing controlling how deep it's getting in the skin.  With this one, there is a thermometer measuring the temperature of the skin as I'm going along and adjusting it to make sure all of my desired depth is hitting exactly where I want it," says Hilary.
As Kayla's Halo Pro Laser treatment continues, you can see little white marks on her skin.  This is called stippling and it shows the amount of resurfacing. Hilary can change the amount of stippling on Kayla's skin based on what her concerns are.
The Halo Pro Laser treatment concludes in just 30 minutes.  We wrap up today's vlog with an interview to find out why Kayla chose this treatment.
"Why would a 24 year old get such an aggressive treatment?" I ask.

"Me, particularly? Pigmentation issues. I was constantly caking on the makeup. Just caking on the layers," says Kayla.

"Every morning, caking on the makeup?" I ask.

"Yes, I had pigmentation, scarring, old red, purple and brown spots, sun damage, acne scars," says Kayla.
Kayla admits she has suffered from acne and acne scarring from a young age. To document her journey to beautiful skin, she kept extensive journals of her Halo Pro Laser treatments.
"Tell me, when you were keeping your video diaries, what were you seeing as each day passed?" I ask.

"My face was really red the first few days. And then my pigmentation issues that I had originally started coming off. Like sloughing off. My skin started flaking off. It was interesting because I could actually see my skin healing each day. And then by the fourth or fifth day, my skin was fine," says Kayla.

"So this was only a five day process. And now here we are.  How many days later is it?" I ask.

"Day eight." says Kayla.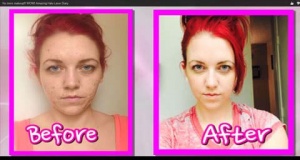 Kayla's skin looks amazing.  She loves her results especially because she doesn't have to cake on the makeup anymore.  
"I'm wearing just tinted sunscreen right now…I would highly recommend this treatment to my friends," admits Kayla.
Glow With the Halo Pro Laser
The science behind the Halo Pro Laser works to boost collagen production. Collagen is a vital protein bountifully present in youthful skin. The hands of time, and the rays of the sun diminish the production of collagen leading to fine lines, wrinkles, pigmentation, scarring and spots.
The Halo Pro Laser will boost natural collagen production in your skin. Not only will it improve the overall quality of your skin – it will make your skin softer, diminish scars, wrinkles, pore size, and enhance the glow of your skin.  
When pigmentation, scarring, sun damage, and large pores appear, this is the right time to correct your skin to prevent further aging and get a Halo Pro Laser treatment. As collagen production is triggered, the fine lines, scarring, and open pores that appear because of damage to collagen protein will be reduced over time. One treatment per year will help go a long way in maintaining great skin, preventing aging skin, and rejuvenating aged skin.
We've got the insider secret on how you can look your best and achieve a lasting return on your investment. We invite you to experience our customized luxury treatments without paying luxury prices. You can visit our training institute for deeply discounted rates on treatments. Or you can receive your treatments privately in our med spa by the experts that teach doctors, nurses, and laser techs how to perform laser and injectable treatments.
While medical aesthetics is our passion, client care is our reason for being. We are dedicated to helping you look your best and feel healthier from the inside out. Call us at 480-290-7333 or click here for your complimentary anti aging rejuvenation consultation at the National Laser Institute Med Spa. We look forward to working together with you to help you achieve the skin of your dreams with the Halo Pro Laser!