How To Avoid Eye Bags Surgery
One of the most common complaints we hear about are under eye bags. The reason is because they make you look exhausted, sick, and older than you really are. If you suffer from under eye bags, you may have tried every under eye cream known to mankind. While under eye cream may support the delicate skin around and under your eyes, it's not going to be enough to lift your under eye bags. Until recently, the only way to effectively deal with under eye bags was surgery. If you want to know how to avoid eye bags surgery, continue reading and we'll show you how.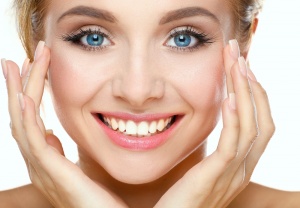 What Causes Eye Bags?
Under eye bags are caused by hollows under the eyes due to age or heredity. Gravity, UV damage, thinning tissue, laxity, and fat loss also contribute to under eye bags.
The best way to explain how under eye bags form is to use an analogy.  The human face is like a baseball mitt. It's got fat pads all over it. Some are superficial, and some are deep. As we age, our mid-face fat pad starts to slide down and lose volume. When this happens, we see the under-eye fat pad start to bulge out. The delicate skin also thins around and under the eyes, and exacerbates the appearance of the bulging fat pad, or eye bags, that we see. This fullness, or bag, casts a shadow that is perceived as a dark ring.  
There are 4 ways to avoid eye bags surgery. Treatment for under eye bags varies depending on the severity of the bags and whether the issue is laxity, fat loss, or both. While every client is different, we are here to help you discover the best treatment plan for your specific under eye bag concerns.
How To Avoid Eye Bags Surgery
If you're seeing bags under your eyes and you want to discover how to avoid eye bags surgery, we recommend combining at least two or more of the following medical aesthetic treatments to correct your skin concerns non-invasively.
Halo Hybrid Fractional Laser
Laser treatments are generally great for under eye skin that is becoming crepey and wrinkly. The laser causes damage to the skin which in turn stimulates it to repair itself and while doing so, activates skin cells to produce more collagen and makes it appear more youthful and tighter. If your bags are due to loose skin, then a laser treatment may help.
The Halo Hybrid Fractional Laser Treatment is the world's first hybrid fractional laser system. Designed to give you beautiful skin with less downtime than any other system, the Halo Hybrid Fractional Laser combines two laser wavelengths to get rid of brown spots and other color defects, as well as smooth out skin and give it a youthful, healthy glow.
eMatrix Radiofrequency
If laxity is an issue, we can tighten it with an eMatrix radiofrequency treatment. We have a hand piece that we can use called a focal tip. This works pretty well for that crepey skin and treats the skin right up to the lash line. eMatrix is sublative rejuvenation which is not light-based, but rather radiofrequency based. The areas around the eyes are typically hard to reach with many non-invasive skin rejuvenation devices. However, this new technology allows for easier maneuverability in delicate areas, producing results that are much more precise, accurate and long lasting. As an added benefit, there is little-to-no downtime following the procedure and it is safe and effective for all skin types.
Restylane Dermal Filler
Sometimes if we look at a client from the side and their eye pads are not too full, then we can inject into the tear tough to restore volume so it looks smooth again. Restylane provides and restores a natural fullness without surgery. Restylane is an injectable hyaluronic acid gel used to correct volume loss and treat wrinkles in the face.  Eye bags can sometimes be worse on one side versus the other. Restylane can also be used to restore symmetry to the face.  
One of our Scottsdale clients gave us an online review about her experience. She says, "I have not ever had any treatments for the puffy circles under my eyes. I was always told ONLY SURGERY would maybe help. But NO! A bit of Restylane under my eyes and poof! They are gone!"
Retinol
Finally, the other key to treating the delicate skin under the eyes is to use Retinol. Use prescription retinoid all the way up to the lash line, and then put an eye cream on top of it. The reason for the eye cream is because studies have shown that you get less irritation from retinoids if you use them with a moisturizer. Moisturizers will not reduce the efficacy of the retinoid. Retinol will take time to correct your skin. But if you are consistent and persistent with Retinol use, you could see those tiny etched wrinkles go away, making your skin firmer and more youthful looking.
Medical aesthetics is not a luxury. It is a path to healing the inner and outer self. If you are tired of your under eye bags making you look exhausted, sick, and older than you really are, call the experts at the National Laser Institute Med Spa for your complimentary consultation at 800-851-0969 or click here to request your appointment online.
Choose to visit our training institute for deeply discounted rates on treatments. Or you can choose to receive your treatments privately in our med spa by the experts that teach doctors, nurses, and laser technicians how to perform world-class anti aging treatments. Our dream team of doctors, nurses, aestheticians and laser technicians are ready to work together with you to achieve your dream results.
We hope we've shed some light on how to avoid under eye bags surgery.  It's never to late to invest in your skin so you can look and feel great!