Kybella Treatments in Scottsdale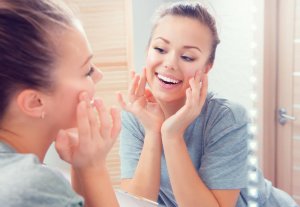 Kybella treatments in Scottsdale offer the opportunity to lose unwanted fat in an inconvenient place without plastic surgery. Making waves in the medical aesthetic industry since its FDA approval in 2015, the procedure leaves your chin area fat-free creating a younger, leaner looking profile. With little to no downtime, Kybella injections don't have the same associated risks and serious complications that could arise with an invasive procedure like plastic surgery. Kybella in Scottsdale is your answer to a non-invasive, non-surgical procedure to get rid of your double-chin.
What Is Kybella?
Kybella is the FDA approved, injectable treatment to improve the profile of your face. Effectively treating the double-chin, the injectable treatment is a man-made product using synthetic deoxycholic acid.
How Does Kybella Work?
Deoxycholic acid is naturally in the gastrointestinal tract. Kybella works by using a synthetic form of the acid to breakdown dietary fats. When injected in the fat below our chin, it destroys the fat cells. Therefore, Kybella is a permanent procedure. Once these cells are destroyed, they can no longer create or store fat. If you gain excessive weight after treatment it may be necessary to receive additional procedures.
Kybella Procedure in Scottsdale
Prior to your treatment you are advised to stop taking anti-inflammatory drugs for up to a week. Before treatment begins your service provider will examine the area around and under your chin to assure you are a candidate for Kybella. Then, they will draw lines along the area as a guide for their injections. Your injection time will depend on the fullness of the fat cells, but this is a fairly quick injectable procedure. This nearly painless treatment gives patients great results to a very common problem area, with no invasive surgery. After your appointment, you will be able to go back to work, drive home, or go about your normal activities with a couple of precautions.
The Results
Kybella is a permanent procedure. Once fat cells are destroyed in the area, they cannot be replaced. Keep in mind the average treatment takes up to 5-6 weeks to see optimal results after injection. Most patients on average receive 2-6 Kybella treatments with each procedure, six to eight weeks apart. This very safe, non-invasive procedure slowly reaches maximum results making Kybella in Scottsdale the perfect solution to an otherwise invasive plastic surgery!
The Recovery
Swelling in the injection area is normal
Avoid rubbing, massaging, or scrubbing the injection site for 24 hours
Avoid receiving a facial, chemical peel or laser treatments for 14 days
Do not apply for makeup to the area for 24 hours
Avoid laying down flat for several hours
Don't take part in activities that increase blood pressure for at least 48 hours
Common Side Effects
There is not enough information showing Kybella is safe for women that are pregnant or breastfeeding. Side effects from Kybella are usually mild. Feeling pain, swelling, bruising, numbness, redness, and itchiness near the injection site is common. Other side effects and potential risks include:
Tingling
Burning sensation
Skin tightness or hardness
Headache
Mouth and throat pain
Nausea
Difficulty swallowing
Interested in learning more about Kybella in Scottsdale or other aesthetic medical procedures? We offer your choice of virtual consultations from the comfort of your home or in-person complimentary consults. Click here to schedule yours!