Lamprobe Quick Fix For Red Spots
Trisha had a series of red spots on her face which made her feel like a slave to heavy makeup.
"I noticed the skin on my face was starting to show some wear and tear, and when my mom pointed out how my skin was starting to look more like hers, and that I had inherited the family genetics, I knew it was time to make a change," says Trisha.
Red spots, or cherry angiomas, are essentially red moles on your skin. They are cherry-colored flat or slightly raised dots that generally grow no larger than a quarter of an inch in diameter. Cherry angiomas are groups of dilated capillary blood vessels. The capillaries are the smallest of all the blood vessels. Although they can appear at any age, they crop up more frequently as you age possibly due to thinning skin.
Outside of the psychological effects from their appearance, cherry angiomas have no medical significance and can be hereditary, as is the case with Trisha and her mom, Cheryl. Although cherry angiomas are not a serious health threat, they can be bothersome with appearance and location. If they bother you from a cosmetic viewpoint, they're easily removed. If they're in an area that's constantly irritated by clothing or jewelry, they may bleed.
"My mom and I decided we were finally going to do something about our red spots together," says Trisha.
Trisha and her mom are not alone. As people age, their skin usually takes a direct hit including unsightly wrinkles, bumps and discolorations. According to the American Society of Plastic Surgeons, there were nearly 16 million surgical and minimally invasive cosmetic procedures performed in the United States last year. Americans are choosing a much wider variety of cosmetic treatments than ever before due to the increase in new procedures and advances in technology.
"After doing our research, we discovered the National Laser Institute Med Spa. We went in for our free consultations and after our skin analysis, we were prescribed Lamprobe for our red spots," says Trisha.
What To Expect
The Lamprobe uses radio frequency technology to precisely and quickly treat skin irregularities like red spots. The Lamprobe also treats other skin conditions like cholesterol deposits, skin tags, age spots, clogged pores, benign moles, fibromas, keratosis, milia/whiteheads, vascular lesions and subcutaneous cysts.
During this 20 minute procedure, radio frequency energy generates heat to precisely target the treatment area.  The growth of healthy new skin is triggered and there is no scarring. There is little to no recovery time required. Because the treatment is minimally invasive, you can expect to resume your normal activities within 24 hours.
"People seek minimally invasive procedures because they don't want to undergo surgery.  These technologies have gotten so advanced, there's no downtime, the cost is nominal, and there's no surgery," says Louis Silberman, CEO, National Laser Institute Med Spa.
Benefits of Lamprobe
The benefits of the Lamprobe treatment include:
Fast treatment time

No anesthesia needed

Little to no downtime

Minimal discomfort

Immediate results

Extremely precise

Minimally invasive

Convenient

Safe and effective
Why National Laser Institute Med Spa?
"From the moment I walked in the door, I was extremely impressed with the staff.  My laser technician was very thorough and did a meticulous job. She was not only very courteous and knowledgeable – all of which made me feel very much at ease – she insisted on being as precise and doing the procedure as perfectly as possible. She really took her time and never once did I feel rushed or uncomfortable. Thank you again for providing such high quality, excellent spa services at such affordable prices. The best treatment available for red spots is hands-down the Lamprobe treatment at the National Laser Institute Med Spa," says Trisha.
The National Laser Institute Med Spa is the premier anti-aging academy in North America. Since 2004, we have trained attendees from around the planet in revolutionary medical aesthetic technologies including Lamprobe, IPL, laser, and cosmetic injectable treatments.  At the National Laser Institute Med Spa you can get your treatments from the experts that train doctors, nurses, and laser technicians who fly in from across the globe including Dubai, Beverly Hills, Paris, New York and London.
Call us at 800-851-0969 or click here for your complimentary anti aging rejuvenation consultation at the National Laser Institute Med Spa.  We look forward to working together with you to help you achieve the skin of your dreams.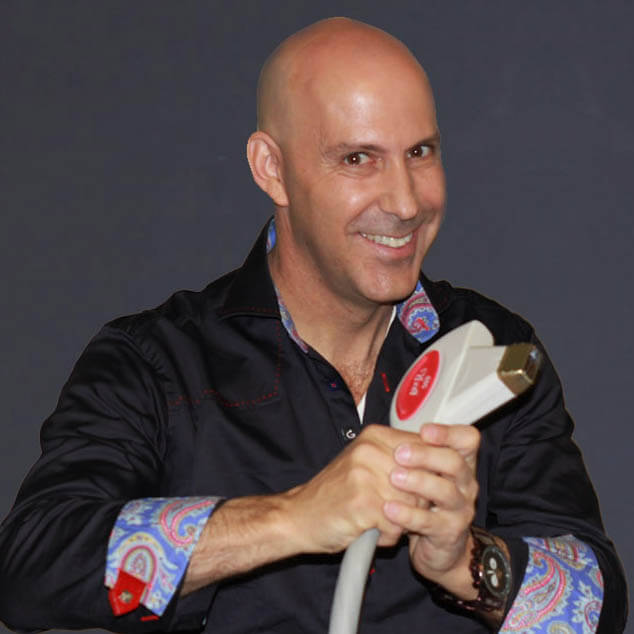 Louis Silberman
Louis J. Silberman is the CEO and Co-Founder of National Laser Institute, the pioneer of the medical aesthetics training industry and one of the largest educators in the country.