Laser Hair Removal Deals in Dallas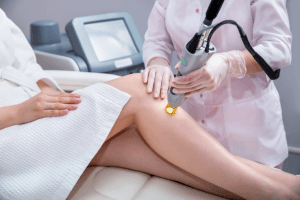 When shopping for laser hair removal deals in Dallas, you want to make sure you are getting the best price. In addition to that, you should be searching for reputable technicians who can perform effective laser hair removal. Try National Laser Institute in Dallas for your laser hair removal needs.
Why National Laser Institute?
National Laser Institute has a excellent standing reputation in the beauty aesthetics industry. Moreover, you will achieve your laser hair removal goals while being provided the best customer service. Feel beautiful inside and out with our rejuvenation services.
"Everyone wants to look better, feel better, just be better…They want a place to go where you feel comfortable. They do a great job at advising you and the thing they feel will work best for you and your skin..I have never felt taken advantage of, I have been to other places where they just want to sell and don't care if it will work for you or not. I have been going to National Laser Institute for about 4 to 5 years now and I love them if you are looking for a great environment with friendly caring people oh don't forget the great prices they offer, set up an appointment and give them a try. <3" -Kathy L.
Why do People Shop for Laser Hair Removal Deals in Dallas?
To banish ingrown hairs
Lessen time spent shaving
To highlight and define muscles
It is a quick treatment
There is no downtime
How Does Laser Hair Removal Work?
Laser hair removal works by targeting pigmented follicles within the skin. Firstly, the laser hair removal device will be placed over your target area to pinpoint light energy to your hair follicles. Then, the hair follicles absorb the light energy to stop the follicles from future growth. As a result, the hairs that do grow back are fewer in number, thinner, and lighter.
How Many Sessions Will You Need?
You will usually require more than one session for the most effective results. Each session will leave you with lighter and fewer hairs than before. Moreover, you can require anywhere from 5-10 sessions.
Schedule a complimentary consultation for laser hair removal deals in Dallas.  As well as that, NLI offers package deals for multiple treatment areas. Firstly, you will be paired up with one of our expert laser technicians. Then, you will be able to discuss your specific laser hair removal goals. Altogether, your technician will customize a treatment plan just for you!
"This was my first time for laser hair removal and a class room like setting so I was a little nervous about what to expect. The instructor was awesome, I felt very comfortable and relaxed. The students were great and I look forward to all the other treatments that are available and will be recommending the school to friends. Thanks!" -Lisa V.
Interested in learning more about cosmetic injections or laser services? We offer your choice of virtual consultations from the comfort of your home or in person complimentary consults. Click here to schedule yours.