Lose Weight with the HCG Diet Scottsdale Style
Have you heard about the HCG Diet?  Many of our clients have successfully dropped 20-30 pounds on our medically supervised HCG Diet at the National Laser Institute Med Spa.   HCG stands for Human Chorionic Gonadotropin.  It's approved by the U.S. Food and Drug Administration to treat infertility in both men and women. But it is also used off-label for successful weight-loss.  You can lose up to 1-2 pounds per day, making this diet highly effective if you want and need to lose weight.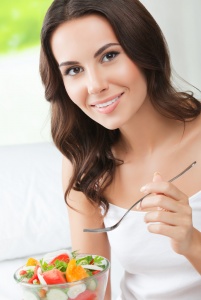 Lose Weight With the HCG Diet Scottsdale Style
HCG injections work as a potent appetite suppressant and are beneficial in helping you to lose unwanted fat while preserving your muscle.  The HCG Diet is based on receiving one HCG injection per day while consuming 500 calories a day for up to 6 weeks.  Because of HCG, dieters can maintain this low-calorie diet without excessive hunger and continue to lose unwanted fat.
The quality of food is vital to the health and success of the HCG diet for our weight loss clients.  Nutrition from organic meats, vegetables, and fish is recommended, while dairy, carbs, alcohol, and sugar should be avoided. If after 6 weeks on the HCG Diet, you still have weight to lose, a 6-week break is required to stop your body from becoming "hCG-immune".  Once you have achieved your goal weight, you will complete the diet with 3 weeks of "stabilization" by consuming higher calories without any sugar or starch.
The National Laser Institute Med Spa now offers the HCG Diet Scottsdale style!  To learn more about how you can lose weight on the HCG Diet Scottsdale style, call 800.574.8377 or click here for your complimentary consultation with one of our HCG diet experts at the National Laser Institute Med Spa.