PCA Skin Exlinea
Mona just turned 42 this past January. As a beauty insider, she's been using Botox for over 12 years. But for those in between moments where she wasn't able to come in for her 3 month injections, she has found a wonderful at-home solution with PCA Skin Exlinea.
 "Exlinea by PCA Skin has saved me many times. I have a busy schedule with my 3 kids, husband, and work.  Sometimes I just don't have the time to get into the National Laser Institute Med Spa for my Botox injections every 3 months. Exlinea is like insurance to make sure those fine lines don't turn into wrinkles.  It's also a great hydrator and tightens any loose skin I may have in between my Botox appointments. It truly is the gift that keeps on giving," says Mona.
PCA Skin Exlinea
Expression lines around the eyes, mouth and forehead are often the most difficult to treat because they are caused by repetitive facial expressions. PCA Skin Exlinea Peptide Smoothing Serum is a concentrated product that is designed to spot treat these areas. Neuropeptides firm, tighten and strengthen skin to reduce the depth of deep-set wrinkles. The formula also contains ingredients that bind moisture to cells, creating a plump and healthy appearance. You can apply PCA Skin Exlinea Peptide Smoothing Serum directly to trouble areas to experience a smoother and softer complexion.
We invite you to experience this technically advanced treatment designed with argireline, a proven peptide that helps relax facial tension that causes wrinkling. The benefits of Exlinea include:
Minimizes the appearance of expression lines due to repeated facial muscle movements

Firms, tightens and strengthens loose, aging skin

Smooths and hydrates your complexion

Stimulates collagen with peptides

Targets deep-set expression lines and minimizes depth of existing lines

Instantly lifts loose skin

Fights free radicals through powerful antioxidants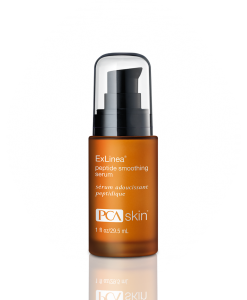 Here's how to use Exlinea by PCA Skin  
After cleansing and toning, apply one to two pumps onto areas of wrinkling and sagging, focusing on the lines around the eyes, forehead and mouth.
"I like to apply it anywhere I see fine lines and wrinkles, then I just follow with any other treatment serums and a broad spectrum SPF product in the daytime or moisturizer in the evening," says Mona.
We invite you to purchase your own bottle of Exlinea.  Add it to your anti aging arsenal to treat fine lines and wrinkles and provide medical strength free radical protection. This product is suitable for all skin types and is natural, paraben free, and organic. Key ingredients include aloe vera, peptides, Hyaluronic Acid, essential oils, and Vitamin E.
"This is one product that I will never stop using. My esthetician at the National Laser Institute Med Spa recommended it to me. I noticed improvement in my skin from the very first application. I have spent so much money on products that don't do what they say, so I am ecstatic to have found this. I don't have drastic lines yet because I've used Botox for so many years, but I can feel those pesky wrinkles waiting in the wings! I use it twice a day without fail and I am loving what it is doing. I highly recommend this product," says Mona.
In addition to the PCA Skin product line, the National Laser Institute Med Spa offers a variety of medical-grade skin rejuvenation products for a radiant complexion such as SkinMedica and Rhonda Allison which go hand-in-hand with our advanced cosmetic laser, radiofrequency, and IPL services.
To find out what product or service would be the best fit for your skin, or to purchase PCA Skin Exlinea, call 480-290-7333 or click here and receive a free consultation with one of our expert skin care specialists.