PCA Skin Products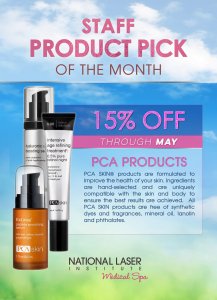 Are you looking for a skin care line that can address a variety of skin concerns and is also gentle enough to treat sensitive skin? Look no further than PCA Skin!
Free of color additives, synthetic fragrances, harsh alcohols and other known sensitizers, the products are designed to deliver visible results without irritation. From cleansers to correctives, the PCA line of skin care products is especially effective for treating skin conditions such as acne, hyperpigmentation, rosacea, fine lines and wrinkles.
PCA's line of medical-grade products has been featured in O, The Oprah Magazine, Cosmopolitan, InStyle, Redbook and more!
For the month of May, the National Laser Institute Medical Spa is offering 15% off all PCA skin care products.
PCA Skin Products
From moisturizers to exfoliants, NLI Med Spa offers over a dozen products from the PCA skin care line to address all of your skin concerns! Here are some of our favorite products, which you can receive 15% off of for the entire month of May:
Anti-Redness Serum: This face serum soothes and improves the appearance of sensitive skin prone to redness. With a clinically advanced complex of active botanicals and nutrients, the Anti-Redness Serum offers cooling hydration that soothes the skin in harsh climates and calms reddened skin post-exercise. (Retail price: $65)
C&E Strength: An antioxidant-rich rejuvenating serum for all skin types, C&E Strength minimizes the appearance of fine lines and wrinkles to restore firmness and radiance to aging. Experience stronger, smoother skin in a little as two weeks when this wrinkle cream is used daily. (Retail price: $97)
Collagen Hydrator: The Collagen Hydrator uses a combination of shea butter and hyaluronic acid to rehydrate your dry or mature skin. Moisture retention is improved with a blend of emollients and wheat protein, which softens the texture of your complexion. (Retail price: $45)
Daily Exfoliant: This moisturizing exfoliant sloughs away dead skin cells to reveal younger-looking skin with everyday use. Created with aloe vera and essential oils formula, the Daily Exfoliant works to alleviate breakouts, visible pores and free radical damage. (Retail price: $39)
Hyaluronic Acid Boosting Serum: Reveal healthier-looking skin with this face serum that is infused with a powerful blend of deeply hydrating ingredients. A proprietary blend HA-Pro Complex encourages the skin to create its own hyaluronic acid, resulting in long-term anti-aging and hydration. (Retail price: $115)
Hydrating Toner Spray: This lightweight toner removes dirt, oil and debris while giving the skin an extra boost of hydration. The Hydrating Toner Spray helps keep the skin refreshed and can also be used as a spray throughout the day to set makeup and replenish hydration. (Retail price: $11.50)
Ideal Complex Revitalizing Eye Gel: This cutting-edge eye gel strengthens, firms and lifts the skin around the eye area. Next generation peptides reduce fine lines and wrinkles while growth factors increase firmness and elasticity. (Retail price: $88)
The National Laser Institute and Med Spa
Along with the PCA Skin line, The National Laser Institute offers an array of medical grade skin care products that go hand-in-hand with our anti-aging procedures. Using these treatments in tandem will leave your complexion looking youthful, healthy, and radiant.
To find out more about this amazing May special, call 1-800-851-0969 or click here and receive a free consultation with one of our expert aestheticians. Your journey to younger, healthier skin can begin today!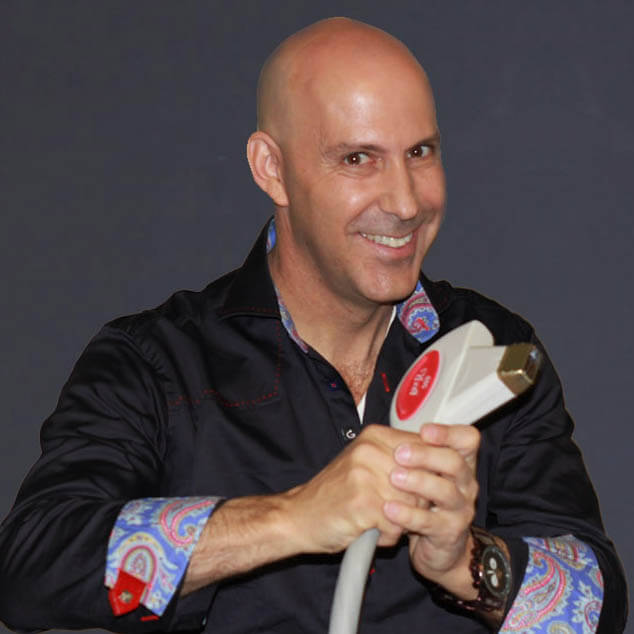 Louis Silberman
Louis J. Silberman is the CEO and Co-Founder of National Laser Institute, the pioneer of the medical aesthetics training industry and one of the largest educators in the country.