Radiofrequency Skin Care
Radiofrequency skin care has a stellar reputation as the All Skin Color, All Skin Type, Non-laser Skin Rejuvenation solution for your face and body. If you are looking for a way to treat wrinkles and firm your skin, radiofrequency skin care is the safest and most non-invasive solution to treat wrinkles and fine lines effectively.
In addition to maximizing the tightening of the skin and stimulating collagen, radiofrequency can make your skin appear firmer and younger. Your skin will be tighter and the texture of your skin will improve in just a matter of minutes as the energy of these radiofrequency treatments infuses your skin. Continue reading for our top 3 radiofrequency skin care treatments for your face and body.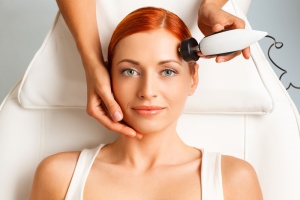 Radiofrequency Skin Care
1)eMatrix
You can get the effects of a laser treatment without the risk of hyperpigmentation because eMatrix delivers radiofrequency energy to create dramatic, deep tissue improvements with minimal impact on the surface layer of your skin. eMatrix treats your fine wrinkles, saggy skin, stretch marks, and acne scars. It improves your skin tone, texture, and enlarged pores. It corrects sun damage, superficial skin lesions, boosts collagen production and tightens your skin. eMatrix provides phenomenal results with just one treatment.  
2)eLight
eLight is a complete facial anti-aging solution, beloved by celebrities before red carpet events. It is one of the safest treatments available for all skin types because it is completely light-based. eLight rejuvenates aging skin and also effectively improves the texture and tone of acne prone skin with no downtime. This is an anti-aging treatment effective for skin tightening and targeting wrinkles, fine lines, and loose skin.  It's an excellent way to firm up the skin on the cheeks, jowls, and neck.  With eLight, you can enjoy tighter and more youthful-looking skin in just a matter of minutes.
3)Velashape III
Velashape III will help you lose inches with bi-polar radiofrequency technology and infrared light energy to smooth out dimpled skin, shrink fat cells, and reduce cellulite with no downtime. It stimulates the growth of new and better collagen and elastin, which results in localized reduction in skin laxity, body volume, and an overall improvement in skin structure and texture.
If you are looking for a way to treat wrinkles and firm your skin, radiofrequency technology is the safest and most non-invasive solution. We invite you to schedule your radiofrequency skin care appointment and call the National Laser Institute Med Spa at 800-574-8377.  You can also click here to reserve your complimentary consultation online with one of our skin care experts.